Tea has long history in China. Here they told as ancient legend about wise and legendary emperor Shen Nong who was herbalist and who discovered tea by coincidence. He always used to boil water before drinking it. One morning he was boiling water in a pot. Wind was blowing and few leaves of wild tea bushes fell down in pot. Therefore water got new color and interesting smell and emperor tried it.

CHINA: My way, My story
Danilo Hinic
4. Neverending path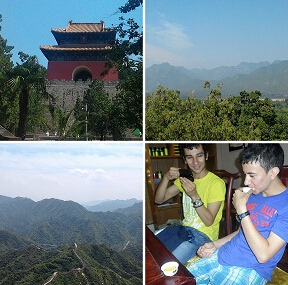 Photo by Danilo Hinic
New day came. Trip continues… Bus took us to visit few places. It was only time during these 10 days that we took bus of some tourist agency. My family and me like more when we go alone as then we don't depend on time or program of tourist guide. We were passing through wide and busy streets of Beijing by bus. Everyone goes somewhere to work. Cars and taxis are appearing from everywhere and bus stops are full of people… In morning like in afternoon hours streets are becoming most busy because of people, cars, trolleys, buses, bicycles... Because of traffic jams caused by so many cars it is hard to get somewhere very fast. We are passing next to Yonghegong temple, Jingshan Park and hutongs nearby it.
After passing through hutongs we were in wide streets again which are surrounded by tall skyscrapers. Every of them was tall around 100-150 meters, some of them older which were here 15 years ago and some of them completely new shining in new modern light grey, dark blue or green glass. Many buildings which were still under construction were visible. Some of them were built half and some of them almost completed. Beijing is sometimes like a big construction site. You see that a lot has been built already but you realize that a lot of things are still built. Beijing is already urban, modern city like world metropolis New York, Hong Kong, Singapore…But at same time it is just matter of time when new business centers, skyscrapers, residential block, shopping center or pedestrian shopping zone will appear. Tourist guide ( one around 40 years old woman) told us that in 2011 Chinese Communist Party has released final plan for developing and modernizing Beijing. According to her it is supposed to take between 5 and 8 years for biggest urbanizations of city including Beijing CBD about which I will speak later. Also in plan is construction of new international airport in Daxing district which should be accomplished until 2020 because Beijing Capital Airport with its 3 terminals isn't sufficient anymore for so much airplanes and passengers. We passed next to one large construction site. I didn't see anything similar anywhere. It is not 1 building in area or few of them which are under construction, but 15-20 buildings at the same time. Not just buildings are built but parks with, fountains, lakes, a lot of trees, playgrounds, machines for exercises and paths for walking, running and cycling.