When I was child for me Yonghegong was place of fun,where I could burn as much sticks as I want to make big fire and play with fire what I always liked. Now in my todays visit of temple I saw it in more deeper and important way as I described above.

CHINA: My way, My story
Danilo Hinic
7. In Middle of Beijing again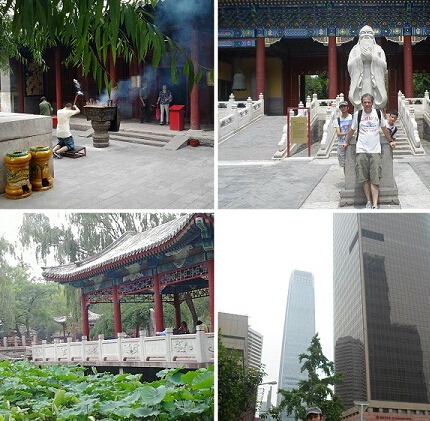 Photo from Danilo Hinic
After 3 days of walking on places which are out of Beijing it is time to return in center of the city. Beijing where I lived.. I had for breakfast BaoZi filled with meat. It is one of my favorite Chinese dishes and during these 10 days I ate it almost every morning. I finished breakfast and I got out on street -towards Dongsishitiao metro station. It was again sunny day with clear blue sky. I am on road to Yonghegong Lama Temple. This temple is in heart of new Beijing. Area of temple is in middle of huge residential blocks and wide streets and on first view it seems that there cannot be any temple. This temple is not so big as Forbidden City or Beihai Park to be more visibly separated from modern buildings as these mentioned sites are much larger than Lama Temple. When you are standing on some wide and modern street watching residential blocks from 1970s or 1980s you don't imagine that if you go deeper behind street are already hutongs or old temples or parks. That's what makes Beijing specific.I am going now next to one wide street. Many cars are passing in both directions, nothing shows even idea that temple is nearby. But as much as I was coming closer and closer to temple area started to show it. First shops of religious commodities appeared on both sides of street.Shops were full of Buddha statues. Small and big, from porcelain,bronze, wood or jade. They were colored in brown, green or golden color. Except Chinese happy fat Buddha without hair Tibetan version was sold too. There were various sizes from small figures of few cm and those who were more than 50cm. Small incense burners were sold too.Large number of chaplets was sold. -Yellow or brown color. Those chaplets are used for praying and relaxing in garden of temple next to the old tree. Some of chaplet balls were decorated with small paintings of Buddha. And of course here was big choice of incense sticks They were yellow, red or pink and they strongly smelled on sandal. Some of them were thin some of them very fat and long.Mantras were played on CDs in few shops. Everything was in Buddhist style. Sellers seemed to be so friendly and careful. According to Buddhist teaching they must be tolerant and show peace and love to others.In one shop on floor there was a plastic washbowl with turtles inside which were swimming. There were ordinary turtles and one Chinese turtle with bit longer nose. It was visible that they care about turtles in Buddhist style of giving life to them, they were not determined to be in soup, in turtle soup which is very healthy. It really seemed that these turtles were their pets.