I learned here to bargain, I bought few things which I wanted and it was time to continue. Lunch break came andsellers were on pause and I saw how they were eating noodles or rice with cut pieces of vegetables or meat from bowls in warehouse of their shop.Here I noticed how much sellers improved in knowledge of English. It is not like at end of 90ies when they used to say "Chippa" or called you into shop in Chinese. Now they say in English "Hello", " Cheap Price", "Do you need something?" "Welcome". They even use numbers in English.

CHINA: My way, My story
Danilo Hinic
8.Pearl market and Building 5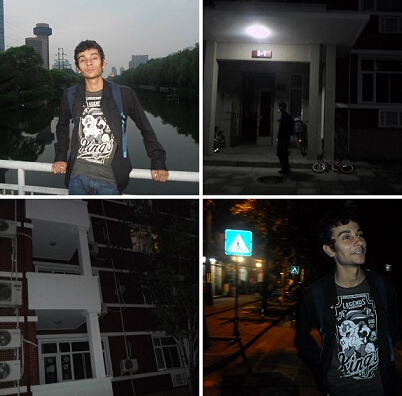 Photo from Danilo Hinic
It was strongly raining since morning. While eating my favorite bao zi for breakfast one by one, I watched through window. Fog from rainy clouds and smog was very low over Beijing. Smog totally swallowed all Beijing. Even closest skyscrapers to my hotel were half or almost not visible in this smog. It is even absurd to speak how CBD skyscrapers weren't visible. It seems like that they never existed. Only big white cover was visible instead of them… It was hard to imagine some long walking today.
It was luck that such days in Beijing during this 10 days trip were very rare. If they were more often which is typical for this period of year it would be hard to see even half of things which I saw and walk even less than half of all kilometers which I passed in this trip. Today weather didn't allowed me to walk outside because of rain. We decided to go somewhere inside- to Pearl Market. When in Beijing weather conditions don't allow you to walk on streets or sightsee than shopping is best solution. Pearl Market is one of biggest and busiest clothes and souvenir markets in all Beijing and is located in southern part of Beijing- across Temple of Heaven. It is huge but not tall building. Inside were many people- customers, sellers… They are going in every direction around you. Here you can find everything from clothes(t-shirts, shirts, jackets,shoes, trousers) to jade figures, pearl or jade bracelets ,necklaces, Chinese traditional paintings on white panels, Xian soldier figures of different sizes, Mao Zedongs portraits …Also you can find here cameras, iphones, mobiles, computers,and other types of technological devices. They are not original products of famous brands and you can get them for cheaper price.What you don't find here it is hard that you will find it at all in Beijing.