If you want to find good and nice pubs or all night parties in Beijing I strongly recommend you to go to Sanlitun. If you are looking for cheaper prices you wont regret if you visit Wudaokou( Haidian District) as that place offers you good choice of pubs and clubs with lower prices.

CHINA: My way, My story 
Danilo Hinic
10. Friend from Shandong, dinner at Gui Jie and night at Sanlitun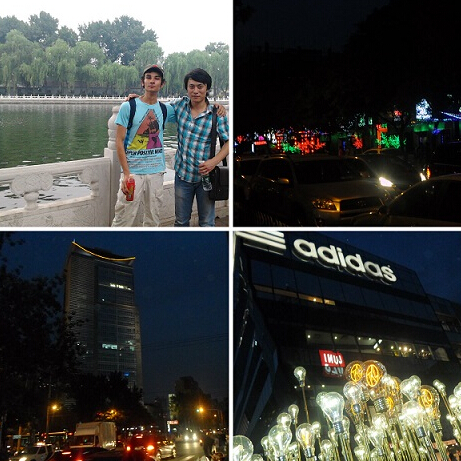 It was noon, hot Beijing noon. I was standing in front of exit of Dongsishitiao metro station and waiting for Xin Fan, one of my Chinese friends. While I was waiting him I was thinking on things which happened since morning that day or more concretely on one unexpected meeting. I met one person of who I was afraid during my life in Beijing. It was "Mr.Cookie " or Wang a cook in Serbian Embassy. He is an older Chinese man which used to come to our flat in Beijing sometimes to fix something. He was often silent and strange for me what caused fear in me. But my mischief and craziness used to overcome fear and I used to bully him. For example I liked cursing to him in Chinese and then to run away from him. Once he got so angry that I thought that he will beat me with gum snake.I was very annoying child and I was sure that he had nightmares about my bad behavior. While we were standing on bridge over canal near Kun Lun Hotel he appeared on bicycle. My father shouted " Cookie" and he significantly shocked and surprised stopped and came to us. Thing which stunned me was that when he saw me he completely correctly pronounced my name: "Danilo" he said with a surprised and smiling view and voice. We starred on each other for a while. I couldn't believe that he remembered my name after 12 years, name of boy who used to make him troubles and curse to him for entertaining himself. I got one funny idea on my mind about reason why he remembers my name- maybe he had often nightmares for 12 years in which I was cursing and jumping around him like monkey, and he tries to catch me, but he wakes up every time when he had almost caught me. After exchanging few words, smiles and taking photos we left. Then I separated from my parents and brother, they went to Ritan Park again while I went next to Poly Plaza Theater to wait Xin.