China vows to advance strategic partnership of cooperation with Afghanistan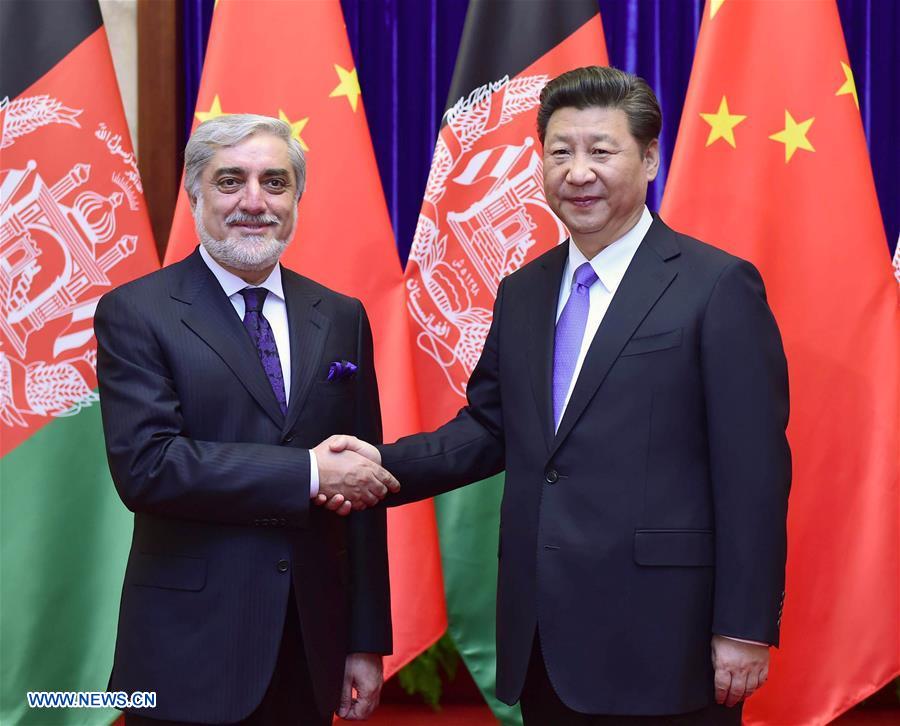 BEIJING, May 17, 2016 (Xinhua) -- Chinese President Xi Jinping (R) meets with visiting Afghan Chief Executive Abdullah Abdullah in Beijing, capital of China, May 17, 2016. (Xinhua/Zhang Duo)
BEIJING, May 17 (Xinhua) -- Chinese President Xi Jinping met with Afghan Chief Executive Abdullah Abdullah on Tuesday, vowing to work with Afghanistan to promote a strategic partnership of cooperation.
As Afghanistan's "trustworthy neighbor and friend," China attaches great importance to its relationship with Afghanistan, said Xi.
The two countries, following the Five Principles of Peaceful Coexistence, have respected, understood, trusted and supported each other since the establishment of diplomatic ties more than six decades ago, he said.
"We are ready to work with Afghanistan to promote the strategic partnership of cooperation," Xi told Abdullah.
He thanked Afghanistan for its support to China on issues concerning China's core interests, adding that China will continue to firmly support the Afghan government and respect the political system and the development path chosen by the Afghan people.
China is willing to intensify high-level exchanges with Afghanistan, enhance strategic communication and map out a future cooperation plan, the president said.
Stressing that China will firmly support Afghanistan's peaceful reconstruction and development, Xi called on both countries to enhance coordination to push ahead China's major investment projects there.
China will continue to help human resources development in Afghanistan, encouraging exchanges between youth, think tanks, media and local governments, said Xi.
China backs Afghanistan's integration into the region, he said, promising to help the war-torn country promote connectivity with neighboring countries and seek synergy between the Belt and Road Initiative proposed by China and Afghanistan's transformation and development strategy.
Moreover, Beijing has vowed to continue providing Kabul with security -building assistance to fight terrorism and support its peaceful reconciliation process.
"The inclusive process of Afghan-led and Afghan-owned peace and reconciliation is the fundamental way for Afghanistan to realize long-term peace and stability," said Xi.
For his part, Abdullah praised China's assistance to Afghanistan during its hardest times and its support to the national unity government.
Afghanistan will firmly back China's stance on core issues including Taiwan, said Abdullah.
He said his country would like to maintain high-level exchanges, implement the consensus reached by both sides and enhance cooperation with China on the economy, infrastructure, human resources and security in the country's reconstruction process.
Chinese Vice President Li Yuanchao also met with Abdullah on Tuesday.
Abdullah Abdullah kicked off his four-day official visit to China on Sunday at the invitation of Chinese Premier Li Keqiang. Li held talks with him and there was a welcoming ceremony for him on Monday.
In addition to Beijing, the tour will take him to Urumqi, capital of northwest China's Xinjiang Uygur Autonomous Region.
[ Editor: Jiaming ]