President Xi encourages free, bold scientific exploration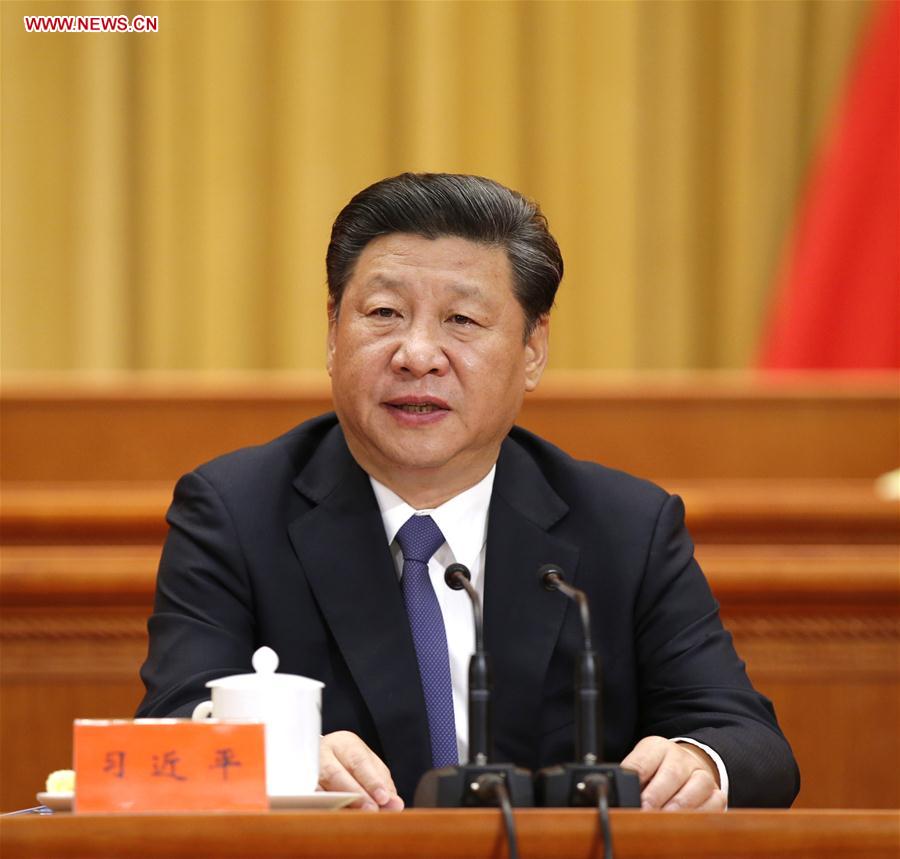 BEIJING, May 30, 2016 (Xinhua) -- Chinese President Xi Jinpingaddresses an event conflating the national conference on science and technology, the biennial conference of the country's two top think tanks, the Chinese Academy of Sciences and Chinese Academy of Engineering, and the national congress of the China Association for Science and Technology, in Beijing, capital of China, May 30, 2016. (Xinhua/Ju Peng)
BEIJING, May 30 (Xinhua) -- Chinese President Xi Jinping, speaking at a science event on Monday, promised to respect the creativity of scientists and support free and bold scientific exploration.
"Scientists should be allowed to freely explore and test the bold hypotheses they put forward," Xi said at a conference on scientific and technological innovation, which also marked the biennial conference of the Chinese Academy of Sciences (CAS) and the Chinese Academy of Engineering (CAE).
Among the five priorities listed for the country's innovation drive, the president stressed the establishment of a rich talent pool of scientists with global vision, and entrepreneurs and technicians good at innovation.
He promised to grant leading scientists more power and liberty to decide upon the direction of their research, and greater management of research funds and resources.
The government's duty is to draw up strategies and work out plans, and enact policies and offer services, he said.
The other four priorities include developing cutting-edge science and technology, launching key projects to create a world-class research network, benefiting economic and social development, and reforming science management and operation mechanism.
LEADING THE TREND
Xi stressed in his speech that China should strive to take a leading role in scientific and technological research.
To this end, the country should have a global vision, establish development strategies in a timely manner, be confident in innovation, and be known for original theories and discoveries, he said.
WORLD-CLASS RESEARCH NETWORK
"Currently, the state needs the strategic support of science and technology more urgently than ever before," said the president.
The Central Committee of the Communist Party of China has outlined the nation's long-term scientific and technological strategies by the year 2030, and decided to roll out a large number of sci-tech projects, he noted.
He encouraged scientists and technicians to respond to the country's major strategic demands, strive to advance research into core technologies and move up to the world's scientific and technological "high ground."
To be the world's major scientific and technological power, the state will have to champion first-class institutes, research-oriented universities and innovation-oriented enterprises. This will also support the authoring of a substantial amount of original research, said Xi.
BENEFITING ECONOMY, SOCIETY
The president also stressed the role that scientific research play to bolster overall economic and social development.
In the process of advancing the supply-side structural reform and implementing the tasks of cutting overcapacity and excess inventory, de-leveraging, reducing costs and addressing points of weakness, more advances in innovation are needed, Xi said.
Public scientific and technological services should be increased, so that the people can enjoy a more livable environment, better health care and safer food and medicine, he added.
MANAGEMENT REFORM
Xi stressed that the government will try to form an energetic science management and operation mechanism through deepening reform and innovation, while continuing to better allocate resources and evaluate research findings.
He said the country will provide bigger support for tech companies, especially small and medium firms, and reorganize research institutes and universities.
The country also plans to create a few cities or regional centers that are attractive to outstanding innovation industries.
"Our biggest advantage is that we, as a socialist country, can pool resources in a major mission," the president said.

[ Editor: Jiaming ]