Editor's Notes: Danilo Hinic, an undergraduate from Serbia studying in Slovakia, once lived in Beijing for 5 years when he was a child. He has visited many places in Beijing and written many stories about China. As Chinese President Xi Jinping is paying a visit to Serbia, Danilo Hinic wrote an article for Guangming Online talking about his opinion on President Xi's visit and Sino-Serbian relations.
By Danilo Hinic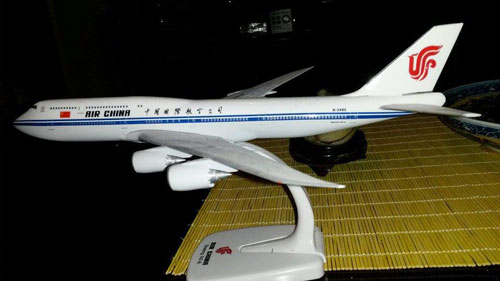 Danilo Hinic's collection model of Air China Boeing 747 aircraft used by President Xi Jinping for state visits (Photo provided byDanilo Hinic for Guangming Online)
Since I am from Serbia and I wanted to write this in honor of Mr. Xi Jinping's visit to Serbia. I found it as great chance to write about Xi Jinping's significance for China, for the world as well as for Serbia.
Strong, stable China and Xi's initiative to increase presence of China in the world and help development of other countries is felt in Serbia as well. Serbian government is looking forward to his visit and Serbian President Tomislav Nikolic said that "Sino-Serbian friendship is as strong as Great Chinese Wall". Serbian leadership and media are impatiently waiting for his visit. Xi's visit is among top news already days ago. It is expected to reach even higher level of cooperation between Serbia and China.
Serbia is small country but traditionally and historically was always highly respected by China. Sino-Serbian relations can be described by fairness, solidarity, mutual benefit and high respect.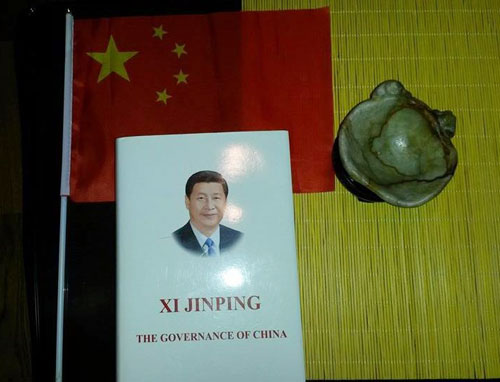 Danilo Hinic's collection of PresidentXi Jinping's book and national flag of China(Photo provided byDanilo Hinic for Guangming Online)
Serbia and China always had some economic cooperation, but since Xi Jinping became Chinese President it started to increase. In 2014 there was finished infrastructural project of China in Serbia which was building of new bridge in Belgrade across the Danube River. Chinese Prime Minister Li Keqiang also was present at the opening ceremony. During that visit more trade and infrastructural agreements were signed between Serbia and China. One of the most important is building of speed railway between Belgrade and Budapest. Construction already started and is supposed to be finished until 2018. Currently you need 6 hours to reach Budapest but with new train which will be able to move between 120 and 180km per hour you will need around 2.5-3 hours to reach Budapest. That is going to be drastic improvement in Serbian rails.
In 2015 Serbian President attended military parade organized by China in honor of the 70th anniversary of the victory in the Chinese People's War of Resistance against Japanese Aggression and the World Anti-Fascist War. At end of 2015 new deals between Serbia and China were signed, including building of other rails and new motorways. Also at the beginning of 2016 one of largest Chinese companies, He Steel Group Ltd. bought factory for production of steel. Also same company plans to buy even more factories across Serbia. It is supposed to increase production of steel with new technologies that will be brought by He Steel. Xi Jinping's visit is supposed even to increase mutual cooperation and lead to signature of even more agreements related to cooperation in building of infrastructure, industry, food production and even cooperation in science. Except development of Serbian economy and infrastructure Chinese investments bring more jobs what reduces unemployment. Currently Chinese investments count to around 2.5 billions of US dollars. It is visible that Serbia has benefit from friendship with China and that Serbia can rely on China as stable and honest partner.
I believe that Xi's visit will strengthen our cooperation and friendship with China even more.
Lastly Xi Jinping's idea to increase presence of China across world and help development of other countries is felt in my home country as China helps Serbia to develop and this improves friendship between China and Serbia.