Serbian master of political sciences' reading notes of the book Xi Jinping, The Governance of China ①
Economic slowdown as an opportunity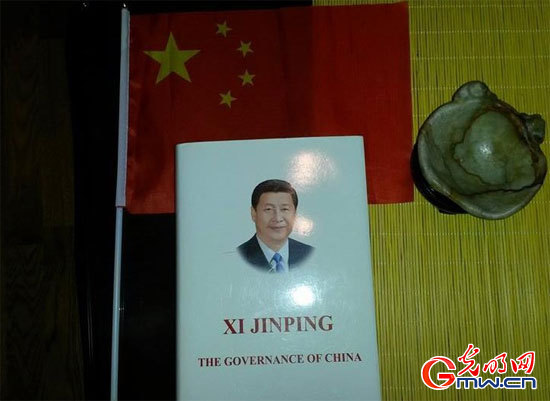 Danilo Hinic's collection of PresidentXi Jinping's book and national flag of China
(Photo provided by Danilo Hinic for Guangming Online)
Mr. Xi Jinping governs one of the largest countries in the world which appears to be a great responsibility. Because he needs to continue and maintain its economic progress, serve the people and improve their living standards, continue to improve influence of China abroad as well as to be able to defend China from potential threat.
In Xi's work "The Governance of China" he explains all these in several chapters. But for those who don't have the book or who want to have all information in short they can read below.
Economic slowdown as an opportunity
Since 2012 China's GDP growth dropped to average of 7% annually. Some Western experts already announced bad prognosis expecting soon breakdown of Chinese economy. But Xi Jinping's leadership doesn't see it like that.
They consider that China doesn't need so rapid growth now but more stable and sustainable. Xi stresses other aspects that are important in Chinese economy now. Xi introduces self-reliance of Chinese economy. It means supporting strength of domestic enterprises and making economy to rely on them.
Because of drop in exports there is a need to develop stronger consumers society that will rely on domestic demand. It is manageable because Chinese economy doesn't depend strictly on foreign investments anymore. Its companies are capable of maintaining Chinese economy by themselves and can develop technologies on their own.
China is not slowing in any aspects. It is continuing its space programs, development of infrastructure and introduced first domestic middle range commercial aircraft (first flight by Chengdu Airlines) that is supposed to enter service next year.
Xi Jinping emphasizes on importance of more environmental friendly development. It is mostly focused on preserving environment. Here is included planting more trees in urban areas and preserving natural landscapes across country. By 2020 it is expected that more than 30% of surface in Beijing will be covered by parks. Also there are large changes occurring in production of electrical energy.
China replaces coal dependent production of electrical energy with most clean and renewable sources- solar panels. Many of panels are being built across China in order to reduce carbon dioxide emission and reduce air pollution what is beneficial for future generations.
Even glass for windows for new skyscrapers is capable of collecting sun energy and supplying building with electricity. By 2030 it is expected that solar energy production will compose 30-40% of overall electric energy production. It is expensive and demanding project but not impossible.