Dining out easier for foreigners in China
How can those travelers and expats explore Chinese food culture just like locals without the hassle of language barriers, or lack of local knowledge?
All they need might just be an app called Spoonhunt, which is now available for free on Apple and Google Play app stores.
"China is becoming an increasingly popular place for travel, but a lot of the best local restaurants don't have English menus or waiters, so English speakers are limited in what they can order," Adam Liu, the Co-Founder and CMO of Spoonhunt told Guangming Online. "We initially created Spoonhunt as a WeChat Service App with an official account to give expats access to our huge database of restaurants, English menus with pictures and bilingual ordering tool. When our WeChat account gained popularity, we decided to create our own iPhone and Android apps to add even more features and give tourists in China access to restaurants since most of them don't have WeChat."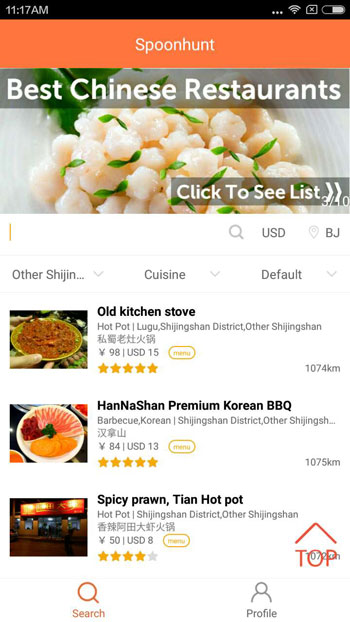 Screenshot of Spoohunt App
There are many themed contents like flashcards, Chinglish, and food discovery series on Spnoonhunt's official account on WeChat. Most of the articles drew many comments from foreign readers. Apparently, foreign friends are getting more and more interested in the topics on life in China.
"Each week we send out articles on WeChat and on our Website's blog to help introduce different aspects of Chinese food culture to our users," Adam said. "So when people use our app, they can search for something new they saw in our articles, like a new dish or restaurant, or they can simply search for a cuisine they favor."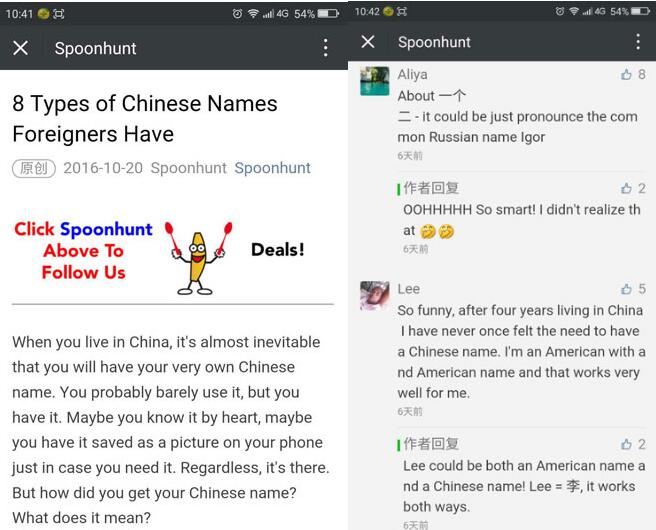 Screenshot of Spoohunt's WeChat account
Adam believes Spoonhunt can "make dining out in China as a foreigner even easier."
With the help of Spoonhunt, users can search for what's around them or specific restaurants, foods, cuisines or locations to explore new dining options. Spoonhunt's English-language menus with pictures, pronunciations & prices help users feel comfortable going to new restaurants and ordering things they want without any Chinese language skills. When users select the items they want to order, they can instantly translate it back into Chinese and show the bilingual order to a waiter to avoid confusion or miscommunication.
So next time when you notice a foreign customer showing his smartphone instead of the menu to the waiter in a Chinese restaurant, maybe he's using Spoonhunt. (Fanhua/ Guangming Online)

[ Editor: Zhang Zhou ]