Xi urges UN to play central role in global governance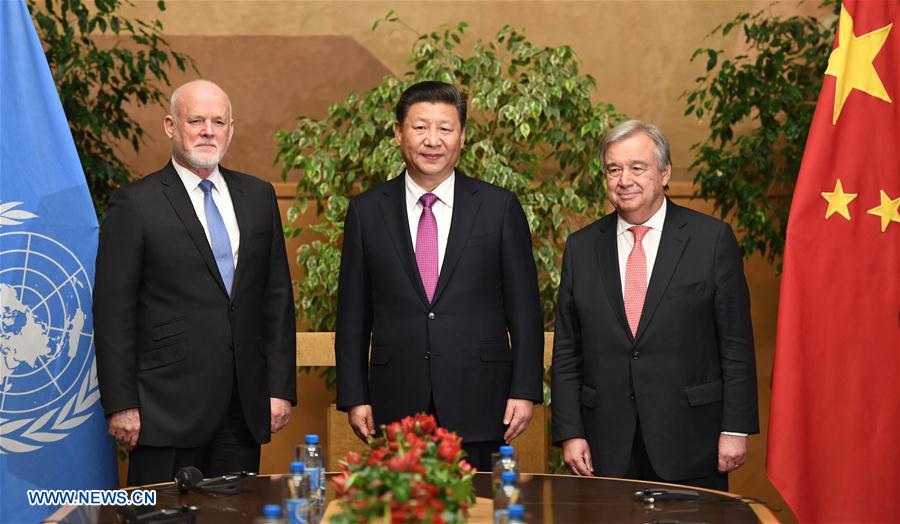 Chinese President Xi Jinping(C) meets with Peter Thomson (L), president of the 71st session of United NationsGeneral Assembly, and UN Secretary-General Antonio Guterres in Geneva, Switzerland, Jan. 18, 2017. (Xinhua/Zhang Duo)
GENEVA, Jan. 18 (Xinhua) -- Chinese President Xi Jinping said here Wednesday that the United Nations, the most universal, representative and authoritative inter-governmental organization, should play a central role in global governance.
Xi made the remarks while meeting with Peter Thomson, president of the 71st UN General Assembly, and UN Secretary-General Antonio Guterres at the UN office in Geneva.
China will stick to the path of multilateralism, safeguard UN charters and related principles, and support the world body's bigger role in maintaining world peace and promoting common development, he said.
In the current situation, the UN's role needs to be strengthened instead of being weakened, he said, adding that multilateralism should be upheld in face of all kinds of global threats and challenges.
The Chinese president also said that while economic globalization is a result of growth in productivity and the tide of history, it needs to be properly managed and guided, so as to unleash more of its dividends.
"The interests of all nations are connected, while their future is shared. The old way of chasing profits and hegemony must be banished, and should be replaced with a new pattern of using rules and institutions to better coordinate relationships and interests," he said.
He said China always advocates that all nations are equal and can follow the development path which can best accommodate their different conditions, adding that Beijing would like to, via the United Nations, share its experience in running the country.
For their part, Thomson and Guterres noted that the Chinese president had reaffirmed China's commitment to multilateralism in his speech at the World Economic Forum in Davos Tuesday.
Xi's statement, which has been highly regarded by the international community, is a key guarantor for the UN and the multilateral enterprise, they noted.
They also applauded China's long-term contribution to combating climate change, reducing poverty, promoting sustainable development, and supporting peacekeeping missions.
The UN is willing to join China in promoting world peace and development, and in realizing the goal of building a community of shared future for mankind, said the two senior UN officials.
Related:
Work Together to Build a Community of Shared Future for Mankind
Speech by H.E. Xi Jinping
President of the People's Republic of China
At the United Nations Office at Geneva
Geneva, 18 January 2017
Your Excellency Mr. Peter Thomson, President of the 71st Session of the UN General Assembly,
Your Excellency Mr. António Guterres, UN Secretary-General,
Your Excellency Mr. Michael M ller, Director-General of the UN Office at Geneva,
Ladies and Gentlemen,
Friends,
As a new year begins, everything takes on a new look, and it gives me great pleasure to visit the United Nations Office at Geneva and discuss with you the building of a community of shared future for mankind, which is the call of our time.
I just attended the World Economic Forum Annual Meeting. In Davos, many speakers pointed out in their speeches that today's world is full of uncertainties and that people long for a bright future but are bewildered about what will come. What has happened to the world and how should we respond? The whole world is reflecting on this question, and it is also very much on my mind.

[ Editor: Wang Peiyao ]