Tiffany Trump's style journey with her Chinese fashion designer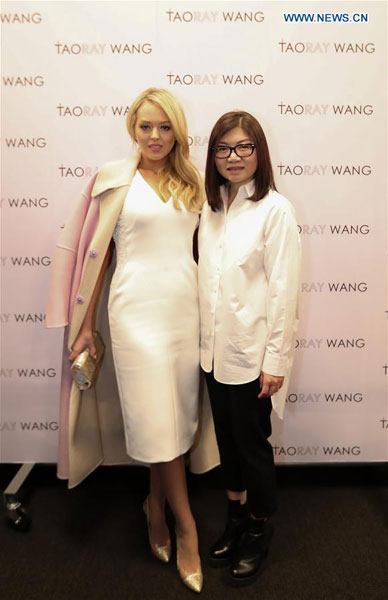 Tiffany Trump (L) poses for a photo with Chinese designer Wang Tao at the backstage before the fashion show of Chinese designer Wang Tao during the New York Fashion Week in New York, the United States, on Feb. 11, 2017. At the invitation of the designer Wang Tao, Tiffany Trump, daughter of U.S. President Donald Trump, watched the Taoray Wang show as a guest on Saturday.[Photo: Xinhua]
It was such a pleasant surprise for Tao Wang to see Tiffany Trump, the youngest of U.S. President Donald Trump's two daughters, sitting in the front row at the Chinese designer's New York fashion week show.
"She looks even more beautiful, elegant and confident. I feel very happy and proud. " Wang told Xinhua in an interview on Wednesday. "I would say she chooses her own style rather than Taoray Wang."
The 23-year-old Tiffany, accompanied by her mother, Trump's ex-wife Marla Maples, drew media attention in an off-white V-neck dress and two-toned coat by Taoray Wang, the namesake brand of the Shanghai-based designer, who debuted her Fall/Winter 2017 line in the Skylight Clarkson Square on Saturday.
Evolution of a next-door-girl
"I'm here to support Tao and that comes with the territory. I thought the collection was spectacular, the way she tailors so well and flows in fabrics," Tiffany was quoted as saying at the backstage following the show by Women's Wear Daily, a fashion-industry trade journal.
Tiffany is the only child from her father's six-year marriage to actress and TV personality Maples from 1993 to 1999. She graduated in 2016 with a degree in Sociology and Urban Studies from the University of Pennsylvania, her father's alma mater.
The U.S. first daughter, who grew up in California with her mother, said she is partial to "the classic look, chic, simple - sometimes adding a little bit of an edge, a little girly influence or something more trendy.
"My aesthetic kind of changes. Tao really hits it right on point. She has lace, leather, perfectly tailored jackets. I love it," she said.
The first time Tiffany met Wang was at her Spring/Summer 2017 show on Sept. 12, 2016 in New York.
"Tiffany got to know me from her friend's lookbook and she cancelled her flight to Los Angeles to come to my show that day," Wang, who first debuted her brand at New York Fashion Week in the fall of 2014, recalled.
Wang was very impressed that the young lady is so beautiful and sweet,"just like the girl next door", catering to various requests from audiences for photos with her.
"Tiffany went backstage afterwards, expressed her appreciation of my design, and told me she would follow my brand," Wang said, "I thought she said so just out of courtesy at the moment. But she did write to me soon and we had deeper interaction."
Wang, who studied fashion in Japan after graduating with a degree in history from East China Normal University, was thrilled to know Tiffany, wearing a Taoray Wang's cashmere herringbone dress with lace trim, attended her father's first presidential debate on Sept. 26, 2016.
"At the first sight of Tiffany on TV, she is such a confident and elegant lady in the outfit I made for her, her image of a lovely next-door-girl is no more there, I am glad to see my design come to life on her, " Wang said.
Actually, Wang altered the original design of the black dress Tiffany ordered from the lookbook, making it into one with under-knee length and silk-lined lace to better accomodate the formal solumn occasion. "I do not tell her this before I sent it to her, she likes it very much. I do image-building in addition to fashion design, you know."
"What moves me a lot is that Tiffany is such an encouraging, down-to-earth sweetheart, she never hesitates to praise me whenever she gets my designs." Wang said." 'You are the best' is the sentence Tiffany likes to use in her email to me. Her sweet polite tone has never changed a bit though she is now the first daughter of the country."
Wang said she has never expected Tiffany would wear a white double-breasted coat from the designer at her father's inauguration as the new U.S. president on Jan. 20, 2017.
"She never said to me she is going to wear it that big day," Wang said."But she did, and showed her admirable elegance and sophistication again with a Taoray Wang."
Wang said she is very thankful to Tiffany for her trust and choice of the Chinese brand as it is said people usually wear American designs on these historic occasions.
"Tiffany not only worn it, but also clearly stated it is designed by me, she even helped reporters correct the wrong spelling of Tao."
Chinese culture is not just big red and purple
"I have to repeat that Tiffany chooses her own style rather than Taoray Wang, " said Wang, "Tiffany is kind of a woman who knows what she wants,and is never afraid to express herself. That is exactly my brand is about."
The Chinese designer said her brand is created for global elite woman leaders, including lawyers,bankers, politicians or entrepreneurs, who "are not afraid of appearing feminine and attractive".
It is manifested in Wang's modern take on classic suiting, with a unique twist of East meets West, and an empowering masculine look made feminine when paired with delicate lace negligees.
In her fall/winter 2017 collection, she sent down the runway black jackets, double breasted coats and wide-legged tweed pants - a powerful look made sexy with knee-high platform boots, lace underlay and pink silk lining on coats.
"Apart from my exposure to diverse cultures, I am a great fan of literature, and some of my inspirations are from western and Chinese literature classics. " Wang said.
For example, the pink silk lining she uses a lot on coats is an obvious reminder of the descriptions of Qipao (a body-hugging one-piece Chinese dress for women ) worn by characters in popular love stories written by late Eileen Cheung, one of the most influential modern Chinese writers, she said.
In designing dresses like the above mentioned one Tiffany has worn, Wang said she is indebted to late 18th and 19th century fashion style recorded in classics like Wuthering Heights.
"People often ask me what the Chinese elements are in my brand, I'd like to say the Chinese culture is not just big red and purple, not just Long Feng Cheng Xiang (Dragon and Phoenix bring Auspiciousness), " Wang said.
"As in Chinese tractional painting, Chinese artists tend to capture not only the outer appearance of a subject but its inner essence as well, its energy, life force, spirit, that is the heart of Chinese culture, " she said, pointing to a dark coat hung behind her." It appears to be no different from an ordinary coat for a career woman, but look at the inside, I added the luxurious lining of jacquard silk which is warm,tender and smooth."
"You will not feel the comfort of the coat unless you put it on. You are not only looking great, but also feeling great. This integrated experience is what I want to have my clients appreciate. This is truely very Chinese in a deeper sense," Wang said.
"I believe fashion transcends cultures, time and geographies," she said. "That is why I named my company Unity International Company Limited. That is my ideal."

[ Editor: Wang Peiyao ]