China Focus: Life ahead of overseas-born panda back home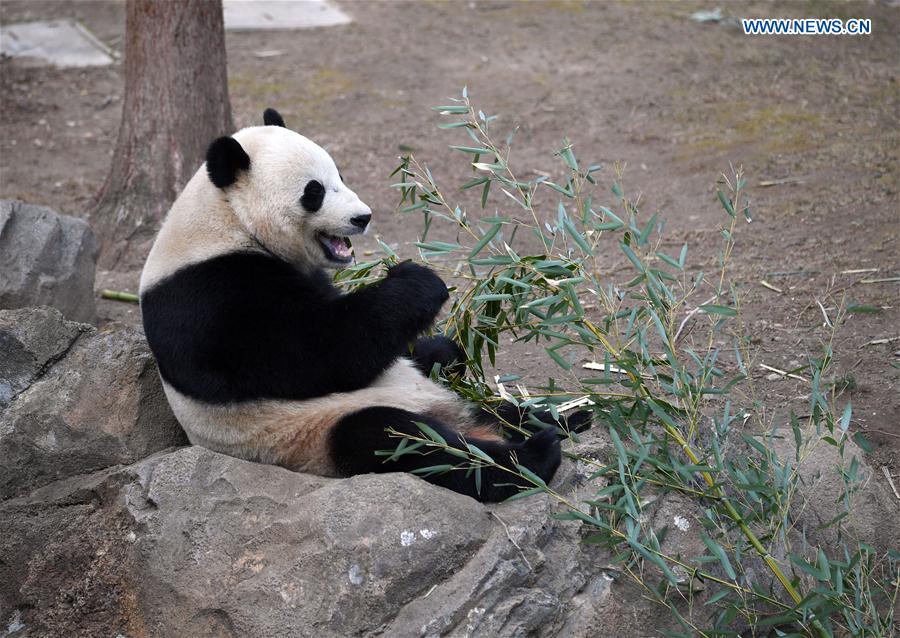 Giant panda Bao Bao eats bamboo at Smithsonian's National Zoo in Washington D.C., the United States, Feb. 16, 2017. American-born giant panda Bao Bao will arrive in southwest China's Sichuan Province on Feb. 22 night (Beijing time). (Xinhua/Yin Bogu)
CHENGDU, Feb. 21 (Xinhua) -- American-born giant panda Bao Bao will arrive in southwest China's Sichuan Province Wednesday night (Beijing time).
Bao Bao was born on Aug. 23, 2013 at the Smithsonian's National Zoo in Washington D. C.
Like other giant pandas that were born and raised overseas, Bao Bao is expected to face a series of challenges in her new surroundings.
Bao Bao must undergo quarantine for a month at the Dujiangyan base of the China Conservation and Research Center for Giant Panda in Chengdu city. She will be kept isolated in a 100-square-meter enclosure for the duration of the quarantine period, according to the center.
"All pandas from overseas are quarantined," Wei Ming with the center said. "During this month, the panda undergoes health checks everyday, and the keepers will make note about their diet and activities."
A breeder and vet from the U.S. have accompanied the panda, and they will stay at the center for a few days, according to the U.S. zoo.
"According to previous experience, pandas from the United Stateseat local bamboo and biscuits, but we will gradually introduce Chinese 'wotou' (steamed bread made from corn and sorghum) and fresh bamboo," Wei said.
"Understanding commands will be another challenge for the U.S.-born panda," said Wei.
Bao Bao has been living in the United States since she was born, and she is unfamiliar with Chinese intonation.
"Overseas-born pandas need to be trained to react to our commands," Wei said.
It will take a few months to half a year for the pandas to adapt to their new lives anywhere, Wei added.
The public will be able to see Bao Bao after she has been given a clean bill of health following her quarantine. The center has not decided where she will live in the future.
Bao Bao's brother Tai Shan, who was also born in the United States, has been in Chengdu since 2010. He lives at the Dujiangyan base.
Her mother Mei Xiang and father Tian Tian were sent to Washington in 2000 under a collaboration agreement between China and the United States. Their first born, Tai Shan, came in 2005, and their third, Bei Bei, was born in 2015. The mating pair and the youngest cub remain in Washington.
The center has helped 10 overseas-born pandas with their transitions to live in China. "We are very excited to meet the eleventh," Wei said.
Related:
Washington's National Zoo kicks off events to send off Giant Panda Bao Bao
WASHINGTON, Feb. 15 (Xinhua) -- The Smithsonian's National Zoo on Wednesday kicked off a series of public events as it prepared to send off Giant Panda Bao Bao back to China.
On the same day, a group of Bao Bao's keepers met with saddened fans, who have watched the female panda grow to a three-and-half-year animal after being born in the zoo on Aug. 23, 2013. Full story
Giant Panda Bao Bao in Washington Zoo to depart for China
WASHINGTON, Feb. 6 (Xinhua) -- Giant Panda Bao Bao will be making the journey back to China on Feb.21, the Smithsonian National Zoo said Monday in a statement.
Bao Bao was born on Aug.23, 2013 at the Washington Zoo, and is nearing her fourth birthday. Full story
Panda cubs pose for New Year greetings in SW China
CHENGDU, Jan. 11 (Xinhua) -- Eight giant panda cubs posed for Lunar New Year greetings on Wednesday at a breeding base in southwest China's Sichuan Province.
The eight cubs, including three twin pairs, were all born in 2016. In a festively decorated area of the Bifengxia breeding base of the China Giant Panda Protection and Research Center, the cubs walked, climbed up trees and played with toys in the presence of keepers. Full story
[ Editor: glj ]