China to beef up real economy with innovation: vice premier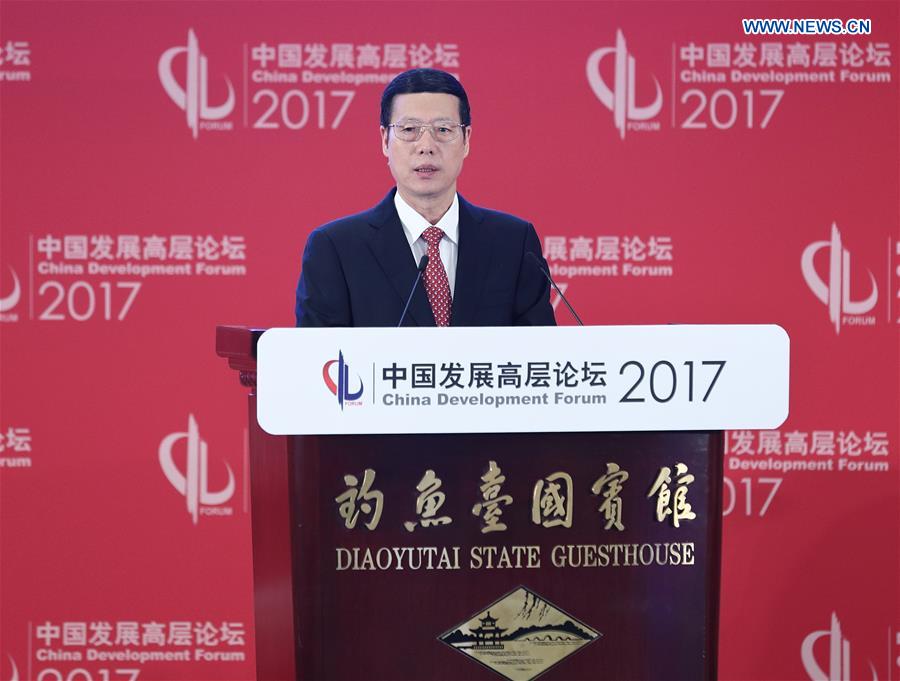 Chinese Vice Premier Zhang Gaolispeaks at the opening ceremony of the China Development Forum (CDF) 2017 in Beijing, capital of China, March 19, 2017. (Xinhua/Wang Ye)
BEIJING, March 19 (Xinhua) -- China will remain committed to ensuring innovation drives development forward and will increase efforts to revitalize the real economy, Vice Premier Zhang Gaoli said Sunday.
"The real economy is the foundation of economic growth and we will optimize it," Zhang said at the opening ceremony of the ongoing China Development Forum (CDF) 2017.
China will improve its capabilities in scientific innovation and boost development of strategic emerging sectors and modern manufacturing while transforming traditional industries with new technology and business models, Zhang added.
The government will continue to promote entrepreneurship and the "Internet Plus" plan to meet the diverse needs of the market. Chinese companies will be encouraged to use craftsmanship to establish competitive brands that can stand the test of time, according to Zhang.
China will further reduce costs for enterprises by streamlining administration and pushing forward tax reforms, he said.
Prevention and control of financial risks will be elevated to a higher position on the government's agenda, Zhang pointed out, adding that China will manage risks in bad loans, bond default, property bubbles and Internet finance to avoid systemic financial risk.
The government will also speed up SOE reform, make concrete mixed-ownership reforms in sectors like electricity, petroleum, railway, civil aviation and telecommunications and open the market wider to private investment, Zhang added.
The CDF, organized by the Research Development Center of the State Council, is a high-level meeting that gathers leaders from international institutions, academia and companies worldwide. It is usually held after the annual sessions of China's national legislature and political advisory body.
[ Editor: Zhang Zhou ]