Chinese teenager Yan beaten by Murphy in snooker worlds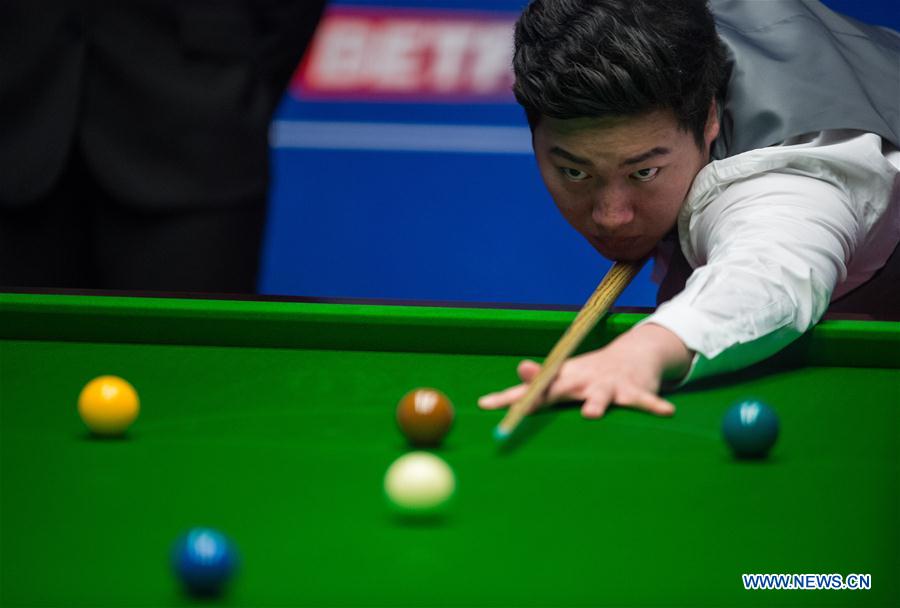 Yan Bingtao of China competes during the first round match against Shaun Murphy of England during the World Snooker Championship 2017 at the Crucible Theatre in Sheffield, Britain on April 16, 2017. (Xinhua/Jon Buckle)
LONDON, April 17 (Xinhua) -- China's Yan Bingtao, the youngest player competing at the World Snooker Championship, was beaten by former winner Shaun Murphy 10-8 in the first round at Crucible in Sheffield on Monday.
Yan, who entered the main draw by winning three matches in the qualifying tournament, trailed the 2005 champion 3-6 after the first session, but he made a brave comeback in the afternoon when Murphy led 9-5.
Runs of 94, 70 and 47 saw him catapult back into the match at 9-8. Yan established a lead of 65-23 when Murphy took on an ambitious long red to the top left corner, it rattled the jaws but found it's way into the top right pocket. A huge piece of fortune, but the 34-year-old took full advantage. He kept his cool and taking out the clearance of 44 to seal the tie.
Murphy, who takes on five-time champion Ronnie O'Sullivan in the second, spoke highly of his opponent.
"You just know how good he is," he told worldsnooker.com. "I can't praise him enough, his colleagues and his generation of Chinese players. Their commitment to pursuing a career in snooker is unbelievable, they've left their home countries and continent behind to come here and they play snooker every hour that God sends and they deserve everything they get. I think he and his compatriots are going to do some serious damage over the years.
"Yan has got that certain something, where he's got a bit of swagger. He actually believes he is as good as he is, and I remember one of the things that somebody said to me when I was younger, 'If only you knew how good you are then you'd be it'. He knows how good he is and he'll be around for a very long time."
The 17-year-old Yan remained upbeat about his future World Championship prospects following the loss.
"I think it's a great experience for me in many respects. I've learned a lot playing at the Crucible for the first time and I believe that I can do better next year.
"Had it went to the deciding frame, I wouldn't have been under any pressure. I wasn't thinking about winning when I was 9-5 down, I was thinking one frame at a time. I'm young and I have many more chances to come back to the Crucible. I would have stuck to my game which worked pretty well during the last few frames, I kept scoring well."
Marco Fu, from Hong Kong, China, came back from 7-2 down in the first session to beat Belgian Luca Brecel, while Stuart Bingham, the 2015 champion, battled past Peter Ebdon 10-5 to reach the last 16. Mark Allen also reached the second round with a 10-8 victory over Jimmy Robertson.
Last year's beaten finalist Ding Junhui built a commanding 7-2 advantage over fellow Chinese Zhou Yuelong in the opening session of their first round tie.

[ Editor: Zhang Zhou ]