Let Internet better benefit China and its people ——Commentary on Xi Jinping's speech on cyberspace security and informatization on April 19, 2016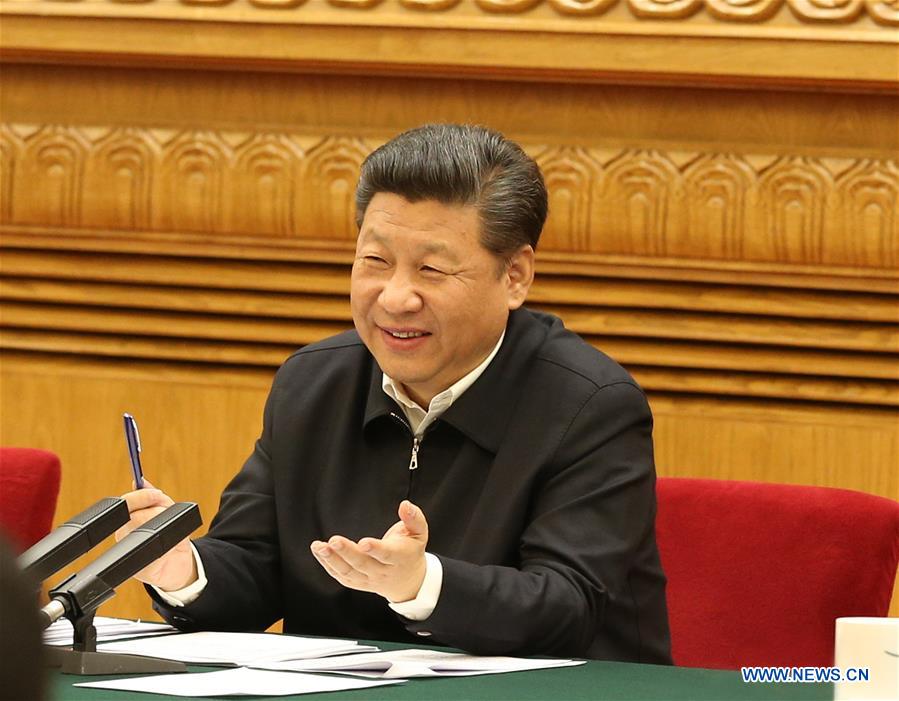 Chinese President Xi Jinping, also head of the central Internet security and informatization leading group, presides over a symposium on cyberspace security and informatization in Beijing, capital of China, April 19, 2016. (Xinhua Photo)
On April 19, 2016, Chinese President Xi Jinping, also general secretary of the Communist Party of China (CPC) Central Committee, chairman of the Central Military Commission (CMC) and head of the Central Internet Security and Informatization Leading Group, presided over a symposium on cyberspace security and infromatization and delivered a keynote speech. Xi stressed that it is the general requirement and trend to promote economic and social progress in accordance with the concepts of innovation, coordination, green development, opening up and sharing at present and in the following period. He stated that China should follow the general trend enhance Internet security and informatization and promote China's building of Internet power so as to better benefit the country and the people.
Mankind has experienced agricultural revolution and Industrial Revolution, and is experiencing information revolution. Today, the rapid advancement of information technology represented by the Internet has brought about new ways of social production, created new space for people's lives, opened new horizons of state governance and enhanced people's ability to understand and shape the world. As one of the greatest inventions in the 20th century, Internet has brought huge changes to people's lives and promoted innovative development in various areas. As Internet has become the new engine of social progress as well as a new platform of international competition, China must seize this significant historic opportunity.
Though China has just been incorporated into the Internet for about 20 years, it has made remarkable achievements in handling relations between Internet security and development, opening up and self-determination, management and service, while promoting Internet development. With more than 700 million Internet users, 470 million fixed broadband customers and multiple Internet companies in the global top 10, China's Internet industry has not only developed rapidly in scale and output value but also made tremendous progress in legislation and institutionalization. The national strategies for cyber development, the "Internet Plus" action plan and big data strategy have been adopted at the 5th Plenary Session of the 18th CPC Central Committee as well as in the "13th Five-Year Plan".
Meanwhile, the high-profile Cybersecuity Law was passed at the 24th Session of the 12th National People's Congress (NPC) Standing Committee. China has been on a fast track of Internet development with a complete industrial structure, which will play a positive role in promoting innovative development, transforming economic development model and adjusting economic structure.
Internet and information industry development must follow a people-focused development philosophy. Under the background of comprehensively deepening reforms today, Internet has provided a platform for exchanges and interaction as well as convenience and challenges. We should continue to accelerate the popularization of informatization services and reduce application cost so as to let people have a sense of gain by sharing the dividends of Internet development. We should continue to make more efforts to speed up rural Internet construction. We should give full play to Internet through the implementation of "Internet plus education", "Internet plus medicare", "Internet plus culture" so as to ensure equal access to basic public services. We should also accelerate the e-government project and encourage governments at all levels to break information barriers and improve service efficiency so as to provide more convenience to citizens.
Internet is a technology-intensive industry as well as one of the areas with fastest technological update. Under the strong leadership of the Party Central Committee with Comrade Xi Jinping as its core, more and more people have a sense of gain through sharing the benefits of Internet development.
By Guangming Daily commentator
Translated by Zhang Zhou 

[ Editor: zyq ]