20 pupils die in traffic accident in S. Africa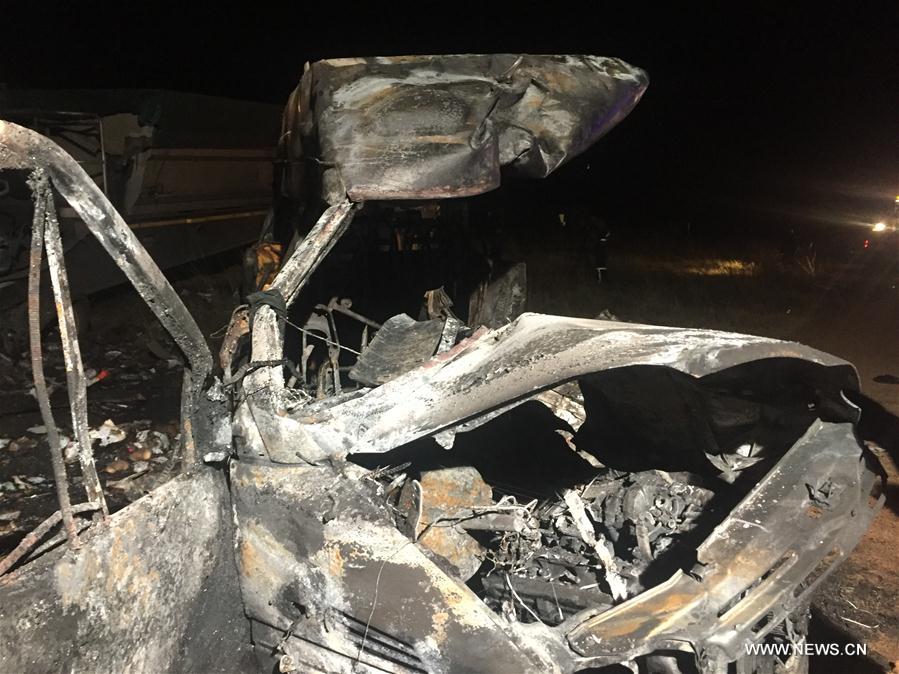 Photo taken on April 21, 2017 shows the site of a traffic accident on the R25 between Verena and Bronkhorstpruit in the north of Gauteng, South Africa.The South African Gauteng Education Department said Friday that at least 20 school pupils died in a traffic accident in the north of the province. (Xinhua/Kalden Ongmu)
JOHANNESBURG, April 21 (Xinhua) -- The South African Gauteng Education Department said Friday that at least 20 school pupils died in a traffic accident in the north of the province.
The department's spokesperson Steve Mabona said the minibus taxi carrying school children collided head-on with a truck on the R25 between Verena and Bronkhorstpruit.
The taxi then burst into flames and ended up lying on its side.
"There are about 30 people involved in this accident but we can confirm that about 20 of the learners passed away on the scene. Emergency services are there to assist those who might have survived," said Mabona.
Spokesman for the ER24 emergency medical service, Russel Meiring, said, "The fire services had already extinguished the burning vehicle, which was found lying on its side."
"Unfortunately, nothing could be done for the children and they were declared dead on the scene," Meiring said.
The cause of the collision is not yet known.
[ Editor: Zhang Zhou ]