Chinese premier urges EU to fulfill WTO obligations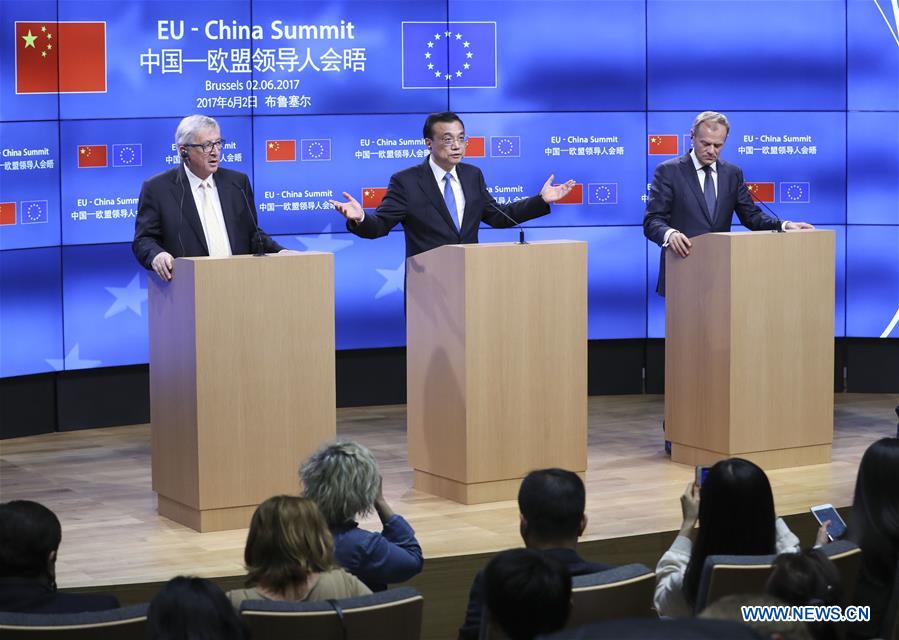 Chinese Premier Li Keqiang, European Council President Donald Tusk and European Commission President Jean-Claude Juncker attend a press conference in Brussels, Belgium, June 2, 2017. (Xinhua/Xie Huanchi)
BRUSSELS, June 2 (Xinhua) -- Visiting Chinese Premier Li Keqiang on Friday urged the European Union (EU) to fulfill its obligations under the World Trade Organization (WTO) system.
The EU needs to fulfill its obligations under Article 15 of the protocol on China's accession to the WTO and thus send a signal that international rules should be respected, Li told a press conference at the European Council.
Flanked by European Council President Donald Tusk and European Commission President Jean-Claude Juncker, Li noted that the EU has said it is revising relevant laws.
China, Li stressed, hopes that the revised regime will be in line with WTO rules and non-discriminatory.
According to Article 15, WTO members should have stopped using the surrogate country approach to conduct anti-dumping investigations on China by Dec. 11, 2016.
The press conference was held following the 19th China-EU leaders' meeting. In his talks with the EU leaders, Li said Article 15 is a "sunset clause" and all sides should honor the protocol on China's accession to the WTO.
That not only means fulfilling due international obligations, but also means following international rules and respecting the rules-based international order, he added.
As regards China-EU trade frictions, the premier pointed out that the two sides can manage them through bilateral and multilateral channels.
For their part, Tusk and Juncker said at the press conference that the EU and China had serious discussions over Article 15 and other issues of common concern during the leaders' meeting, and have expanded consensus and narrowed differences.
During the meeting, they acknowledged that in face of global uncertainties, maintaining the current international system accords with the common interests of the EU and China, as well as those of the whole world.
[ Editor: Zhang Zhou ]