Chinese vice premier stresses building of Belt and Road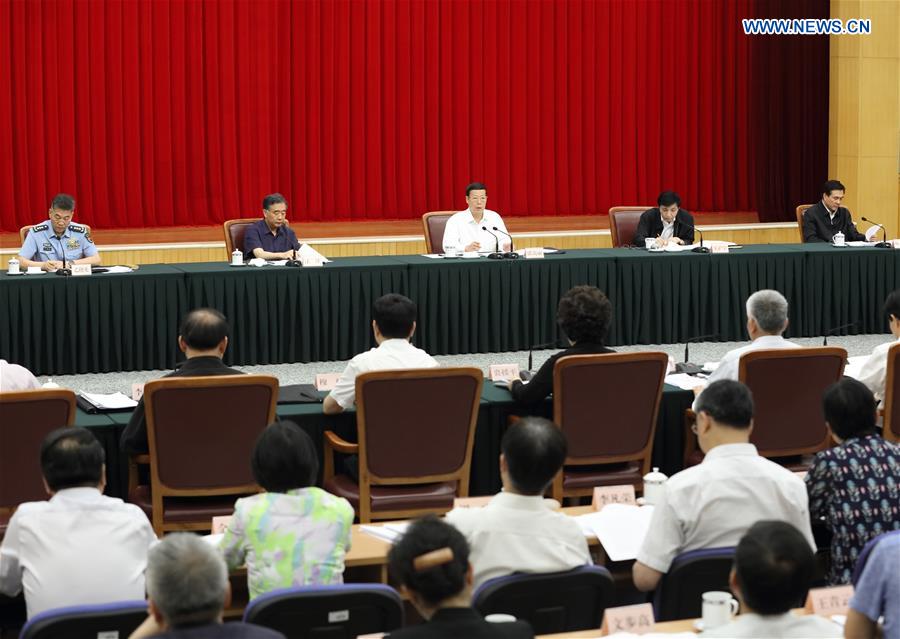 Chinese Vice Premier Zhang Gaoli addresses a work conference on the Belt and Road Initiative in Beijing, capital of China, June 16, 2017. (Xinhua/Wang Ye)
BEIJING, June 16 (Xinhua) -- Chinese Vice Premier Zhang Gaoli said Friday that China should endeavor to develop the Belt and Road into a path of peace, prosperity, opening up and innovation, as well as one that connects civilizations.
Addressing a work conference on the Belt and Road Initiative, Zhang said local authorities must encourage the Silk Road spirit of "peace and cooperation, openness and inclusiveness, mutual learning and mutual benefit" to push forward the China-proposed initiative.
To build the initiative into a safe cooperation environment, China should connect the initiative with the development strategies of other countries along the Belt and Road, raise the ability of overseas security protection and create an environment featuring joint contribution and shared benefits, Zhang said.
"By focusing on development, the country must continue to focus on connectivity and industrial cooperation as the major fields of cooperation for building the Belt and Road into a road of prosperity," Zhang said.
He said that to build an open business environment, unswerving efforts should be made to safeguard multilateral trade systems, enhance investment cooperation and facilitate trade and investment.
"China should also enhance cooperation with countries along the Belt and Road in innovation-related fields, including the Internet, big data, cloud computing, digital economy, artificial intelligence and nanotechnology," Zhang said.
More platforms should be created to enhance multi-layered people-to-people exchanges in building the Belt and Road into a means of connecting different civilizations, Zhang noted.
The country should do its best to implement the outcomes from the Belt and Road Forum for International Cooperation, which was held from May 14 to 15, Zhang said.
He added that the government should increase guidance and supervision for Chinese companies doing business overseas, strictly regulate their investment and business operations, and prevent risks in major investment projects.
China should also find new means of international investment and financing and create a multi-level financial platform to give the initiative stable and sustainable financial support with controllable risks, he said.
The vice premier also called for the setting up of think tanks and studies into important issues to offer valuable consultation and facilitate decision-making in building the initiative.
Named after the ancient Silk Road, the Belt and Road Initiative is seeking to integrate the rapidly expanding Chinese economy with the development of Asia, Europe, Africa and beyond.
[ Editor: Zhang Zhou ]