Violence kills 6 policemen, 2 civilians in Indian-controlled Kashmir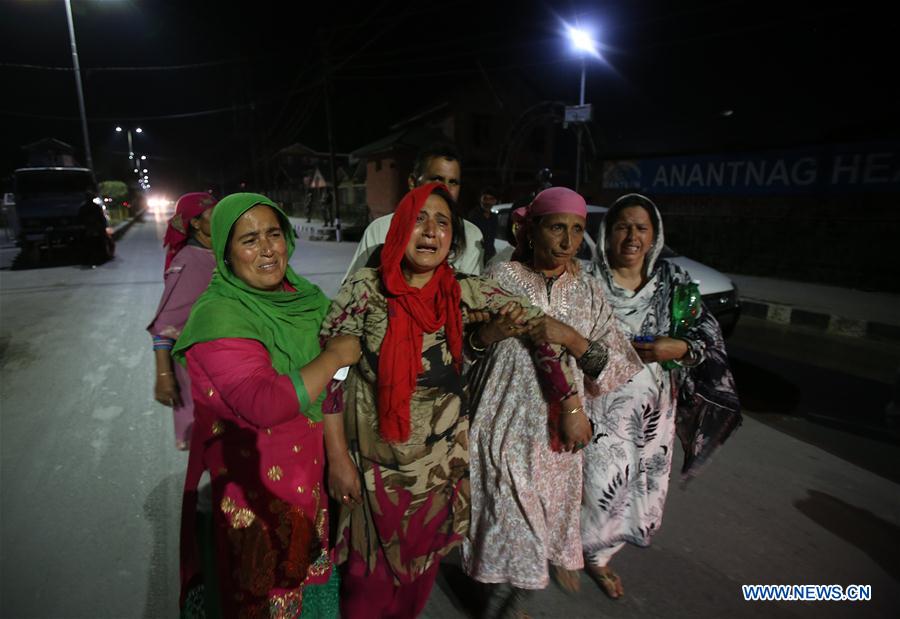 Kashmir women help a wailing relative of a slain policeman during a ceremony in Anantnag district, Indian-controlled Kashmir, on June 16, 2017. Six policemen including an officer were killed after militants attacked their vehicle, while two civilians were killed and several others injured during clashes near a gunfight site in restive Indian-controlled Kashmir Friday, police said. (Xinhua/Javed Dar)
SRINAGAR, Indian-controlled Kashmir, June 16 (Xinhua) -- Six policemen including an officer were killed after militants attacked their vehicle, while two civilians were killed and several others injured during clashes near a gunfight site in restive Indian-controlled Kashmir Friday, police said.
The policemen were killed when militants ambushed a vehicle carrying them Friday evening at Thajiwara - Achabal village in Anantnag district, about 65 km south of Srinagar city, the summer capital of Indian-controlled Kashmir.
"This evening militants attacked a police vehicle near Achabal here, killing six policemen including their officer on spot," a police official told Xinhua. "The intensity of the damage suggests the militants were heavily armed."
Local media reports said militants looted the service rifles of policemen following the attack.
Lashkar-e-Toiba (LeT) militant outfit has claimed responsibility for the attack.
"Our militants ambushed the car in which six policemen including an SHO were killed," a Srinagar based news gathering service KNS quoted LeT spokesman Abdullah Ghaznawi as saying.
Friday's attack comes despite an alert issued by police in wake of an increase in militant attacks in districts especially south of Srinagar.
Earlier during the day a gunfight was triggered in Aarwani village of the district. While the government forces were trying to lay cordon of the village, young men hit roads and threw stones and brickbats towards policemen, apparently in a bid to help militants break through the siege.
A young man and a teenager were killed after being hit by bullets, and several others were left wounded.
Meanwhile, the fierce gunfight in the village is under way.
Police officials suspected two to three militants are present in the village.
Unconfirmed reports said two local cadres of LeT are trapped in the village.
Authorities on Friday again blocked high speed mobile Internet facility in the area fearing escalation in tempers over civilian killings.
Reports said the Internet speed on fixed landline broadband connections was also reduced.
A guerrilla war is going on between militants and Indian troops stationed in the region since 1989. However, of late Indian policemen too have been trained to fight them.
Police officials said militants in the region have been targeting policemen guarding houses of politicians and other protected people to snatch rifles, in wake of weapons shortage within the militant ranks.
[ Editor: Zhang Zhou ]