Top legislator stresses Party's leadership over people's congresses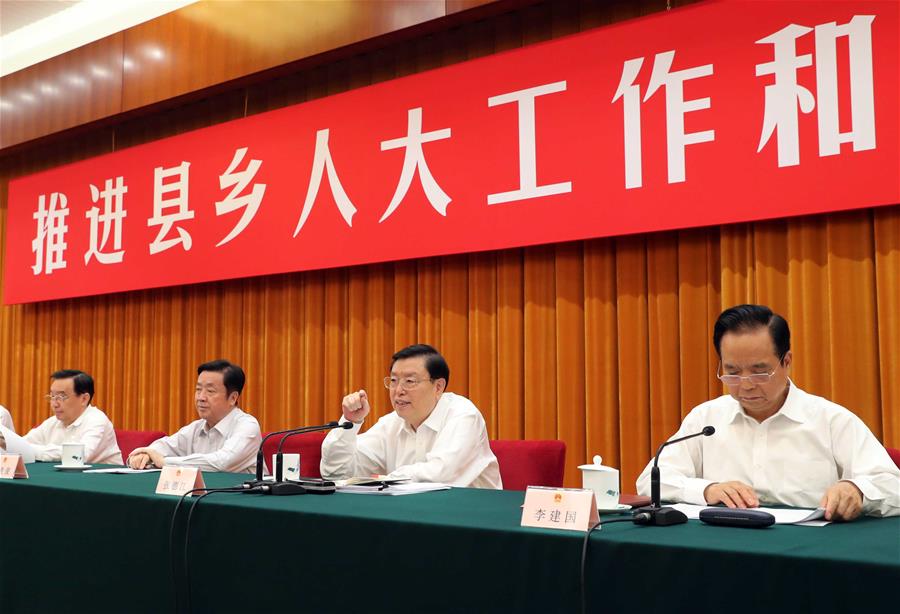 Zhang Dejiang(2nd R), chairman of the Standing Committee of the National People's Congress, addresses a symposium on the work of county and township-level people's congresses in Beijing, capital of China, June 19, 2017. (Xinhua/Liu Weibing)
BEIJING, June 19 (Xinhua) -- Chinese top legislator Zhang Dejiang Monday underlined the Communist Party of China's (CPC) leadership over people's congresses, urging them to better perform their duties in accordance with the law.
Zhang, chairman of the National People's Congress Standing Committee, made the remarks at a symposium on the work of county and township-level people's congresses.
Zhang urged people's congresses to remain realistic and pragmatic in their work.
He said that improving the system of people's congresses must be made in accordance with the law and replicable experience should be institutionalized and legalized in a timely manner.
Zhang stressed the importance of political consciousness, asking people's congresses to grasp the right political direction and fulfill their responsibilities.
Zhang also urged them to improve their abilities to perform duties in accordance with the law and to better coordinate the work of people's congresses at various levels.
[ Editor: Wang Peiyao ]