Fire fighters battling remnants of Portugal's devastating forest fires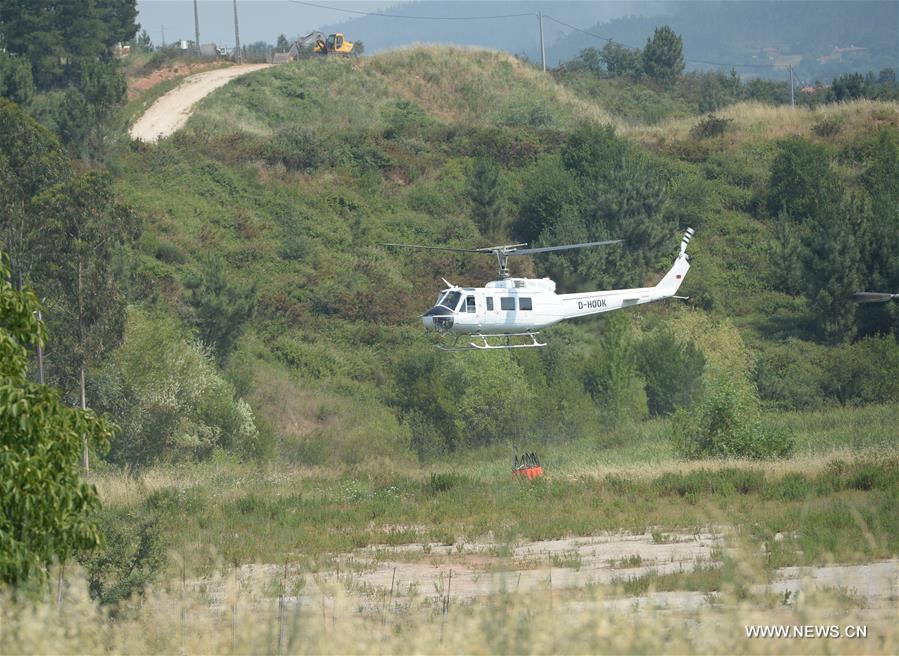 A helicopter carries out rescue missions in Avelar near Leiria, some 200 kilometers northeast of Lisbon, Portugal, June 19, 2017. The death toll from the forest fires raging in central Portugal rose to 64 on Sunday, with 135 others injured, and search for more bodies and investigation into the cause of the disaster were still under way. (Xinhua/Zhang Liyun)
LISBON, June 19 (Xinhua) -- Two days after the devastating forest fires in Pedrogao Granda, some 150 km northeast of the Portuguese capital city of Lisbon, fire fighters were on Monday still battling the remnants in areas where appalling blazing traces can be seen.
Along the highways a large swathe of tall trees was burnt with telecommunications cables down to the ground as wooden poles were destroyed in the fires. Smokes were seen rising above forests in some areas with temperature reaching nearly 40 degrees celsius.
At a construction site a high crane turned black with its painted coat burnt. Besides it, survived swarms of bees were flying and buzzing around a pile of beehives. A dead hare was spotted out there.
Houses, small and big, destroyed in the fire, stood amid burnt trees, with some of them roofless.
A rescue helicopter is hovering to put out a fire in the forest. Several vehicles carrying fire fighters are moving to areas where fires are still raging.
On the 362 national highway, the wreckage of cars gutted in fire have been cleared but black marks left on the ground are reminiscent of the tragedy that 47 people -- including 30 trapped inside the cars and 17 outside -- were engulfed by a deadly fire there.
By Monday, 64 people including a young fire fighter were killed and 135 others were injured in the fires which erupted in Pedrogao Granda on Saturday and quickly spread into neighboring towns, making it the biggest tragedy in Portugal in more than four decades, as President Marcelo Rebelo de Sousa stated.
A Spanish reporter told Xinhua that on the day when the fires erupted Portuguese fire fighters were not guaranteed good logistic service and the government failed to coordinate resources well. That was among the reasons why there have been so many victims.
A 61-year-old former Portuguese special force officer, who only gave his name as Antonio, somewhat agreed. He also said things have improved and that fire fighters are now well logistically supported.
At a disaster relief center in Pedrogao Grande, volunteers are busy loading trucks with water, food and fruits for distribution among fire fighters. In neighboring Avelar, there are volunteers packing clothing, blankets and shoes for people affected by the fires.
At the command post in Avelar, Portuguese and foreign media reporters are waiting for government updates on the firefighting situation.

[ Editor: Xueying ]