Pioneer capsule-like shared beds offered in Shanghai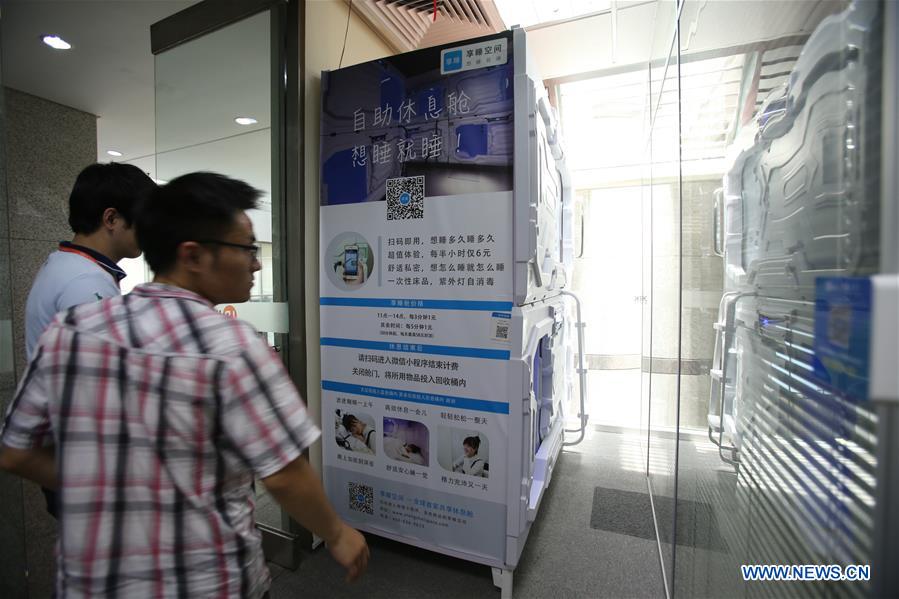 People pass by the "sleeping capsules" in Shanghai, east China, July 14, 2017.(Xinhua/Du Xiaoyi)
Two capsule-like shared beds came into service in an office building in Shanghai on July 13, thepaper.cn reported.
The two white "sleeping capsules" covering an area of 10 square meters provide one-off beddings and dustbins. Each capsule is equipped with a small ventilator, instead of an air conditioner. The lights inside are adjustable.
Outside of the capsule is the user's manual and a QR code. Users can open the door by scanning the code and leave by pressing "unlock." After a user checks out, the sleeping capsule is automatically disinfected by ultraviolet light.
"It's not only convenient for office workers to take a nap, but also a good choice to have a temporary stay for those who work overtime till midnight," a staff told the reporter.
However, opinions on the creative shared beds vary among net users.
A net user expressed amazement at the design and said that he plans to settle down in the sleeping capsules! A man suggested that more shared beds be set up in shopping malls so that men can have rest or play on phones while waiting for their girlfriends.
A net user with experience of the shared bed complained about the uncomfortable mattress and foot odor of other users.
Shared "sleeping capsules" are already in use in Beijing, Chengdu and Shanghai, it was reported. Users can enjoy a nap by paying 0.2 yuan a minute. The ceiling for single use is 58 yuan and a month's card costs 788 yuan.
[ Editor: Wang Peiyao ]