China a positive force for world peace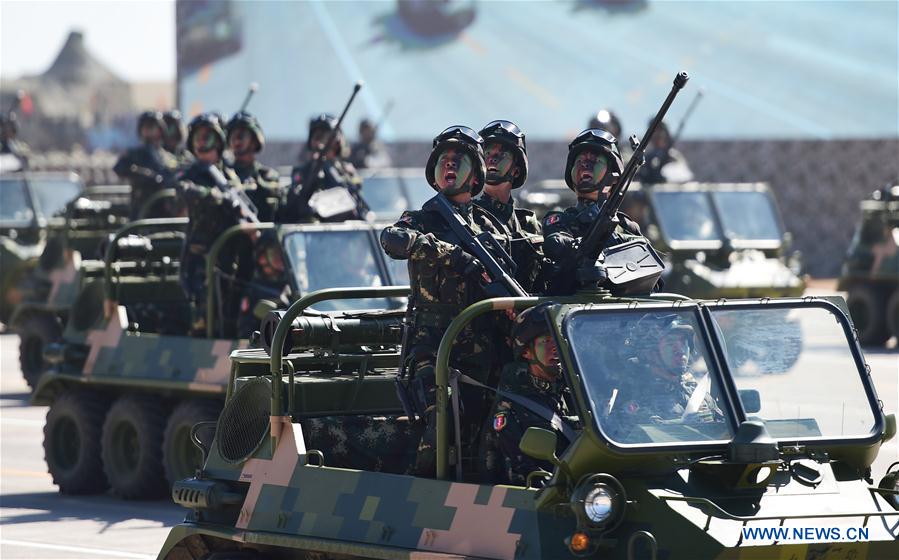 Photo taken on July 30, 2017 shows a formation of special troops during a military parade at Zhurihe training base in north China's Inner Mongolia Autonomous Region. China on Sunday kicked off a grand military parade to mark the 90th founding anniversary of the People's Liberation Army. (Xinhua/Deng Hua)
BEIJING, Aug. 1 (Xinhua) -- China, a country pursuing a path of peaceful development, proves to be a staunch and positive force in safeguarding world peace and development.
Since the beginning of the new century, China's enthusiasm in participating in international affairs has greatly enhanced.
Sticking to the path of peaceful development, China has become a contributor to world peace and development, and has worked side-by-side with the rest of the international community to deal with various global and regional challenges.
As a founding member of the United Nations and a permanent member of the UN Security Council, China has always supported the important role played by the United Nations in international affairs.
Over recent years, the country has become a major contributor to the United Nations peacekeeping operations, undertaking an increasing amount of tasks including global peacekeeping, escorting in high seas and international humanitarian relief.
It contributes more troops to U.N. peacekeeping missions than any other permanent members of the U.N. Security Council. More than 30,000 Chinese peacekeepers have served overseas since China started to participate in peacekeeping missions in 1990.
Meanwhile, China currently is the second-largest country to share United Nations' peacekeeping costs from 2016 to 2018, just behind the United States.
In addition, China has also played an important role in promoting Iranian nuclear talks, South Sudan's domestic reconciliation, political settlement of the Syrian issue and the Afghan peace process.
As many Chinese officials have stressed, the reality of China as the largest developing nation in the world has determined that development is its primary task for governance.
The historical gene of peace-loving of the Chinese people, their painful sufferings in the contemporary history, their aspiration for development and the historical trend of peace and development in today's world have all determined that China will not seek its development following the old colonial and hegemonic way of Western powers.
Chinese President Xi Jinping has said that China's pursuit of peaceful development is not an act of expediency, much less a diplomatic rhetoric,but a conclusion drawn from the objective judgement of history, the reality and the future.
China advocates the concept of building a community of common destiny as well as a new type of international relations featuring all-win cooperation.
With an economic vision to build a trade and infrastructure network connecting Asia with Europe and Africa, it is also promoting the construction of the Belt and Road Initiative, with the principles of extensive consultation, joint contribution and shared benefits.
In the future, a more prosperous China will certainly make even greater contribution to world peace and development.

[ Editor: Zhang Zhou ]