How difficult is to visit China's top universities during summer holidays?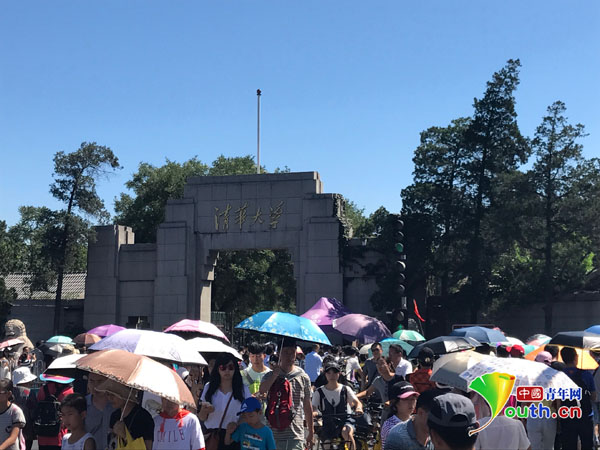 Crowds throng at the west gate of Tsinghua University, August 6, 2017. (youth.cn/Zhang Ruiyu)
Every summer, crowds from across the country flock to the campuses of Tsinghua University and Peking University in Beijing during the summer holidays, China's top two universities. With the rising number of visitors, it usually takes many hours to get a chance to enter the universities, youth.cn reported on Aug. 7.
Tsinghua University receives 6,000 visitors a day, half of which visit in the morning and half of which visit in the afternoon. Both group visitors and individuals have to line up in front of the west gate. "Tsinghua University opens to public at 8:30 a.m., however, many people start to line up at 3-4 a.m., because people who come at 6 a.m. may be too late and can only enter in the afternoon," said a guard.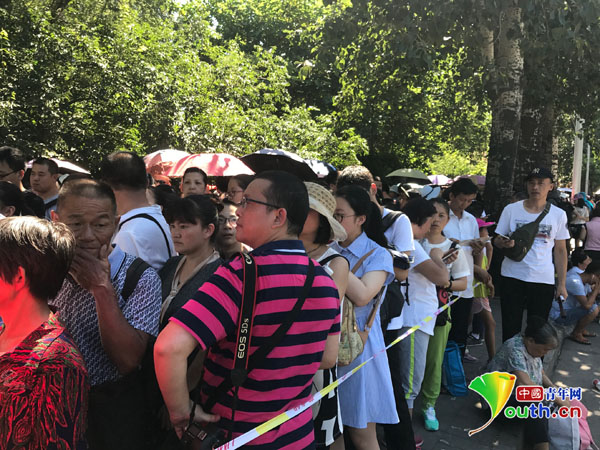 Visitors enter Tsinghua University after waiting for 3 hours, August 6, 2017. (youth.cn/Zhang Ruiyu)
Liu, a man from Hunan province, joined the line with his family in front of Tsinghua University at about 8 a.m. on Aug. 6. To their surprise, they could only enter the university in the afternoon. They ate their lunch—some bread and snacks—while waiting in the line.
Peking University only received group visitors in the morning of Aug.6 due to other scheduled events. Individuals are allowed to enter as usual from 2 p.m. The university is open to public from 7:30 a.m. to 11:30 a.m. and 2 p.m. to 5 p.m.. It's common to see visitors left outside when the university closes. Group visitors have to apply in advance on the university website. Groups are mainly youth summer camps with about 30 people each.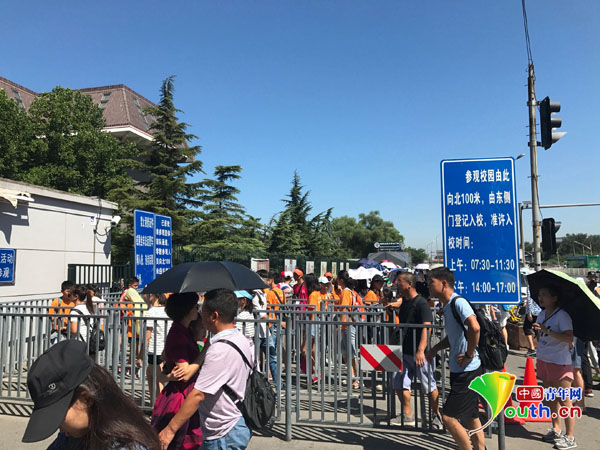 Group visitors wait outside the east gate of Peking University, August 6, 2017. (youth.cn/Zhang Ruiyu)
Beijing Youth Daily reported on Aug. 6 that scalpers could be found outside both universities. A netizen told the reporter that the scalpers often gather at the west gate of Tsinghua University. They charge 40 yuan per seat, claiming they can drive passengers into the campus from the east gate. The news has stirred the internet, with many slamming the scalpers' behavior.
A courier riding a tricycle was caught by a guard when trying to enter Tsinghua University on Aug. 4. Four people were found hiding in the tricycle. "It's very dangerous," said the guard to the couple and their two children. The courier and his tricycle were then detained by the guard.
Guards from both universities said they could not prevent people who have real credentials from taking other people onto campus. But they can stop those with fake or expired documents.

[ Editor: Wang Peiyao ]