Why do you go the opposite way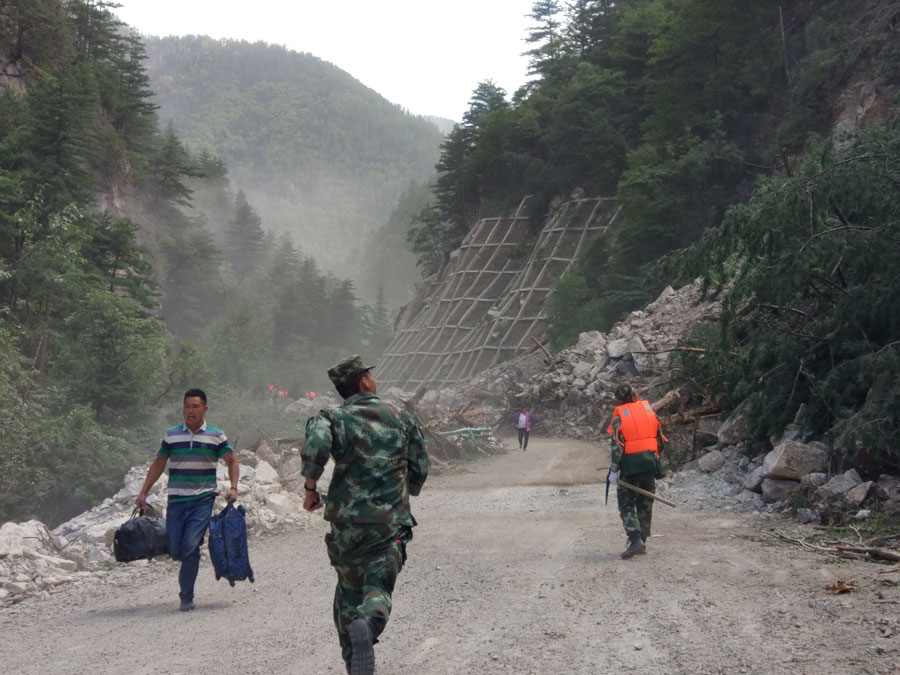 Photo taken on Aug. 9, 2017 shows sergeant Zhang Guoquan of the Aba division of People's Armed Police running to rescue people at quake-hit Jiuzhaigou County, southwest China's Sichuan Province. (Photo by Pan Zefu/ NetEase in Sichuan)
Editor's note: The photo above went viral on the Internet in China on Aug.11, 2017. In the photo, a solider of armed police runs to rescue people at quake-hit Jiuzhaigou County, southwest China's Sichuan Province. Netizens all praise sergeant Zhang Guoquan for his brave move. Here is a poem to salute to him and all people who have taken part in the rescue work at quake-hit Jiuzhaigou County.
Why Do You Go the Opposite Way
To Sergeant Zhang Guoquan of the Aba division of People's Armed Police
By Qi Mingyu
Translated by Zhang Zhou and Wang Zhihan
All running
Others to the wave of life
You the embrace of death
That moment of "live or die"
When they escape like mad
You exerted yourself as if death was not a thing
From that lonely back
I can't tell who you are 
But I know whom you are here for
Shaking ground under foot
I don't want to call you "hero"
For one more time, let me call you "dear bro"
Why are you there in the forefront?
Why do you go the opposite way?
Why are you so different?
I know, on your shoulders
One side is the nation
The other is home
Your camouflage
Is the flag of victory
The color of life
Your youth
belongs to your parents and family
To the people and motherland.

[ Editor: Liu Jiaming ]