Basomtso Lake: developing tourism industry to shake off poverty and get rich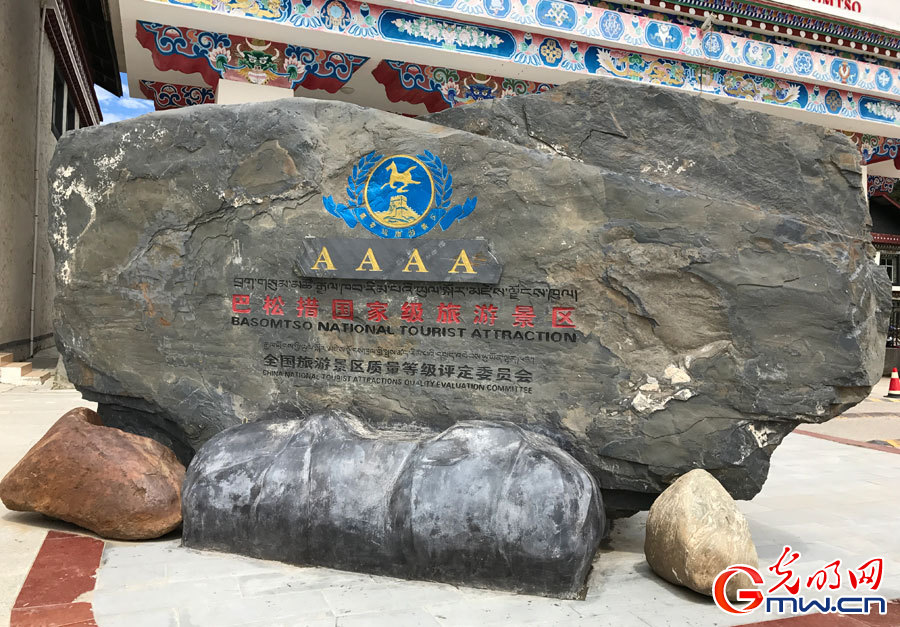 Photo taken on Aug. 11, 2017 shows the scenery of Basomtso National Tourist Attraction in China's Tibet. (Photo by Liu Jiaming/ Guangming Picture) 
By Liu Jiaming
Basomtso (Chinese: Bāsōng Cuò 八松措), literally meaning "three rocks" in Tibetan, is a lake covering 28 square kilometres in Gongbo'gyamda County, Nyingchi Prefecture of the Tibet Autonomous Region in China, approximately 300 km east of Lhasa in Tibet. At 3,700 metres over sea level it is about 18 km long and has an average width of approximately 1.5 kilometres. The deepest point of the green lake measures 120 metres. The lake is also known as Gongga Lake.
Basum Tso Lake (Basum Lake), also called Cuogao Lake in Tibetan, meaning the green water is the largest lake in eastern Tibet, located in Gongbo'gyamda County. Hiding in the deep valley of the upper reaches of the River Ba, Basomtso Lake is a notable holy lake of Nyingma Sect of Tibetan Buddhism at an altitude of 3,469 meters.
It was categorized as a world tourist attraction by the World Tourism Organization (WTO) in 1997 and the national forest park by the Chinese National Forestry Administration in 2002. Sustainable tourism offers new opportunities for local villagers. Government believes that developing the area's tourism potential is key to help villagers shake off poverty and get rich.
"We used to do farm work and graze work before, and only got an annual income of about 20, 000 yuan. But since we opened the rural home inns, the annual income has reached about 200 thousand to 300 thousand, ten times higher than before. All home inns are filled with increasing number of tourists due to improved transportation situation." said a villager Suolangbadan in an interview with the reporter.
During the 13th Five-year Plan period, Nyingchi will make progress in constructions of tourist infrastructure, model scenic spot of ecological tourism and smart tourism so as to achieve goals of 10 million tourists, 9 billion yuan tourism income which should account for over 30 percent of the city's GDP by the year of 2020. The Nyingchi city will be the significant part of the Tibetan ecological tourism center, national whole-area tourism model zone and Tibetan world's important tourism destination as well as the "first station of Tibetan tourism".
[ Editor: Zhang Zhou ]