UN chief highlights plight of refugees, migrants on World Peace Day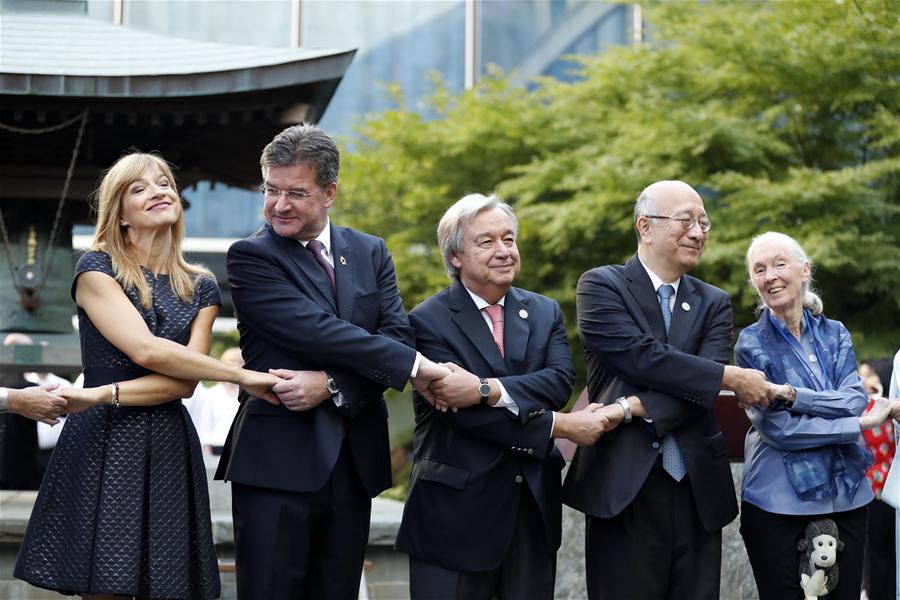 United Nations Secretary-General Antonio Guterres (C) poses for group photos with participants at a bell-ringing ceremony at UN headquarters in New York, Sept. 15, 2017. Guterres on Friday highlighted the plight of refugees and migrants and the need to end conflicts on the occasion to mark the International Day of Peace, or World Peace Day. The Peace Bell Ceremony is an annual ritual at the UN Headquarters, where the bell of peace is rung by the UN secretary-general for celebrations of the World Peace Day, which falls on Sept. 21. (Xinhua/Li Muzi)
UNITED NATIONS, Sept. 15 (Xinhua) -- UN Secretary-General Antonio Guterres highlighted the plight of refugees and migrants and the need to end conflicts on the occasion to mark the International Day of Peace, or World Peace Day.
At a bell-ringing ceremony in a garden at the UN Headquarters in New York to mark the day, Guterres said: "the International Day of Peace is an opportunity to renew our resolve to work for a future free of violence and strife."
"It's a day when we honor those who have fallen in war, and when we grieve the suffering that conflict causes. It is also when we call on combatants worldwide to lay down their arms and observe a day of cease-fire and nonviolence," he added.
"This year, we turn our thoughts in particular to refugees and migrants, who need our support more than ever. There are now more than 65 million people who have been forced by conflict and persecution to flee their homes and homelands. Many more are on the move out of desperation for a better future," he said.
"When more and more doors and minds are being closed to refugees, let us show solidarity. Let us highlight the shared benefits of migration to economies and to nations. When others receive the support they need and deserve, we are all more secure and better off."
The Peace Bell Ceremony is an annual ritual at the UN Headquarters, where the bell of peace is rung by the UN secretary-general for celebrations of the World Peace Day, which falls on Sept. 21.
The bell is cast from coins donated by children from all the continents except Africa, and was a gift from the United Nations Association of Japan.
The International Day of Peace was designated by the UN General Assembly in 1981, and was first celebrated in the following year.
The date initially chosen was the regular opening day of the new annual session of the UN General Assembly, the third Tuesday of September. It was changed in 2001 to the current annual celebration on Sept. 21 each year.
[ Editor: WPY ]