FMs of China, Pakistan, Afghanistan to hold talks within the year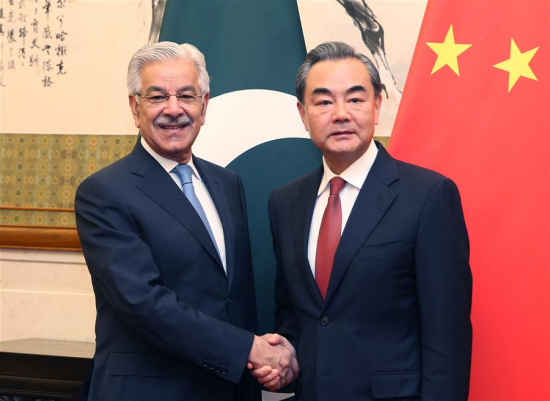 Chinese Foreign Minister Wang Yi (R) shakes hands with Pakistani Foreign Minister Khawaja Asif in Beijing, capital of China, Sept. 8, 2017. (Xinhua/Yao Dawei)
Foreign ministers of China, Pakistan, and Afghanistan will hold their first trilateral talks within the year, Chinese Foreign Minister Wang Yi said Friday.
Wang made the remarks during a press conference after a meeting with visiting Pakistani Foreign Minister Khawaja Asif.
Wang said Pakistan and Afghanistan are important countries in the region and he hopes the two nations can work together to safeguard stability in the region.
China attaches great importance to the relations with Pakistan and Afghanistan, and actively helps the two countries narrow differences and enhance mutual trust. It is also exploring opportunities to develop cooperation among the three countries, he said.
Through consultations, the three countries' foreign ministers will hold their first trilateral talks this year, Wang said, adding that they will focus on strategic communication, practical cooperation, and security dialogue.
On the anti-terrorism issue, Wang said terrorism is a global problem, and all countries should work together to solve it.
He said Pakistan has always been a victim of terrorism and an important participant in international anti-terrorism cooperation, and the world should recognize the efforts and sacrifice made by the Pakistani government and its people.
During the meeting with Asif, Wang said China and Pakistan are all-weather strategic cooperative partners, and China supports Pakistan's efforts to uphold sovereignty, fight terrorism and safeguard national security.
For his part, Asif said Pakistan will always firmly support China on issues concerning China's core interests, including issues related to Taiwan, Tibet, Xinjiang, and the South China Sea.

[ Editor: WPY ]