Palace Museum limits those viewing famous painting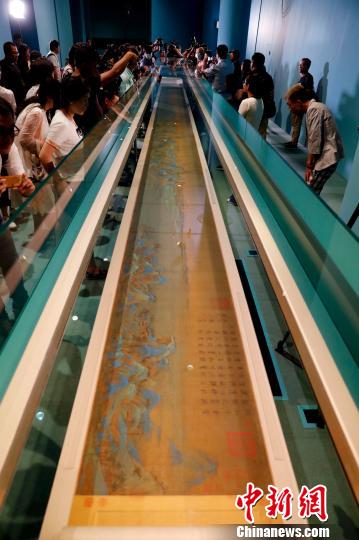 Visitors view the famous paintingA Panorama of Rivers and Mountains at the Palace Museum in Beijing. [Photo/Chinanews.com]
The Palace Museum in Beijing, also known as the Forbidden City, has set a quota for the number of visitors to its ongoing popular exhibition of landscape paintings to avoid long queues.
The policy, on a first-come-first-served basis, was adopted on Sunday for the exhibition, A Panorama of Rivers and Mountains: Bluegreen Landscape Paintings from Across Chinese History, which opened on Sept 15.
Under the plan, 150 people will be allowed to enter the central exhibition hall of Meridian Gate (Wumen) Gallery every half-hour from 8:30 am to the closing at 4:30 pm, which means a daily cap of 2,400 people.
The entry ticket costs 60 yuan ($9), but the extra tickets for this exhibition are free. Visitors are able to reserve them for a particular time span of their visiting day at the entrance of the Meridian Gate Gallery.
The exhibition, which includes 86 masterpieces rotated in two phases, is named after A Panorama of Rivers and Mountains, a zenith in China's blue-green landscape painting. It was created in the early 12th century by Wang Ximeng, then an 18-year-old genius at the imperial painting academy of the Song Dynasty (960-1279), and is Wang's only known surviving work.
This 11.9-meter-long scroll painting portrays the grandiosity of nature and encyclopedic human activities in detail and is known by the public as one of the 10 most precious ancient Chinese paintings they must see.
Consequently, long queues appeared in front of the exhibition halls when the exhibition opened and many visitors complained that they were not able to have a glimpse of the painting after waiting for hours.
"New methods have been made to keep visitors in a good mood," Shan Jixiang, director of the Palace Museum, said.
"However, I still strongly recommend to visitors that they do not only focus on a single piece of artwork and blindly follow others to join in the queue," he said. "The other paintings are all top-tier treasures, which are also rare to see."
Bai Jianjian, a Beijing-based office worker and a frequent museum visitor, said," The quota is scientific. That kept order in the entire museum. I can visit other parts of the museum before my turn to see A Panorama of Rivers and Mountains."
The number-capping plan applies only to visitors of the central hall exhibiting A Panorama of Rivers and Mountains, and the number visiting western and eastern wings of the Meridian Gate Gallery is not restricted.
In 2015, when Alongside the River During the Qingming Festival, one of the best known Chinese paintings, also from the Song Dynasty, was exhibited in the Palace Museum, visitors stood in long lines to see it.
During the exhibition's final days, the Palace Museum had to prolong the hours of its exhibition hall past midnight, and staff even prepared bottled water and instant noodles for those waiting a long time to see the painting.

[ Editor: WPY ]