Xi, Trump have afternoon tea at Palace Museum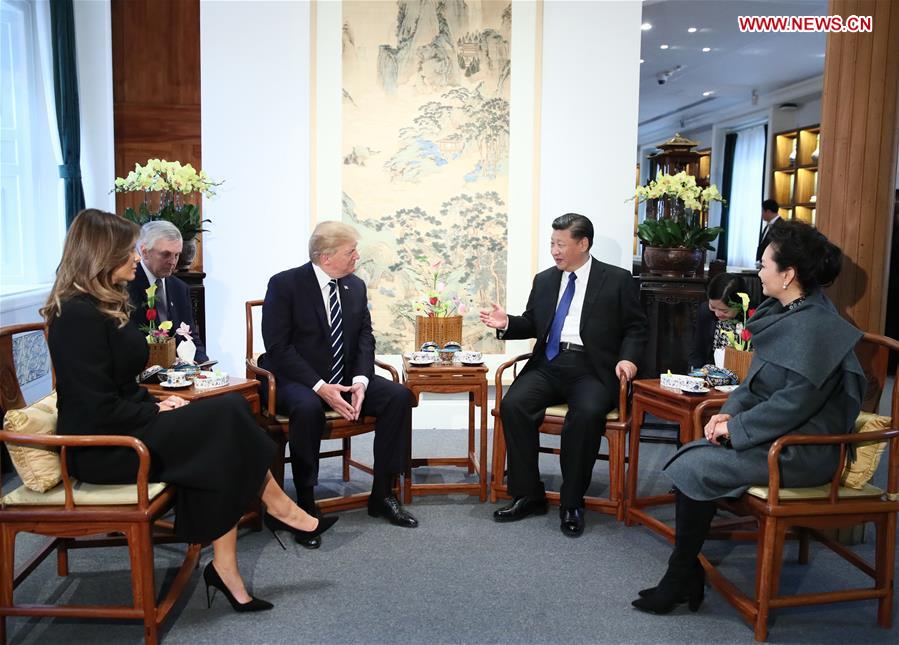 Chinese President Xi Jinping (3rd R) and his wife Peng Liyuan (1st R), and U.S. President Donald Trump (3rd L) and his wife Melania Trump (1st L) have an informal afternoon tea in the Baoyun Building of the Palace Museum in Beijing, capital of China, Nov. 8, 2017. (Xinhua/Lan Hongguang)
BEIJING, Nov. 8 (Xinhua) -- Chinese President Xi Jinping and his wife Peng Liyuan welcomed their U.S. counterparts with an informal afternoon tea at the Palace Museum Wednesday afternoon.
U.S. President Donald Trump and his wife Melania Trump arrived in Beijing earlier on Wednesday.
They had the afternoon tea in the Baoyun Building, also known as the Hall of Embodied Treasures, in the southwestern corner of the Forbidden City.
Built in 1915, the Baoyun Building is a Western-style building in the former imperial compound. It was used to store antiques, but now serves as an exhibition hall for the museum's history.
[ Editor: Zhang Zhou ]