Xi, Trump watch Peking Opera at Forbidden City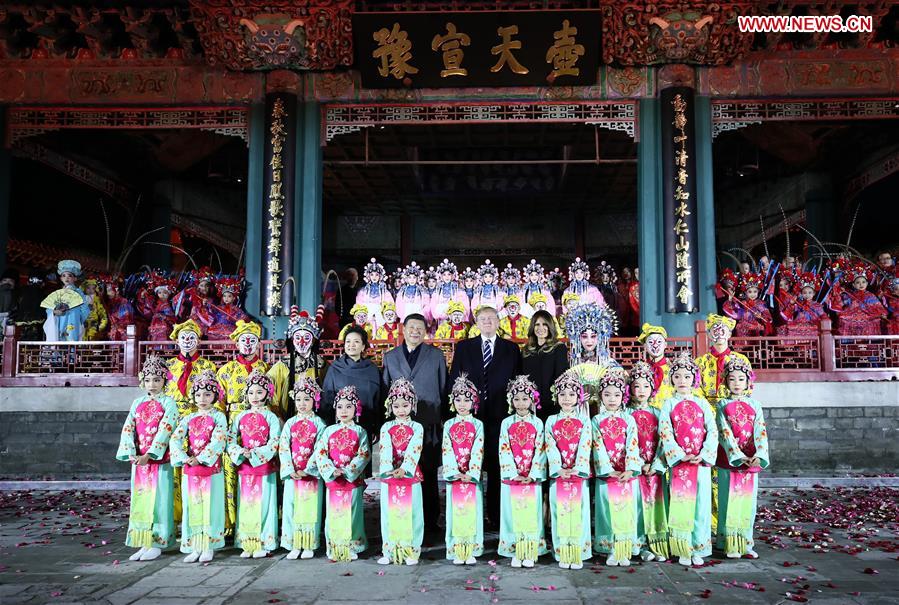 Chinese President Xi Jinping and his wife Peng Liyuan, and U.S. President Donald Trump and his wife Melania Trump pose for a photo with performers after watching a Peking Opera performance at the Palace Museum, or the Forbidden City, in Beijing, capital of China, Nov. 8, 2017. (Xinhua/Lan Hongguang)
BEIJING, Nov. 8 (Xinhua) -- Chinese President Xi Jinping and his wife Peng Liyuan entertained visiting U.S. President Donald Trump and his wife Melania Trump with a Peking Opera performance at the Forbidden City on Wednesday afternoon.
Trump arrived in Beijing earlier Wednesday for his first state visit to China since he assumed the presidency in January.
The performance was staged at the Belvedere of Pleasant Sounds, the largest opera theater in the Forbidden City, initially built during the reign of Emperor Qianlong (1736-1795) in the Qing Dynasty (1644-1911) to entertain the imperial family members.
With a history of more than 200 years, Peking Opera is one of China's main traditional drama forms and on the UNESCO intangible cultural heritage list. The art combines instrumental music, vocal performance, mime, dance and acrobatics.
The presidents and their wives took in pieces from three classic plays, namely Spring Seedlings in the Pear Garden, Monkey King, and The Drunken Beauty.
They took pictures together with the performers after the performance, which drew applause and cheers from the audience.

[ Editor: WPY ]