More flights return Chinese tourists stranded in Bali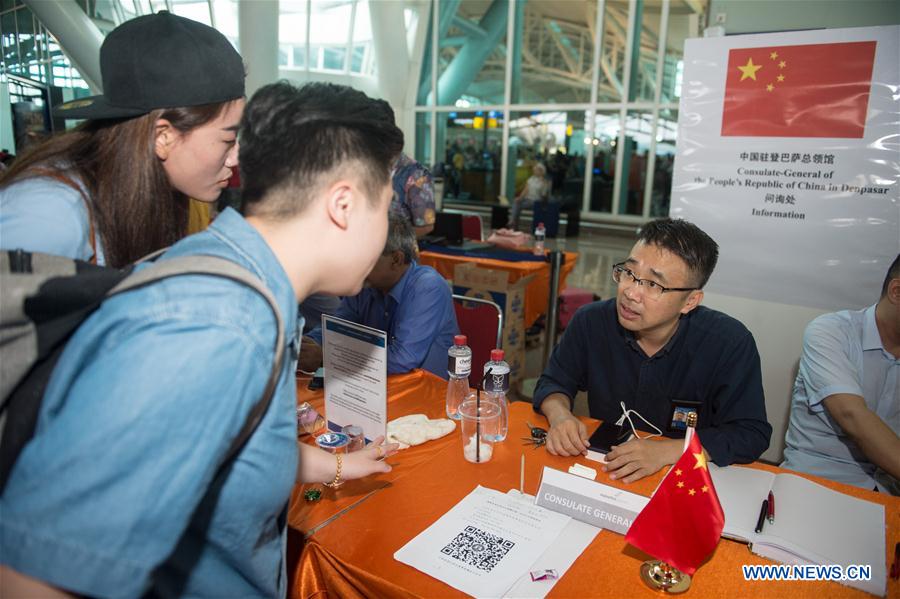 Chinese Tourists speak with staff members from China's consulate in Indonesia's Denpasar as they wait at the International Ngurah Rai airport in Bali, Indonesia, on Nov. 30, 2017. The Indonesian Transport Ministry on Thursday closed again the international airport in Lombok of West Nusa Tenggara province due to impact of volcanic ash from Mount Agung volcano on nearby Bali island, a senior government official said. (Xinhua/Du Yu)
SHANGHAI, Dec. 1 (Xinhua) -- A chartered flight returned 178 Chinese tourists to eastern province of Shandong on Thursday night, after a volcano eruption stranded them in Bali, Indonesia.
They were the latest group of some 17,000 Chinese tourists who are returning from Bali.
Since Wednesday, China Eastern Airlines, one of the country's major state-owned carriers, has sent seven planes to collect an estimated more than 1,740 passengers.
On Wednesday night, China Southern Airlines flew two planes from Guangzhou and Shenzhen, while China Eastern Airlines sent four from Beijing and Shanghai.
Ngurah Rai International Airport in Bali was closed on Monday due to the eruption of Mount Agung volcano.
The airport re-opened Wednesday afternoon and is subject to further closures depending on the weather and movement of volcanic ash.

[ Editor: zyq ]