CPC to share party-building experience with world political parties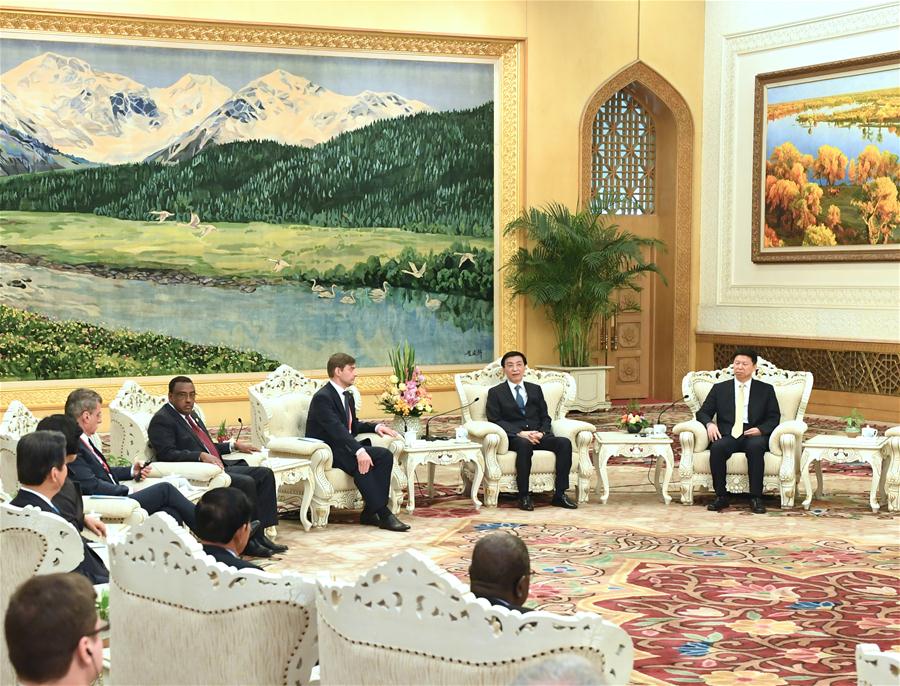 Wang Huning (2nd R), a member of the Standing Committee of the Political Bureau of the Communist Party of China (CPC) Central Committee and member of the CPC Central Committee Secretariat, meets with foreign political party leaders attending the CPC in Dialogue with World Political Parties High-Level Meeting in Beijing, capital of China, Dec. 2, 2017. (Xinhua/Rao Aimin)
BEIJING, Dec. 2 (Xinhua) -- Senior Communist Party of China (CPC) official Wang Huning said Saturday the CPC is willing to strengthen experience-sharing with political parties of other countries on party-building.
Wang, a member of the Standing Committee of the Political Bureau of the CPC Central Committee and member of the CPC Central Committee Secretariat, made the remarks when meeting with foreign political party leaders attending the CPC in Dialogue with World Political Parties High-Level Meeting in Beijing.
In his keynote speech at the opening ceremony Friday, Chinese President Xi Jinping, also general secretary of the CPC Central Committee, called on political parties of the world to play a guiding role in building a community with a shared future for mankind and creating a better world.
To take on this mission, political parties of the world should step up capacity building, said Wang.
He said under the leadership of the CPC Central Committee with Xi at the core, the CPC has given top priority to party-building and exercised comprehensive strict governance of the Party.
The CPC has made remarkable progress in strengthening the authority and the centralized leadership of the CPC Central Committee, and comprehensively improving its capability of governance, Wang said, adding the CPC is ready to step up experience exchanges with global political parties.
Leaders of foreign political parties spoke highly of Xi's keynote speech. They said the meeting is an unprecedented great initiative in the history of political parties and voiced willingness of working with the CPC to promote the institutionalization of the meeting.
[ Editor: zyq ]