U.S. Senate narrowly passes Republican tax bill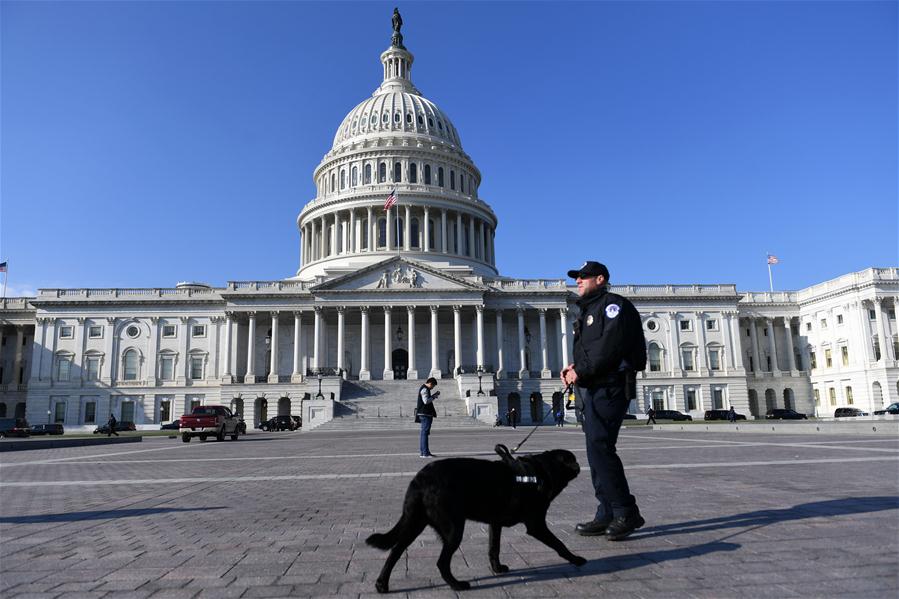 A policeman patrols on the Capitol in Washington D.C., the United States, on Dec. 1, 2017. The U.S. Senate on Saturday morning narrowly passed the Republican bill to overhaul the tax code in decades, moving one step closer to the first major legislative victory of the Trump administration and congressional Republicans. (Xinhua/Yin Bogu)
WASHINGTON, Dec. 2 (Xinhua) -- The U.S. Senate on Saturday morning narrowly passed the Republican bill to overhaul the tax code in decades, moving one step closer to the first major legislative victory of the Trump administration and congressional Republicans.
The Republican-led Senate approved the legislation, called the Tax Cuts and Jobs Act, with a vote of 51-49, with all Democrats and one Republican voting against the bill.
Bob Corker, the Republican Senator from the state of Tennessee, stated his opposition before the vote, citing concerns over the impact of large tax cuts on fiscal deficits.
While the Trump administration argued that the tax cuts would pay for themselves, almost all independent economists and forecasters didn't agree with that.
The Senate tax bill would cost about one trillion U.S. dollars in 10 years even after accounting for faster economic growth, according to the Joint Committee on Taxation, a nonpartisan committee of U.S. Congress.
Democrats also criticized that the legislation would mostly benefit the wealthy and large corporations, while Republicans touted tax cuts as an "once-in-a-lifetime opportunity" to boost corporate investment and economic growth.
But the Committee for a Responsible Federal Budget (CRFB) said in a recent analysis that the Republican tax bill is unlikely to generate more than 0.1 percent of increased growth per year, and over the long run it may actually slow the U.S. economic growth.
The House of Representatives had passed its own version of tax reform legislation last month, which contained significant differences from the Senate version. Republicans currently plan to convene a conference in the next few weeks to reconcile the House and Senate versions.
Overhauling the tax code is a top priority of Republicans and they are hoping to send the final legislation to President Donald Trump before Christmas.
"The Administration looks forward to working with Congress to fulfill the promise we made to deliver historic tax cuts for the American people by the end of the year," the White Housesaid in a statement on Saturday.
However, analysts said the significant differences between the House and Senate versions could drag the tax fight into next year.
[ Editor: zyq ]