Jordan voices full support to Palestine on Jerusalem issue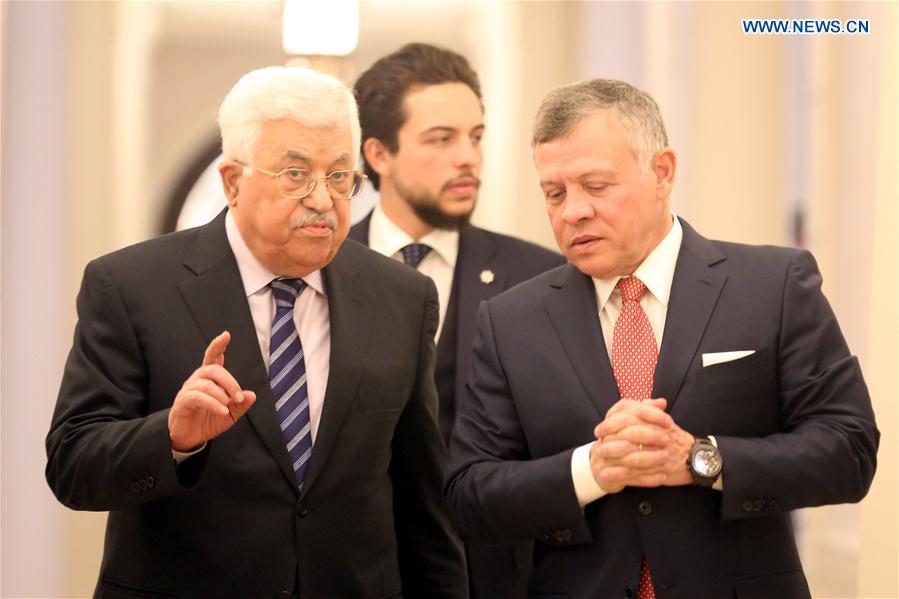 King Abdullah II of Jordan (R) meets with Palestinian President Mahmoud Abbas (L) in Amman, Jordan, on Dec. 7, 2017. King Abdullah II of Jordan on Thursday voiced the country's full support to the Palestinians in their efforts to establish an independent state with East Jerusalem as its capital, state-owned Petra news agency reported. (Xinhua)
AMMAN, Dec. 7 (Xinhua) -- King Abdullah II of Jordan on Thursday voiced the country's full support to the Palestinians in their efforts to establish an independent state with East Jerusalem as its capital, state-owned Petra news agency reported.
He made the remarks at his meeting with Palestinian President Mahmoud Abbas in the capital Amman, where the Jordanian king accused the U.S. recognition of Jerusalem as Israel's capital of a violation of the international law and international legitimacy resolutions.
He highlighted the need to intensify Arab, Islamic and international efforts to safeguard the rights of Palestinians, Arabs and Muslims in Jerusalem which is key to achieving peace and stability in the region.
For his part, Abbas warned of threats facing Jerusalem as well as the repercussions of the U.S. decision on the future of the peace process as well as on the security and stability of the region and the world.
On Wednesday, U.S. President Donald Trump announced that his country has formally recognized Jerusalem as the capital of Israel and that he intends to move the U.S. Embassy in Israel from Tel Aviv to Jerusalem.
[ Editor: meng ]