Su Tianmei: representative inheritor of Dong BrocadeSu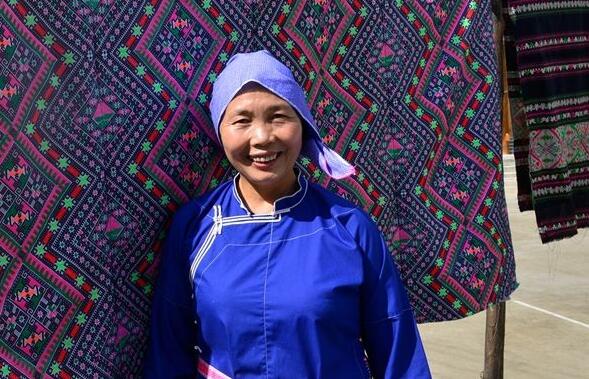 Su Tianmei(file photo)
我叫粟田梅,是侗族人,
My name is Su Tianmei. I'm a member of the Dong ethnic group.
我的家乡在怀化市通道侗族自治县,
My hometown is in Tongdao Dong Autonomous County in Huaihua, Hunan Province.
我也是国家级非物质文化遗产侗锦代表性传承人。
I'm also the representative inheritor of Dong Brocade, a national-level intangible cultural heritage.
我们侗锦有2000多年的历史,
The Dong Brocade has a history of over 2,000 years.
每一个图案都有它一定的意义,
Each pattern has a certain meaning.
侗锦在侗族人民的心目中它是吉祥、美好、智慧和幸福的象征。
The Dong Brocade is a symbol of good luck, goodness, wisdom and happiness in Dong people's eyes.
以前我们的侗锦都是用于妇女儿童服饰。
We used Dong Brocade to decorate clothes for women and children before.
花纹的主要特点是以几何形构图为主,
Its figures are mainly geometric shapes,
也有为文构图,图案多以动物,
There are also some animal figures,
那些爬虫类、鱼类、牛马、人物,
Like some reptilians, fishes, oxen and horses as well as some human figures.
图案的对象也很广。
Those figures are also pretty diverse.
有些图案的来源民间传说,
Some figures come from folk legends.
像我们那个蜘蛛图,蜘蛛就是侗族寄予美好的希望,
For example, that spider figure symbolizes fine hopes of us Dong people.
比如那些人手拉手的图案就是踩歌堂,
And the one featuring people hand in hand dancing and singing
代表侗族人民团结的意识。
Symbolizes the Dong people's sense of solidarity.
希望未来多子多孙。
They hope they have more generations in the future.
我们以前都是有很多的那些老百姓,都出去打工去了,
Many people here had gone out for work.
我就利用我传承人的身份。
I took advantage of my role as the inheritor
就把他们那些老百姓全部叫来制侗锦,
To call them back to make Dong Brocade
现在我们这里有传承基地,
Now, there is an inheritance base here.
我就利用平台,利用传承基地,不断做大侗锦产业。
I'm constantly making the Dong Brocade industry grow bigger and bigger through the platform and base.
有很多的80后90后的都来学我们的侗锦。
Many post-80s and post-90s come here to learn how to make Dong brocade.
我现在的徒弟有16个,我培训了3000多名的织锦爱好者。
Now I have 16 disciples and have trained over 3,000 brocade fans.
在传承技艺的同时,我就让更多的那些老百姓,那些贫困户全部融入进来,
At the same time, I also let more poor people join us
参与产业发展。
To participate in the development of the Dong Brocade industry.
她们现在一个月能挣到3000多块钱。
Now they can earn more than 3,000 yuan a month.
我那个徒弟她叫粟英李,以前是她的婆婆也有病,
One of my disciples named Su Yingli, whose mother-in-law was sick,
她自己到外边去打工,到外边去打工又赚不了多少钱,
Went out for a job, which couldn't provide her much money.
在家里她自己有个女孩,还有个男孩在家里读书,
She also has a daughter and a son who are at school.
现在我们就是做了侗锦,她就现在回来专门制侗锦,
Now she comes back to make Dong Brocade with us,
就可以解决了她儿子和女儿读书的费用。
Her current income can finally cover her daughter and son's tuition fees.
侗族人的幸福真的是自己奋斗出来,也要靠自己的双手来创造财富。
Dong people pursue their own happiness and wealth all by their diligence.
你要是自己的双手都不做了,怎么你身上穿的那么好呢?
If people can't do anything by their hands, how could they afford the fine clothes they wear?

[ Editor: Zhang Zhou ]