ASEAN PLUS THREE training program on Understanding China Begins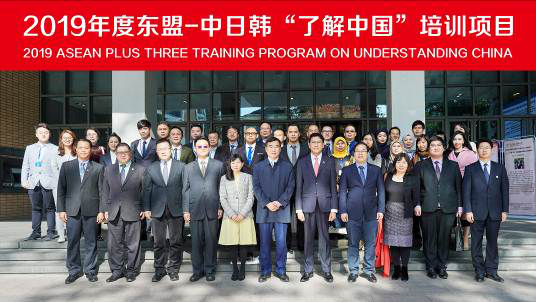 (via.Foreign Language Teaching and Researching Press) 
The opening ceremony of the 9th ASEAN PLUS THREE training program on Understanding China kick-started on October 21th at Beijing Foreign Studies University. Attendees of the opening ceremony involved leaders from Ministry of Education and ASEAN-China Center, representatives of ASEAN embassies including Myanmar's ambassador to China and Vietnam's political counselor, vice-president of Beijing Foreign Studies University Yan Guohua together with representatives of School of Asian Studies, Section of International Cooperation and Communication and Foreign Language Teaching and Research Press as well as representatives of teaching experts and other 20 participants.
Since 2010, when the program was launched, it has grown to become an important platform for young diplomats from ASEAN, Japan and the ROK to know more about China and promote exchanges in various fields. The program is under the administration of the Department of international cooperation and exchanges of the Ministry of Education, hosted by Beijing Foreign Studies University, with the aim to helping ASEAN diplomats and government officials holding China- or South Asia-related positions to have a fuller picture of China. By offering courses and lectures on China's political system, economy, diplomacy, sports, culture, military and China-ASEAN relations, as well as visits to government institutions, high-tech enterprises, historical and cultural sites in Beijing and other parts of China, the program provides opportunities for participants to meet Chinese people from different all talks of life, and know more about our fast-changing society and profound China culture.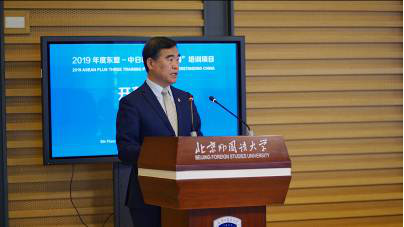 (via.Foreign Language Teaching and Researching Press)
Yan Guohua,Vice President of BFSU, pointed out that ASEAN Plus Three training programme on Understanding China is an official project with government subsidies. Due to its practicality in forms and contents, it has already been successfully implemented 8 times. He wished that during their stay in China, diplomatic participants could exchange face-to-face with BFSU's experts in diplomacy, culture, business, trade and history, conduct field surveys in government institutions and private enterprises, thus deepening their understanding of contemporary China and its development progress.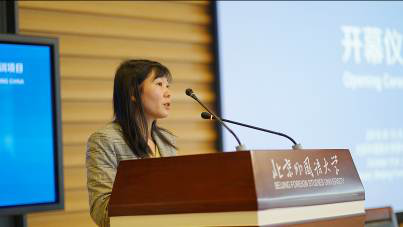 (via.Foreign Language Teaching and Researching Press)
Kong Roatlomang, Directer of Education,Culture and Tourism Division of ASEAN-China Center,hoped that young officials will not only enrich their understanding of China via this Training Program, but also have in-depth exchanges both with people they meet here in China and among themselves, and fulfill the role of friendly envoys among ASEAN, China, Japan and Republic of Korea.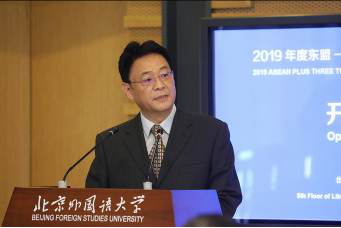 (via.Foreign Language Teaching and Researching Press)
Liu Jie, Vice President of FLTRP, made an address on behalf of the executive unit of the project. He said that elaborate and comprehensive courses and activities would let participants impressed by a dimensional and diverse China with profound histories and spirits of innovation. Professor Li Xuetao, Director of Research Institute of Global History of BFSU, addressed on behalf of teaching experts.
Soe Sandi Zaw, First Secretary of Myanmar's Ministry of Foreign Affairs, gave a speech on behalf of participants.
Over 100 participants from ASEAN member states, Japan and the ROK joined in the program over the past nine years. This project not only deepens the understanding of participants from ASEAN, Japan and Korea about China, but also strengthens our friendship and creates opportunities for further cooperation. Based on the characteristics of participants' compositions, the project has arranged 10 domestically famous experts for teaching, which include YOU Dongxiao, Senior Colonel, Professor XIE Tao, Professor MI Liang, Professor LI Xuetao and Researcher XU Liping, to name just a few.
The three-week program is featured by lectures and company visits in Beijing from October 21st to November 3rd and visits to Qufu and Shanghai from November 4th to November 9th.
[ Editor: WPY ]