Political advisors discuss ways to improve preschool education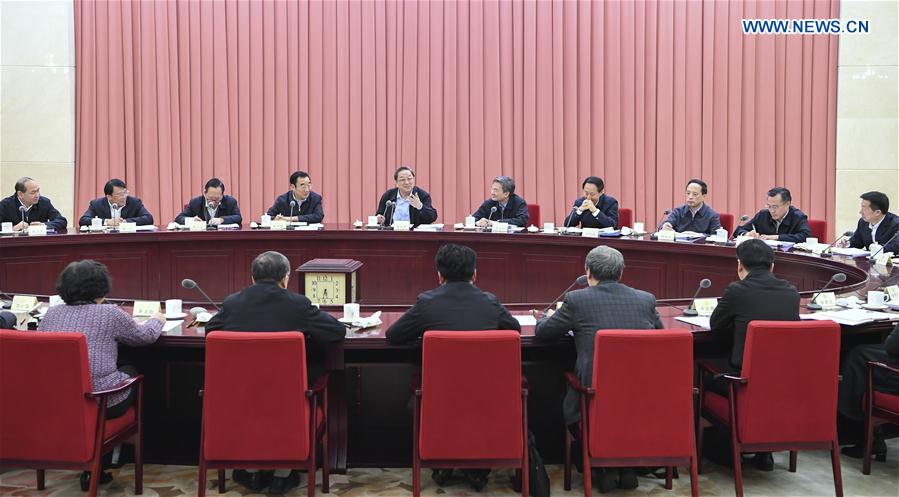 Yu Zhengsheng, chairman of the National Committee of the Chinese People's Political Consultative Conference (CPPCC), presides over a biweekly consultation session on pre-school education in Beijing, capital of China, Feb. 16, 2017. (Xinhua/Zhang Ling)
BEIJING, Feb. 16 (Xinhua) -- China's political advisors on Thursday discussed ways to improve preschool education during a bi-weekly consultation session.
While acknowledging progress in preschool education, members of the Chinese People's Political Consultative Conference (CPPCC) National Committee said that some problems remain, including insufficient investment and teachers, imperfect systems and mechanisms, as well as uneven development in different regions.
Some political advisors called for more attention to the development of preschool education, with a greater focus on quality.
They called for more financial input, support for enterprises and public institutions running preschools, and support for private kindergartens.
They proposed better training for teachers and better content for students.
Some political advisors also stressed support for preschool education in poverty-stricken regions and ethnic regions in borderlands, as well as speeding up legislation on preschool education.
Yu Zhengsheng, chairman of the CPPCC National Committee, presided over the session.
[ Editor:yfs001]