Xi says closer BRICS cooperation helps build new type of int'l relations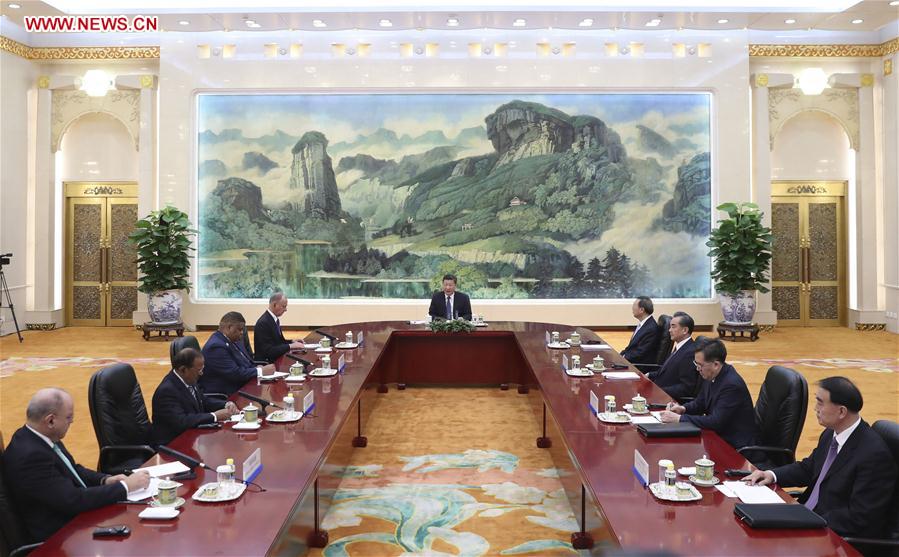 Chinese President Xi Jinping (C) meets with Russian Security Council Secretary Nikolai Patrushev, South African Minister of State Security David Mahlobo, Indian National Security Advisor Ajit Doval, and Brazilian Institutional Security Minister Sergio Etchegoyen, who are here to attend the seventh meeting of BRICS High Representatives for Security Issues, in Beijing, capital of China, July 28, 2017. (Xinhua/Ding Lin)
BEIJING, July 28 -- Chinese President Xi Jinping said Friday that enhancing BRICS cooperation not only protects and expands the interests of BRICS countries, but also helps explore ways to build a new type of international relations.
Xi made the remarks when meeting with Russian Security Council Secretary Nikolai Patrushev, South African Minister of State Security David Mahlobo, Indian National Security Advisor Ajit Doval, and Brazilian Institutional Security Minister Sergio Etchegoyen, who were in Beijing to attend the seventh meeting of BRICS High Representatives for Security Issues.
Xi said the meeting was a success as it had made important preparations for the upcoming BRICS summit in China's southeastern coastal city of Xiamen in September.
BRICS cooperation has a ten-year history, and it has broken down boundaries of distance, overcome differences of BRICS countries' development path and social institutions, and showcased their shared aspiration for stability, development and people's better livelihoods, Xi said.
He also called for synchronized development of the economy and finance cooperation, people-to-people exchanges and coordination on security issues among BRICS countries.
China upholds that global problems such as terrorism should be fundamentally resolved by development, Xi said, adding that the international community should push the global economy onto a sustainable development path and promote economic globalization to develop in a fair, inclusive and sustainable manner.
"As long as we follow the BRICS spirit of openness, inclusiveness, cooperation and win-win results, and work together to build closer BRICS partnership, we will surely have the second golden ten years for BRICS cooperation," Xi said.
The foreign guests conveyed greetings from their respective leaders to President Xi, and extended support for China's hosting the upcoming BRICS summit in Xiamen.
The foreign representatives said that BRICS countries should cement unity and cooperation to cope with common challenges in economy and security areas such as anti-globalization and terrorism, and to increase the influence of BRICS in global affairs.
They also agreed to closely work with China to ensure the upcoming summit a success.
Earlier on Friday, Chinese State Councilor Yang Jiechi chaired the seventh meeting of BRICS High Representatives for Security Issues.
Yang called on BRICS countries to take on forward-looking attitudes to forge shared interests and a shared future, and enhance strategic mutual trust and practical cooperation.
BRICS countries should strengthen their collaboration and coordination on major global and regional issues to provide wisdom and efforts of BRICS for resolving the issues, Yang said.
He also called for the maintaining of the international order based on the Charter of the United Nations, sticking to multi-lateralism, and improving global governance.
During the meeting, the parties exchanged views on global governance, anti-terrorism, the Internet, energy security, major global and regional hot issues, as well as national security and development.
The five parties agreed to strengthen the role of the meeting on security issues, promote BRICS cooperation on politics and security, push for a more equitable and reasonable global order and realize a more fair, universally beneficial and inclusive globalization.
They also agreed on closer coordination and exchanges to advance the security and development of BRICS countries.
[ Editor: zyq ]