Flower decorations are set to greet the National Day in front of the Potala Palace in Lhasa, capital of southwest China's Tibet Autonomous Region, Sept. 30, 2017. China's National Day falls on Oct. 1.

Opera performers display facial makeups during the opening ceremony of the 2017 Chinese opera culture week in Beijing, capital of China, sept. 29, 2017. The weeklong celebration was hosted by the Ministry of Culture and the Beijing municipal government.

Dancers from the Charm Xiangxi Art Troupe rehearse to greet the upcoming National Day and Mid-Autumn Festival in Zhangjiajie, central China's Hunan Province, Sept. 27, 2017. The art troupe has improved the performance and stage design this year to attract more tourists.
Migratory birds are seen at Lake Balikun in Balikun Kazak Autonomous County, northwest China's Xinjiang Uygur Autonomous Region, Sept. 26, 2017.

Horses graze on a corn field in Jiangbulake of Qitai County in Changji, northwest China's Xinjiang Uygur Autonomous Region. Meaning "Source of Holy Water" in Kazakh, Jiangbulake is a famous scenic spot with various landscapes.

A villager dries the newly picked corns at Zhangzhuang Village under Fengrun District of Tangshan City, north China's Hebei Province.

Local residents watch surges brought by Typhoon Talim at Shitang Town in Wenling City, east China's Zhejiang Province.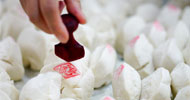 A worker taps a red stamp onto finished Baoning sweet steamed buns at a bakery in Langzhong, southwest China's Sichuan Province. As a local intangible cultural heritage, the special steamed bun here gained great reputation in the area. For hundreds of years, the bun has been produced under 21 complete procedures, and finished with a red stamp proving the authenticity.