The Zambian tabloid KACHEPA issues an open apology on its fabricated report that "China feeding Africa with human meat"
An article published on 17th May, 2016 in the "Kachepa", a privately owned Newspaper, which reported that China has been exporting canned human meat to Southern Africa.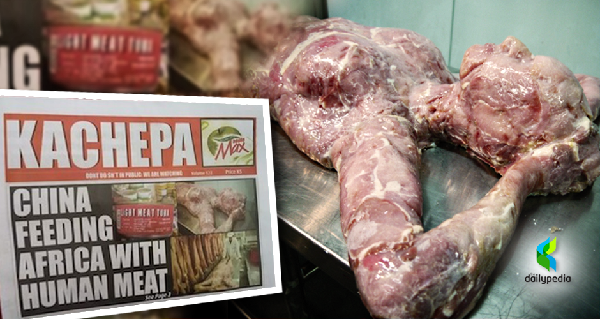 In May 2016, a Facebook post claiming that China was making corned beef with dead bodies and selling the products to Africa started circulating on social media, along with a series of photos purportedly showing the morbid operation.
Different versions of the above-displayed Facebook post have been around for many years, with a variety of gruesome images purportedly showing dead bodies being made into corned beef. These photographs come from a number of sources, but at least one of them was taken from a 2012 marketing stunt for the video game Resident Evil 6, in which a butcher shop selling fake "human meat" was set up at London's Smithfield Market.
On 19th May, 2016, the Ministry of Foreign Affairs of Zambia issued a press statement on the tabloid report on China feeding canned human meat to Southern Africa. Following is the full text of the statement:
The Zambian Government strongly condemns the unethical journalism demonstrated by releasing an article containing fabricated information and pictures from a 2012 animated version of a video game called 'Resident Evil'. The Zambian Government considers this kind of journalism as unethical, irresponsible and void of human respect, decorum and amorous virtues.
With the foregoing, the Zambian Government therefore, strongly disassociates itself with such publications and will not protect individuals publishing malicious falsehoods that tarnish the image of any friendly country, including the People's Republic of China.
On June 16th, the Zambian tabloid KACHEPA issued an open apology on its report dated May 17th that "China Feeding Africa with Human Meat".
The apology reads that the source of the said report was from social media and was not verified, which constituted a hoax and the tabloid therefore extends its unreserved apology to the Chinese people.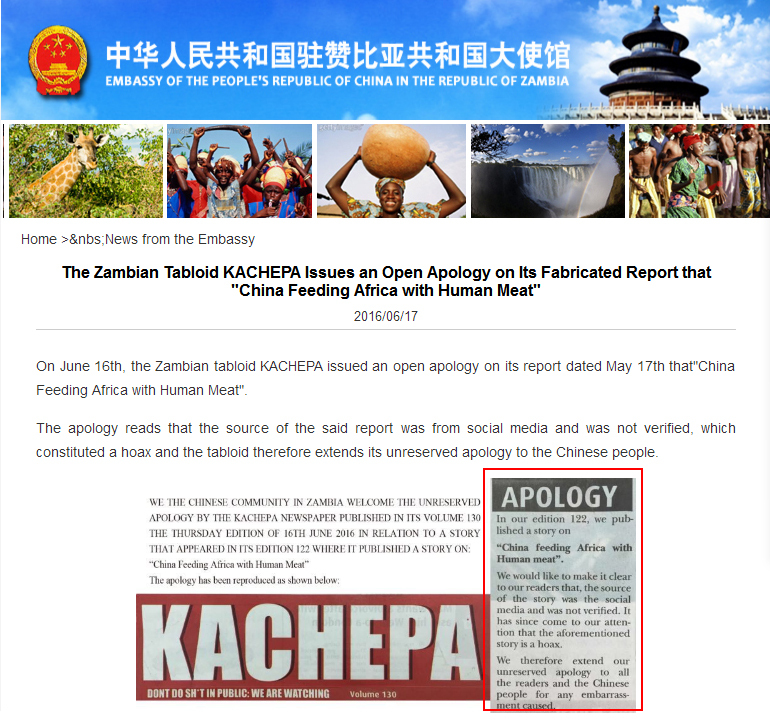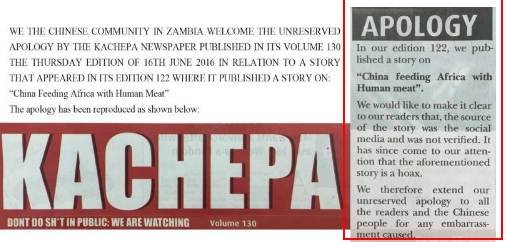 [ Editor: Xueying ]