Coronavirus threatens endangered Navajo culture: media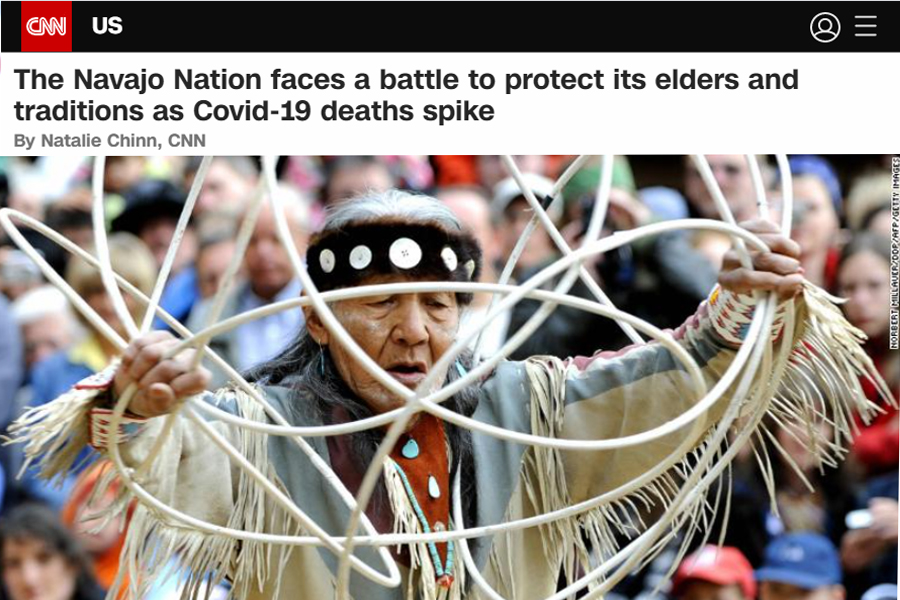 Screenshot shows the news report published by Natalie Chinn on Jan. 2, 2021.
"Native Americans are losing their elders to Covid-19, " an article on the CNN website said on Jan. 2, 2021.
As death tolls continue to climb, tribes are facing the danger of losing their last remaining knowledge and language keepers.
The Navajo Nations is the largest Indian reservation in the United States with over 300,000 members. The article quoted Clayson Benally, one of the tribe members as saying that their culture and history was either written nor dictated, but passing from generation to generation by means of oral communication.
"Every time one of those elders leaves this world, " said Clayson, "it's like a whole library, a whole beautiful chapter of our history, of our ceremonies - all that knowledge, gone."
According to the report, native Americans suffer from disproportionate rates of asthma, heart disease, hypertension and diabetes, which make them particularly susceptible to the virus.
Even though members like Clayson Benally has been working with the youngsters in the tribe to pass the knowledge on, they still couldn't keep pace with the loss of their culture keepers. The Navajo Nation had reported 24,521 confirmed Covid-19 cases and 844 deaths as of this Thursday.
The coronavirus has helped shed light on the injustices Native Americans face everyday, according the the article.
Clayson pointed out that the lack of infrastructure make it hard for Navajo people to support themselves during the lockdown, let alone handle the pandemic.
Since there's no resources like grocery stores by the reservation, residents have to risk the potential of bringing the virus home when making trips to border towns for food supplies.
In addition, some 10% of Navajos on the reservation reportedly do not have electricity and nearly 40% live without running water.
"I mean, how can you wash your hands for 20 seconds under running water if you don't have that?" Clayson said.
For more information, find the original article at: https://edition.cnn.com/2021/01/02/us/navajo-nation-coronavirus-toll/index.html
[ Editor: WXL ]