China's Covid-19 vaccine expected to get Thailand out of a second outbreak, Bloomberg reported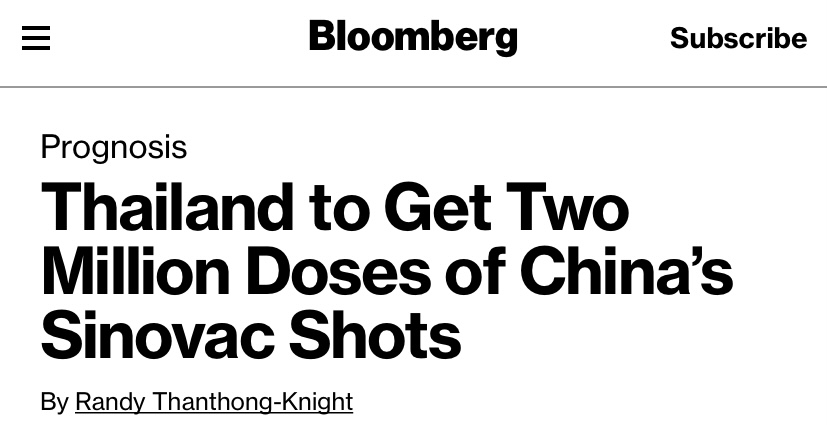 Screenshot shows the Bloomberg news report published on Jan. 4, 2021.
Bloomberg reported on Jan. 4, 2021 that Thailand would get its first load of Covid-19 vaccine supply from China's Sinovac Biotech Ltd. in the coming February, allowing the start of inoculating for people with the highest risks to be infected in the country amid a resurgence of the coronavirus outbreak.
According to Thailand's Health Ministry, Thailand will receive China's Covid-19 vaccines in three batches. The first batch of 200,000 doses will arrive in February, following by a second batch of 800,000 coming in March, and another 1 million doses in April.
Thailand is now experiencing a new wave of local infections starting from seafood markets near Bangkok, the country's capital city. A new set of restrictions on businesses and gatherings have been imposed to curb the outbreak. The forthcoming vaccine is expected to act as an immediate measure to contain the situation.
Up to the day Bloomberg's report published, Thailand reported 315 new virus cases on Jan. 3, 2021, with 294 of them locally transmitted, taking the country's total confirmed cases to 7,694.
In response to it, the Thai government has set a target of inoculating 50% of the country's population by the end of 2021, which is about 33 million people, Bloomberg noted. The vaccine source varies, except for China's Sinovac Biotech Ltd., Thailand is also "negotiating with other vaccine developers for additional supplies", Thai Health Ministry stated.
[ Editor: WXY ]