The Great You -- A tear-jerking story behind three photos
The coldest days of the year, the war of anti-epidemic are in full swing. The tear-jerking photos on the internet have warmed the hearts of countless people. The reporter selected three of the photos to find the protagonist and tell the moving story behind the photos.
Photo 1: Young cyclist in snowstorm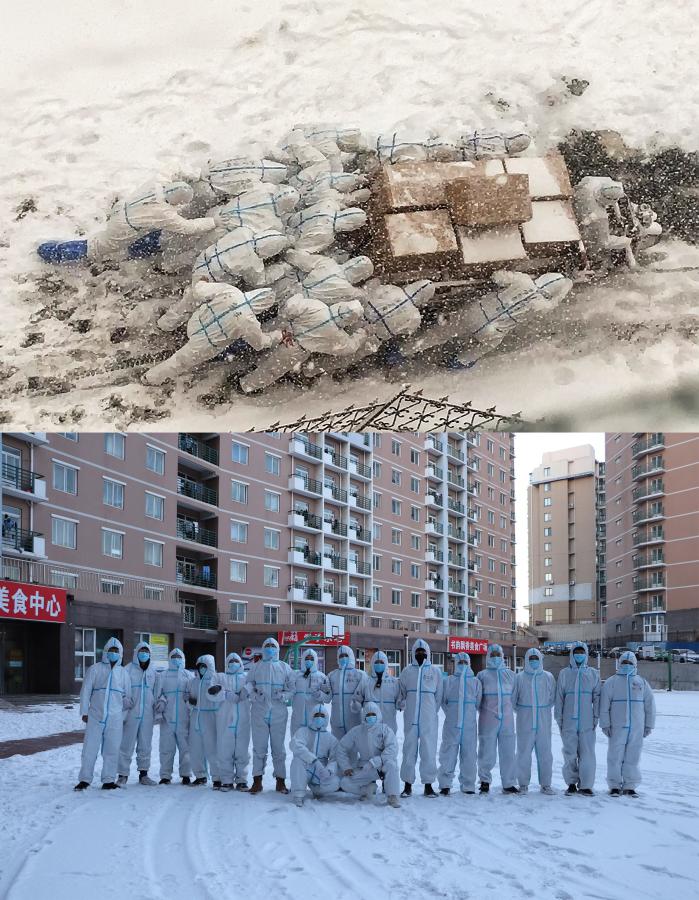 The cyclist above is Li Zongyu. In the group photo below, the seventh person from the right in the back row is Li Zongyu (Photo by Dalian Ocean University)
On the afternoon of January 6, a picture of Dalian Ocean University Teachers and students carrying epidemic prevention materials in the wind and snow, brushing the screen network, wetted the eyes of many netizens. Li Zongyu, a 19-year-old sophomore, is one of the protagonists in the group. "I'm the pedaler." At the other end of the phone, Li Zongyu said with a smile, "I grew up in the countryside and learned to ride an electric car when I helped my family work."
"Pedaling youth" took office on December 22, 2020. In order to prevent and control the epidemic, Dalian Ocean University closed its campus, and 17 students with an average age of 19 formed a youth anti epidemic commando team to undertake the task of daily delivery of materials. "
It was snowy that day. It was hard to pedal." Li Zongyu said that on that day, the commando delivered a total of 28 cases of epidemic prevention materials in three times, and none of them fell.
Li Zongyu pedals in front, and there are more than 10 people pushing behind. Leading teacher Wang Haipeng is one of them. "
It was snowy at that time. We were wearing protective clothing and goggles, and we couldn't see the road clearly when we opened our eyes. The foot is still slipping, just groping to follow the feeling. Someone slipped and fell. They got up and helped him to go on Wang Haipeng recalled. "
Looking back at this picture, I'm so lucky! The pushers are much more tired than the cyclists. " Li Zongyu smiles and says, "this picture will be the memory of our whole life."
This photo is so popular that Li Zongyu's parents know about it. Seeing the collective praise from netizens, mom and dad felt relieved and proud, and encouraged their son to stick to it.
Some netizens said that although we can't see the young faces in the photos, their looks are really handsome.
Photo 2: Your lonely back is the most beautiful "scenery" in winter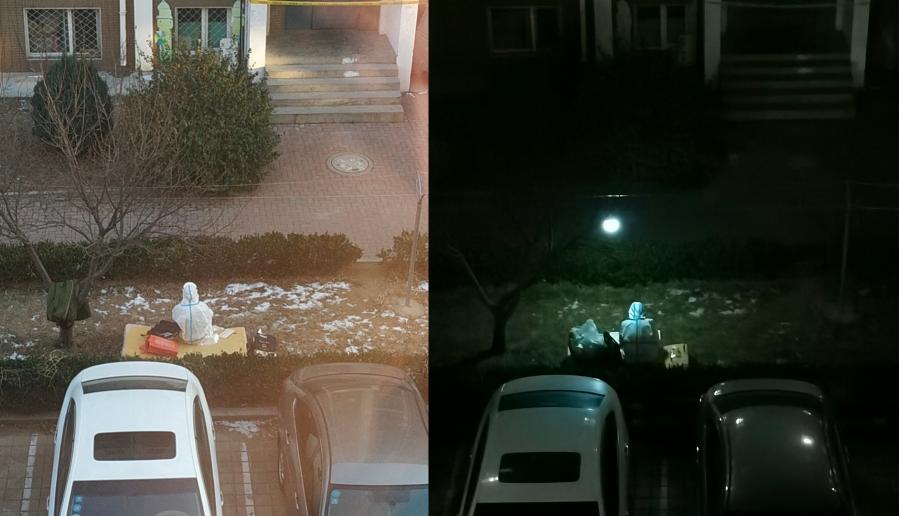 Liu Yinghui is waiting in the community. (by Wang Ruijun)
The sun and the moon rotate, a lonely and strong figure "still.".
This is a very "artistic" photo, which has won numerous praise on the Internet.
In the photo, Liu Yinghui, a community worker, is a "guardian in white" wearing protective clothing and sitting downstairs in a closed management community. On December 20, 2020, as a volunteer, she went to the anti epidemic front line of Jinrun community B in Jinpu New District of Dalian, a medium risk area, to serve 85 residents of building 26.
Purchasing statistics, transmitting information, distributing materials At 6 a.m. every day, Liu Yinghui was on duty on time. Her work was complicated and compact, and her mobile phone was always on hand. The community prepared rest booths for the volunteers, but she found it inconvenient to walk back and forth, so she simply moved to the lawn downstairs to "work" in the open air.
By 21 o'clock, Liu Yinghui had been frozen through. In the wechat group, the residents of building 26 said that they would build sheds and send warm mats to her She quickly replied, "everyone stop If you don't come down, you will be the greatest help to me... "
Facing the reporter's interview, Liu Yinghui said lightly: "every volunteer is not easy, I didn't do anything special."
Liu Yinghui has a happy family. Her husband loved her very much and applied to be a volunteer to work in the same community with his wife. "We're not cold together."
Liu Yinghui said with a smile.
Some netizens said that with you, we are so warm.
Photo 3: Auntie, where are you?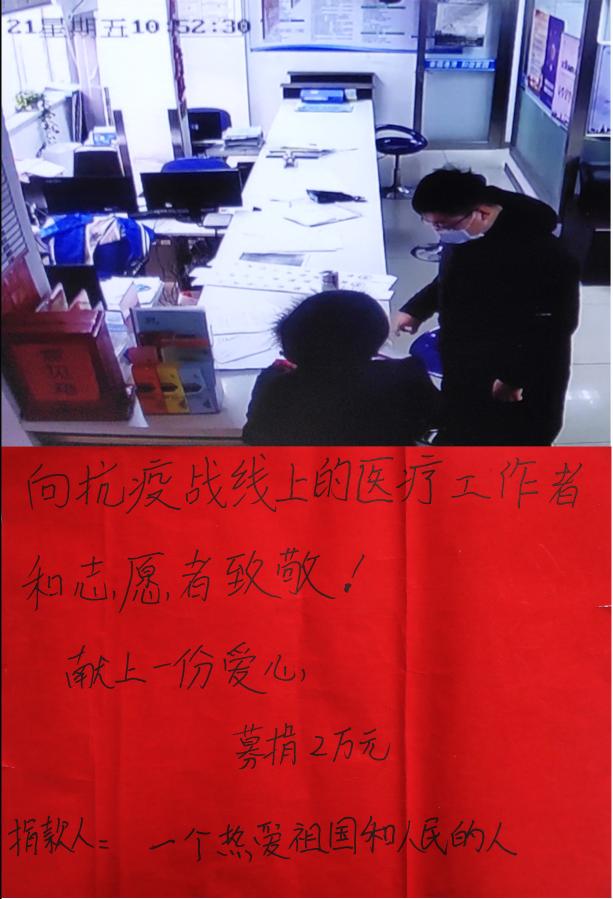 (The picture above is provided by Yongfeng community,the picture below is taken by Yang Qing/Xinhua News )
The third photo is actually a screenshot of surveillance video.
In Yongfeng community, Wanquan street, Dadong District, Shenyang City, neighbors meet these two days and ask the same question: have you found it?
We are looking for an aunt in a black down jacket. The only clue is a screenshot of a surveillance video.
On January 8, Yongfeng community office hall was opened. An aunt in a black down jacket came to the community staff and put down 20000 yuan wrapped in red paper. "You've worked so hard! I'm too old to help. I donate 20000 yuan... " In a few words, before the staff came back, the aunt left in a hurry.
"By the time we came back and chased, we couldn't find anyone." Xiao Jian, a community worker, said she was wearing a mask and couldn't see her face clearly. Only her back was on the surveillance video.
We spread out the red paper and saw 20000 yuan. It said: pay homage to the medical workers and volunteers on the anti epidemic front! Donor: a person who loves his motherland and people.
"We thank her! I want to find her and give her back the money. " Sui Hongli, Secretary of the Yongfeng Community Party committee, said that many people in the community live on a pension of two or three thousand yuan a month. It's not easy to save the money.
In order to find the aunt who turned around and left, the community released this video capture, hoping to mobilize social forces to search together. Many netizens are also looking for it. Because the red paper is filled with a hot heart.
[ Editor: WPY ]