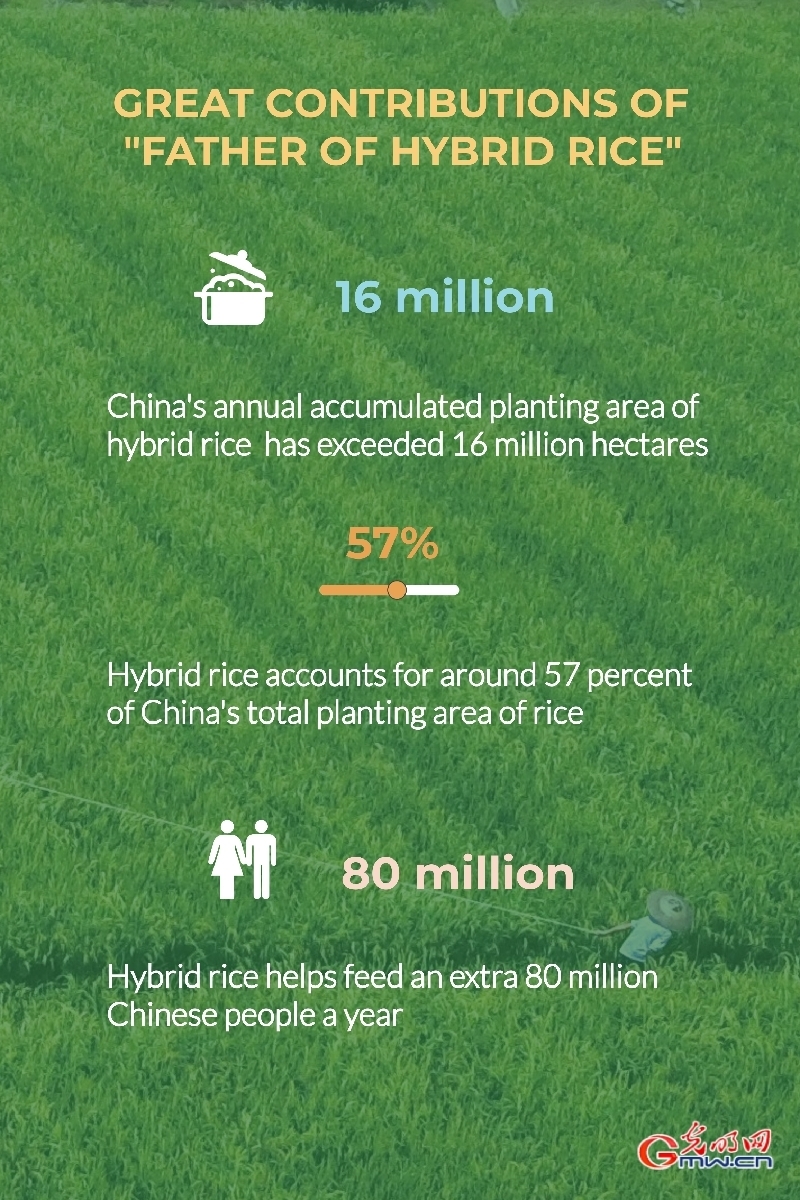 Yuan Longping, a Chinese agronomist best known for developing the first hybrid rice varieties that helped feed people in many countries around the world, died of illness on Saturday at a hospital in Changsha, capital of central China's Hunan Province.
Known as the "Father of Hybrid Rice," Yuan is a household name in China. He established multiple world records in hybrid rice yields, making great contributions to China's food security and world food supply. His passing away set off great mourning of Chinese people.
Reducing hunger is Yuan's life-long dedication. He started his research on hybrid rice in 1964 and cultivated the world's first high-yielding hybrid rice strain in 1973.
Hybrid rice, yielding about 20 percent above the conventional rice strains, is a key technology that can help meet the growing demand of rice. Yuan's research on hybrid rice has helped China feed about one fifth of the global population with around 9 percent of world arable land.
Now, around 57 percent of China's total rice-planting area is planted with hybrid rice. Its annual accumulated planting area has exceeded 16 million hectares, helping feed an extra 80 million people a year.
Since the 1980s, Yuan's team has trained over 14,000 technicians in hybrid-rice plantation methods in more than 80 developing countries, providing a robust food source in areas with a high risk of famine.
In 2004, Yuan was jointly awarded the World Food Prize for his breakthrough achievement in developing the genetic materials and technologies essential for breeding high-yielding hybrid rice varieties. His pioneering research has helped transform China from food deficiency to food security within three decades, according to the Laureate Spotlight released by WFP.
In 2019, Yuan was awarded the Medal of the Republic, China's highest state honor, for his prominent contributions.
Editor: SRQ