Female managers confident about new resort area at Fangjiazhuang Village
Walking into Fangjiazhuang Village in Urumqi County of Xinjiang Uygur Autonomous Region, you'll be greeted by numerous agritainment resorts and restaurants. Located around 40 kilometers, or an hour's drive, away from Urumqi City, the village has been transformed into a commercial center offering food, entertainment, music, and a good rest.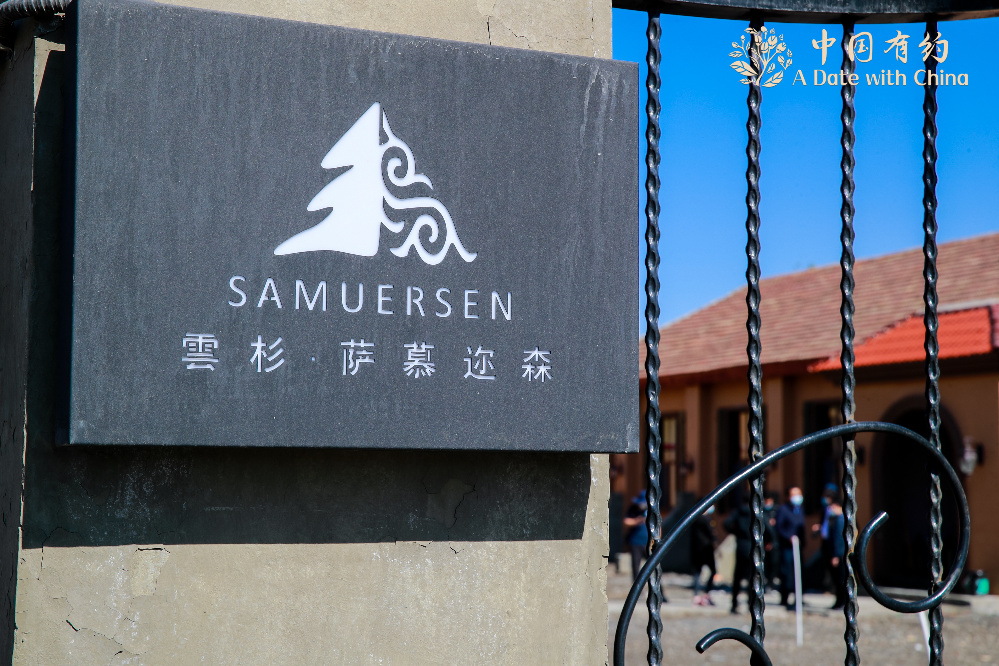 Samuersen Resort, located in Fangjiazhuang Village (Photo provided by A Date with China)
Fangjiazhuang Village used to be poverty-stricken. In 2003, the village's total income was 120,000 yuan, with an average annual income of less than 3,000 yuan per person. Then there was a local renovation project developed by the local government, with an investment of nearly 30 million yuan, covering an area of 430,000 square meters. In 2020, the villagers' average annual income surpassed 34,000 yuan.
Through the renovation project, more work opportunities have been provided to both local and non-local residents. Such is the case for Gulbahar and Hu Liang, two female managers from different backgrounds, who both work at Fangjiazhuang Village.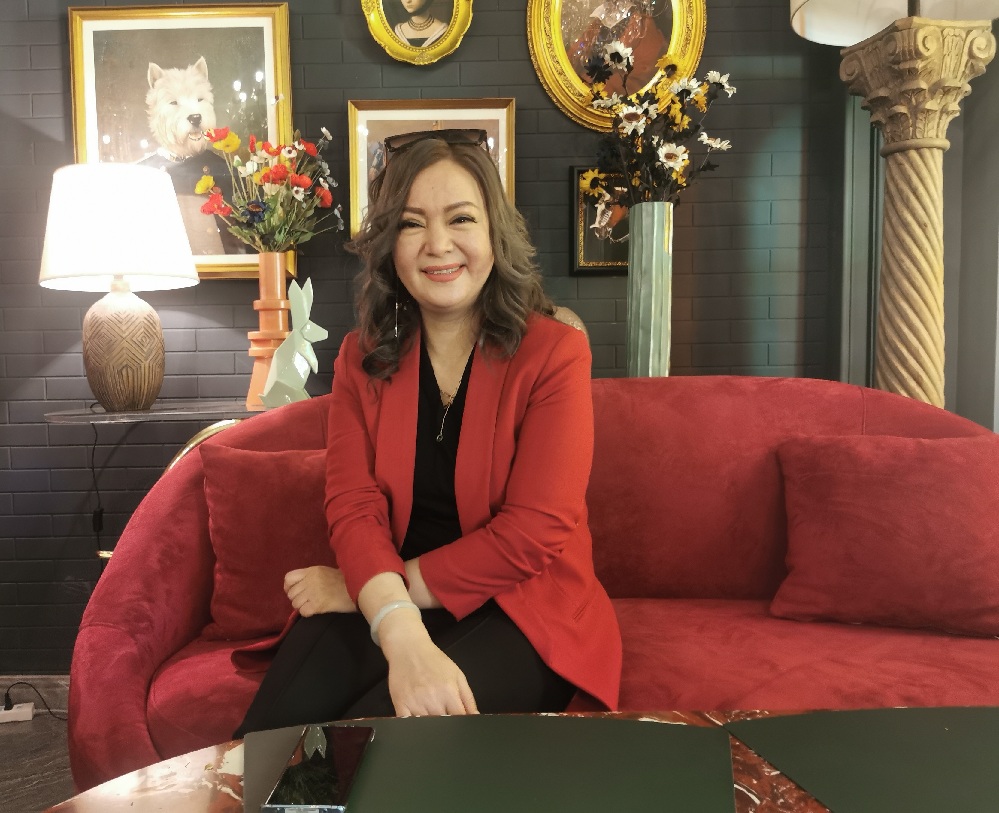 Photo of Gulbahar (Junye Zhang/Guangming Picture)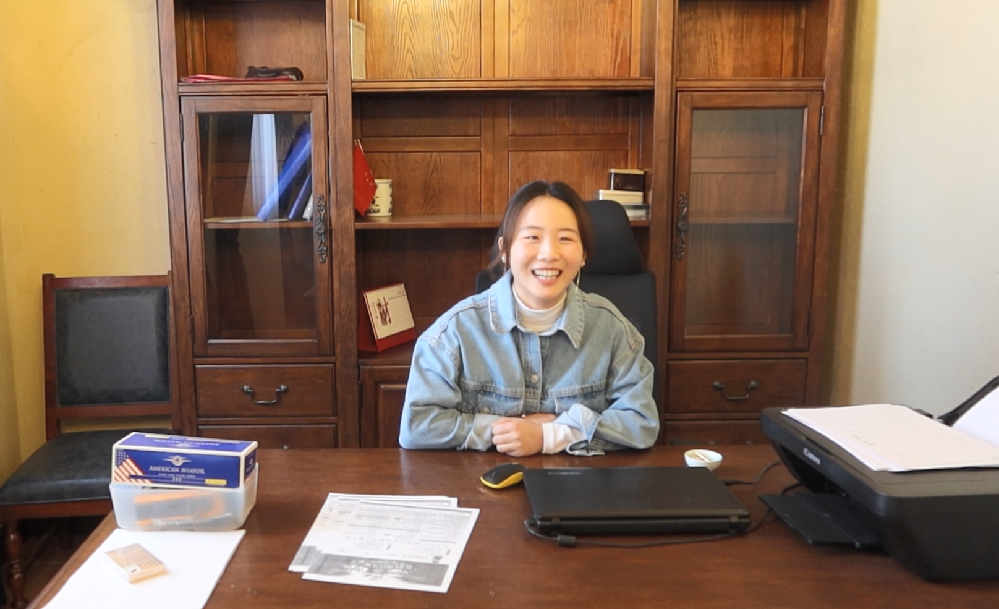 Photo of Hu Liang in her office (Photo provided by A Date with China)
While Gulbahar is a native of Urumqi City, Hu came from a small town in Jiangxi Province. The Riano Restaurant and the Samuersen Resort where the two women respectively work at have only recently opened, operating for just a month. Before starting her own restaurant, Gulbahar did fur business for many years, and she still maintains her shop at the Xinjiang International Grand Bazaar in Urumqi City. Whereas Hu came to Xinjiang in 2014 and has always worked in the hotel business. When she saw an opening at Samuersen Resort, she decided to come to Fangjiazhuang.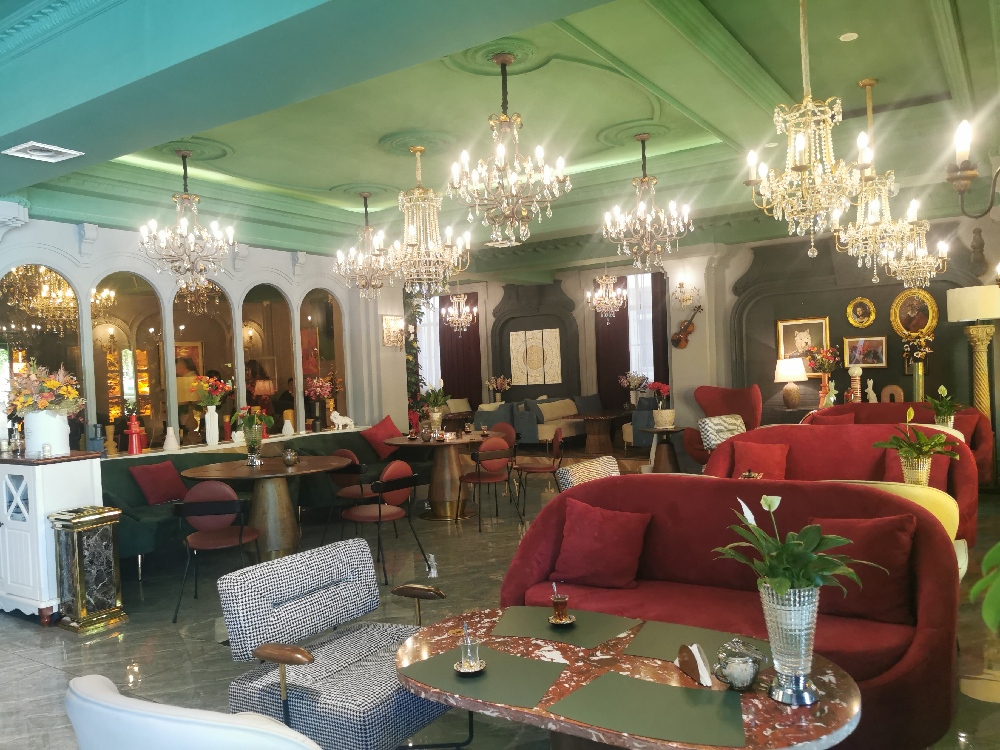 Inside Riano Restaurant (Junye Zhang/Guangming Picture)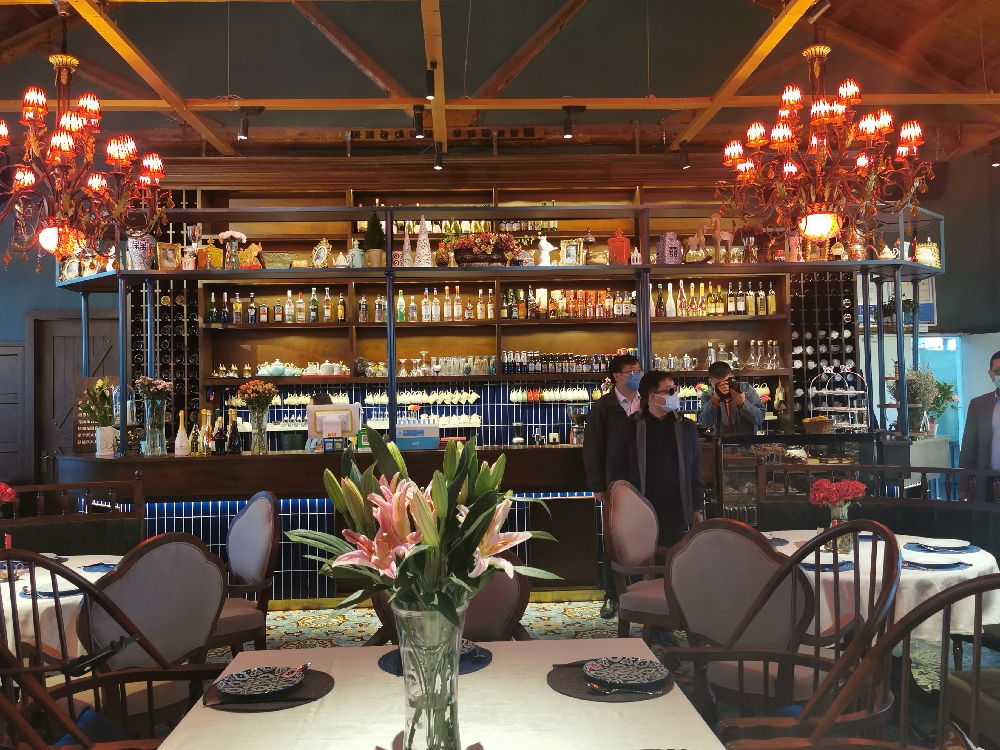 Inside Samuersen Resort (Junye Zhang/Guangming Picture)
Riano is a fusion restaurant offering both Chinese and Western cuisines. Samuerson also offers food and drinks, and has guest rooms for visitors. In fact, Riano Restaurant is one of the few places in Fangjiazhuang that does not have guest rooms. "When I visited Fangjiazhuang, I saw lots of agritainment resorts, but not many restaurants offering both Chinese and Western food. This gave me the idea to open up something different," Gulbahar shared her reasons to open up Riano, where she is the co-owner along with her brother. Speaking about why she ventured into a new domain despite having achieved longtime success in the fur business, Gulhabar described it as her personal instinct to try something new, "The environment is nice around here, and I was confident about my investment," said Gulbahar. Right now, Riano Restaurant has no vacancy on weekends, and its private dining rooms have to be booked in advance. Though business is slower on weekdays, Gulbahar said it is not much of a problem.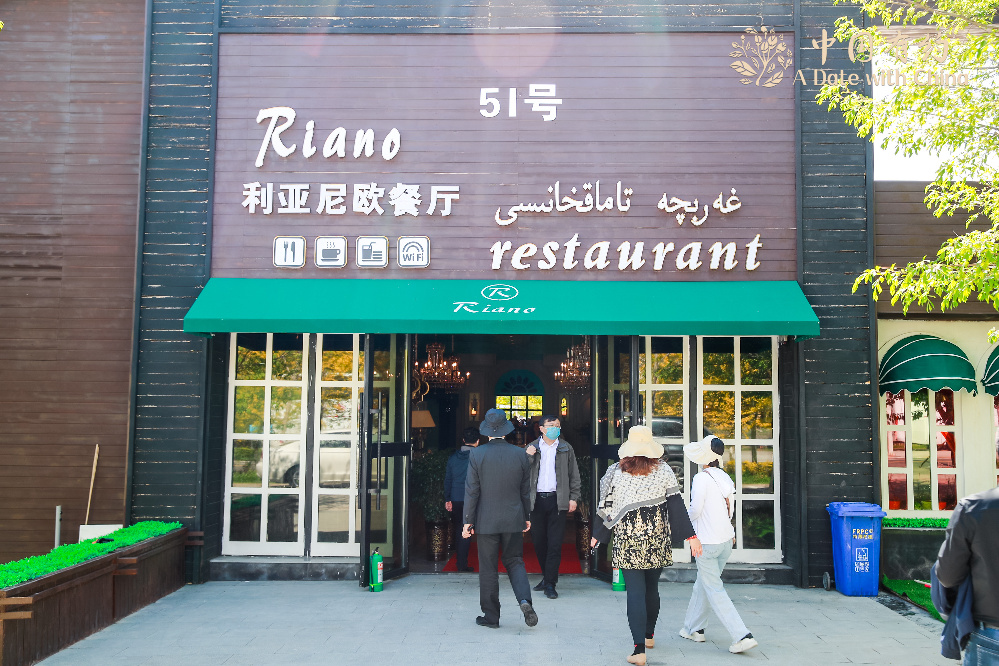 Guests walk into Riano Restaurant (Photo provided by A Date with China)
Hu is similarly fond of the environment at Fangjiazhuang Village, as it is located at the foot of Mount Nanshan, a branch of the famous Tianshan Mountains, with good air quality and a stunning scenery. As someone who loves to travel, Hu has fallen in love with Xinjiang since she first set foot here in 2014. She expressed her wish to work at Samuersen Resort for the long-term: "I think working here, I can stay for a long time, to get to know the local people, local culture." Having studied International Trade in Ningbo City of Zhejiang Province, Hu is fluent in English. She is the only female manager at Samuersen Resort, and has made friends with all the employees.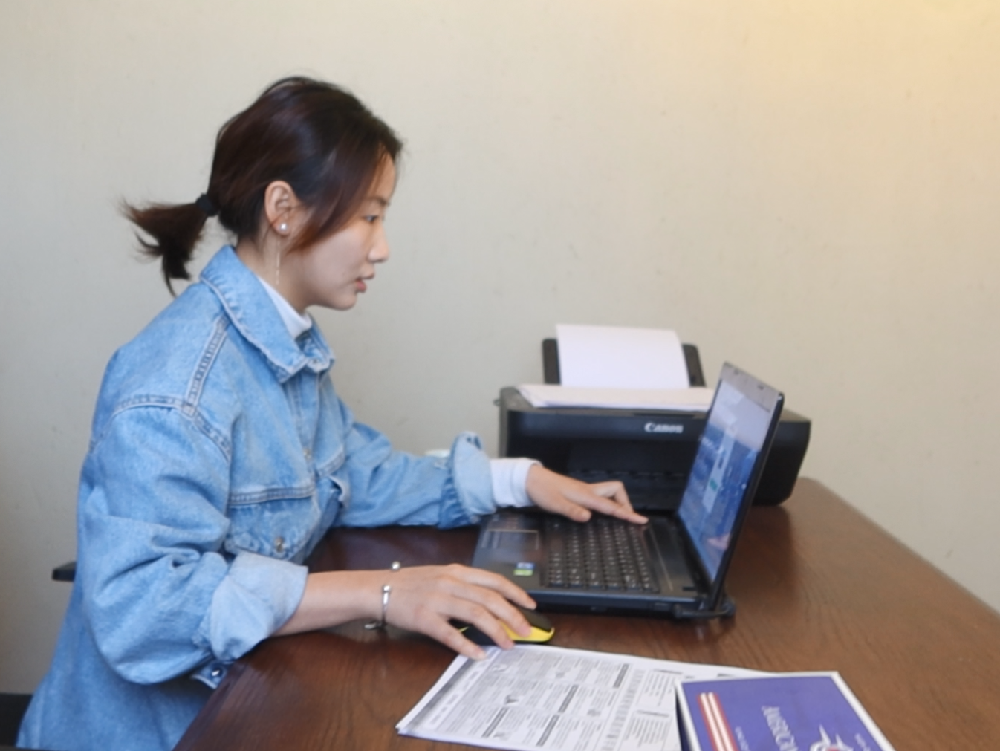 Hu Liang works in her office (Photo provided by A Date with China)
Most visitors to Fangjiazhuang Village are from Urumqi City, and 90% of guests at Samuersen Resort are local people. "During the weekends, people in the city come here to rest. Nowadays, they earn more and have more to spend, they want to get away on the weekends but don't want to drive far from the city, so this is a good place to visit," said Hu. The convenience goes both ways. As city residents would come to rest at the village, Hu would go to Urumqi City on her off-days to eat and shop.
As a woman in her early 30s, Hu is single and has no pressure to get married. While Gulbahar is already a grandmother. Despite their different ages and backgrounds, at Fangjiazhuang, both were offered jobs they cherish and enjoy. They are not the only ones benefiting from the employment opportunities at Fangjiazhuang. Hu's co-workers are local people from different ethnic minority backgrounds. Most female workers were housewives who could not find work before the resorts were constructed at Fangjiazhuang. Workers at Riano Restaurant come and go, as Gulbahar chooses to hire college students: "We have 14 employees at the moment, they are students studying in Urumqi City. When school starts again, they'll have to go back, and then we'll find new workers."
Having purchased Riano Restaurant in early 2020, her plans for construction and operation were once disrupted by the COVID-19 pandemic. Now, Riano and all other service venues at Fangjiazhuang have finally opened, with business and publicity escalating rapidly. The job openings at Fangjiazhuang create opportunities for a great number of people, which in turn facilitates its own economic dynamism. As most businesses here are brand new, one could only imagine the number of visitors they will attract, and a promising future on its horizon.
[ Editor: WXL ]