Chinese vaccines providing promising solution to the pandemic: roundup
When the COVID-19 pandemic still rages on with many countries and regions in dire need of vaccines, the CoronaVac vaccine developed by Sinovac has been widely supplied across the world, demonstrating encouraging results in the global fight against the virus.
To ease the bottleneck of the production capacity and reach broader recipients, China has cooperated with eight countries to manufacture vaccines locally.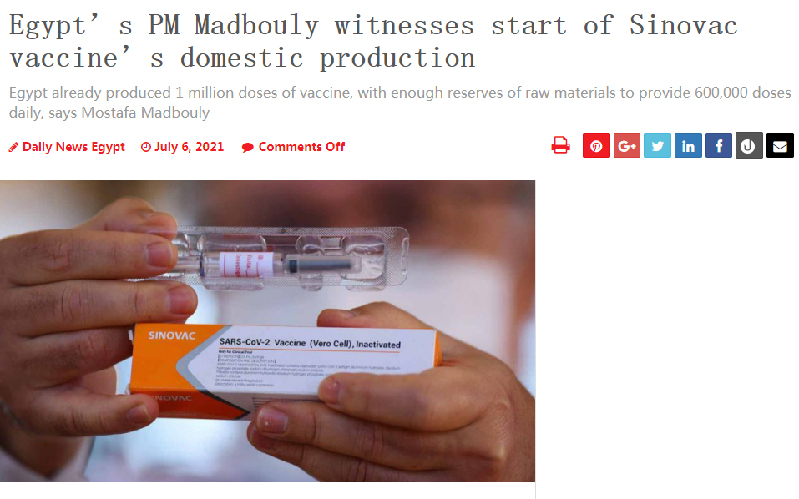 Screenshot shows the article published on Daily News Egypt.
Egypt's Prime Minister Mostafa Madbouly was cited as saying that the country has already produced one million doses of the Sinovac vaccine domestically, according to a July 5 article from local media Daily News Egypt.
The production line in Egypt marks the first instance of China working with an African country in vaccine manufacture. It's expected to benefit the neighboring African and Middle Eastern countries after meeting Egypt's own needs.
New evidence also emerged to reaffirm the safety and high efficacy of the vaccine developed by Sinovac.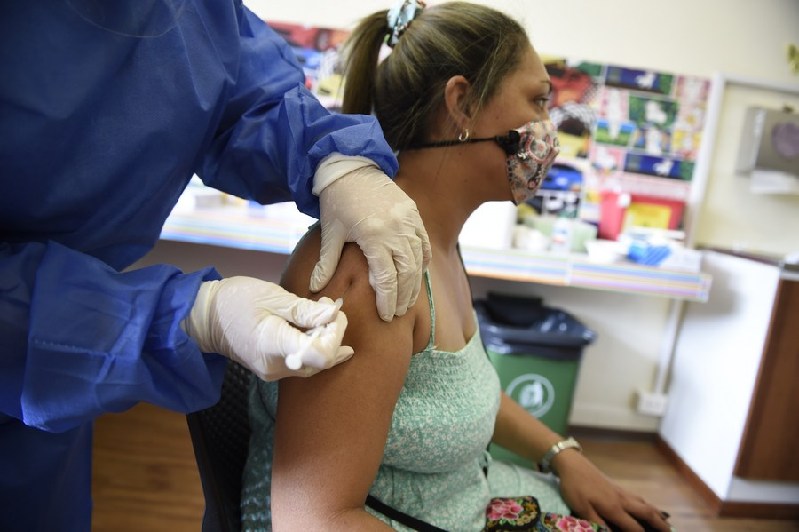 A woman receives a jab of China's Sinovac COVID-19 vaccine in Montevideo, Uruguay, March 1, 2021. (Photo by Nicolas Celaya/Xinhua)
Last month, a statement released by Uruguay's Ministry of Public Health said the Sinovac vaccine reduced COVID-19 infections and deaths among Uruguayan adults. The real-world data showed the shots cut deaths by 95.3 percent among the vaccine recipients aged 18 to 49, and by 95.2 percent among those aged 50 to 69. Meanwhile, it was 94 percent effective at preventing intensive care admissions.
As children and adolescents are always the key concern in vaccination drive, researchers have confirmed the safety and efficacy of CoronaVac for children as young as three in the early-stage human trials.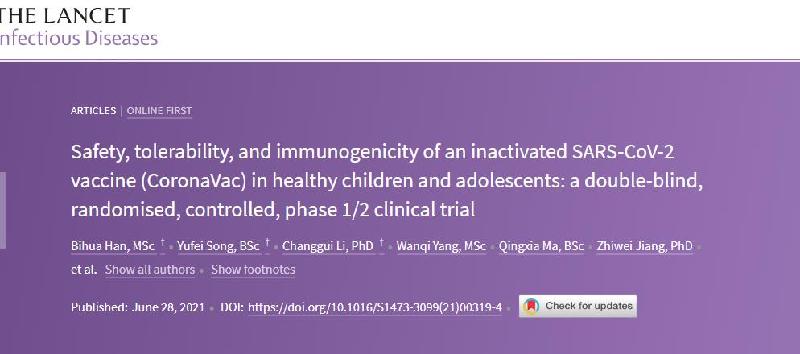 Screenshot shows the paper published on The Lancet.
"CoronaVac was well tolerated and safe and induced humoral responses in children and adolescents aged 3–17 years," noted a June 28 paper published on The Lancet.
In the trial, a total of 552 young participants were given two doses of vaccine from Sinovac 28 days apart. Among the various age groups, more than 96 percent of trial participants were found to develop antibodies against the coronavirus in initial studies.
In terms of real-world application, Indonesia has recommended Sinovac vaccine for children aged 12 to 17, as Reuters reported on June 28.
"The country seeks to extend inoculations amid a surge in infections," said the article, "Task Force data shows children aged 0-18 account for 12.6 percent of Indonesia's total COVID-19 infections."
Vaccines are key to curb the pandemic. Globally, as of 5 July 2021, more than 183 million cases of COVID-19 were confirmed, including nearly 4 million deaths. According to the latest data from WHO, a total of 298 million vaccine doses have been administered worldwide to date.
When the whole world is in a race between infection and injection, Chinese vaccines serve as a promising solution to the pandemic for the easy accessibility, safety and high efficacy.
So far, China has provided vaccine aid to nearly 100 countries from 5 continents. More than 480 million doses of Chinese vaccines have been supplied to the international community, making China the largest supplier of vaccines in the world, Chinese Foreign Ministry Spokesperson Wang Wenbin told at a regular press conference on July 2.
"We also hope that all countries in the world that are able to do so will act as soon as possible, honor their commitments, and make their due contributions to promoting equitable distribution and application of vaccines for better global anti-epidemic cooperation," Wang said.
[ Editor: WXL ]