State Councilor and Foreign Minister Wang Yi met with U.S. Deputy Secretary of State Wendy Sherman in north China's Tianjin, July 26, 2021.
Noting severe difficulties and challenges in China-U.S. relations, Wang Yi pointed out, to properly manage the differences between the two sides and prevent China-U.S. relations from further deteriorating or even getting out of control, China puts forth three basic demands on the United States as bottom lines that China firmly upholds.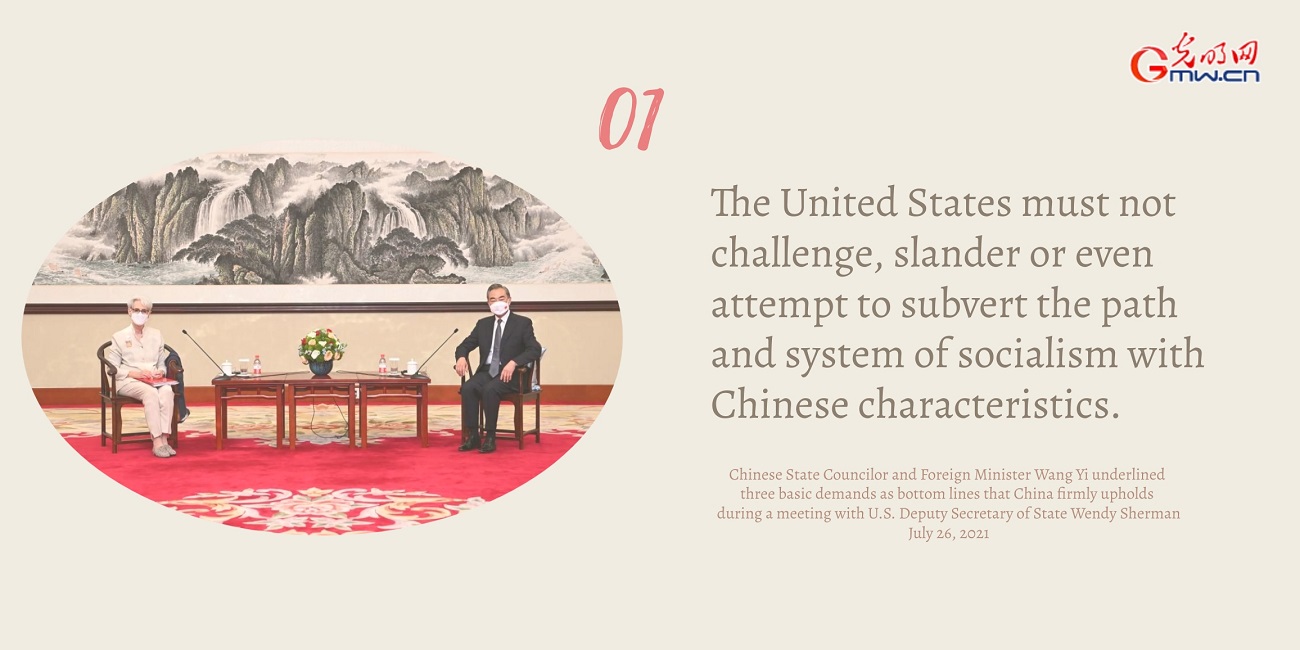 First, the United States must not challenge, slander or even attempt to subvert the path and system of socialism with Chinese characteristics. Chosen by history and the Chinese people, China's path and system are matters of 1.4 billion Chinese people's welfare and Chinese nation's future, as well as core interests that China must firmly uphold.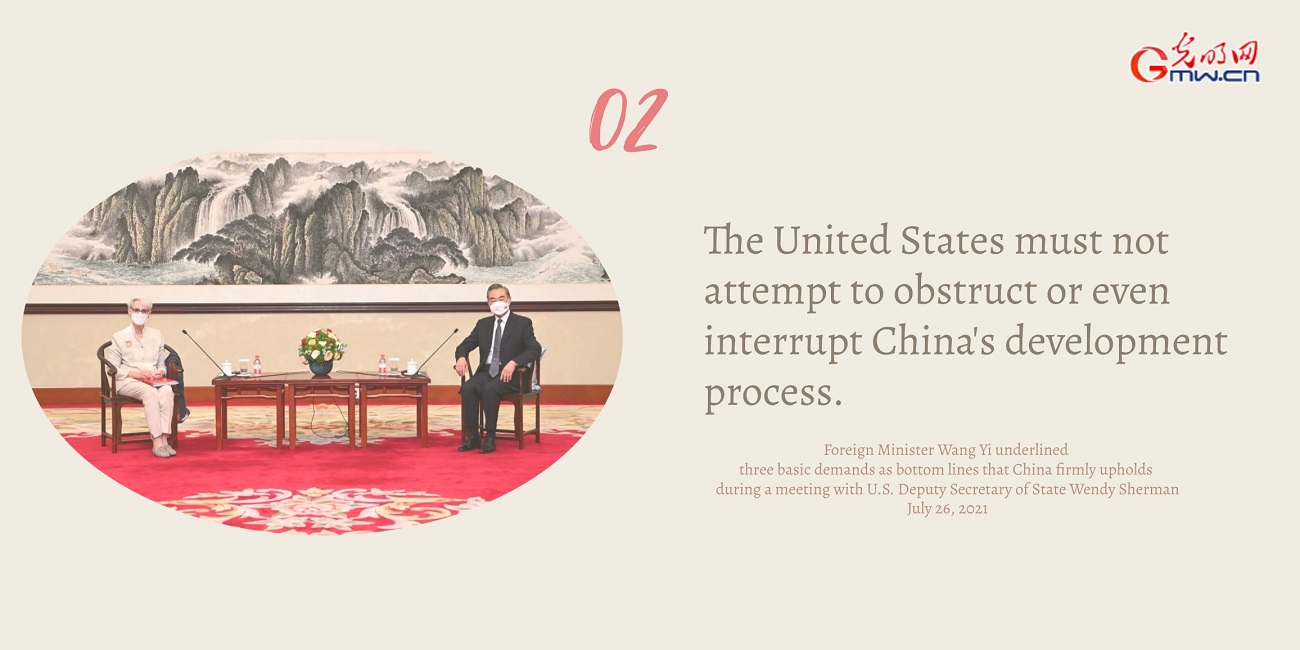 Second, the United States must not attempt to obstruct or even interrupt China's development process. Chinese people have their rights to live better lives and China has its right to achieve modernization. Modernization is not an exclusive right of the United States, but involves the basic conscience of mankind and international justice. China urges the United States to remove all unilateral sanctions, high tariffs, long-arm jurisdiction and technology blockade it has imposed on China as soon as possible.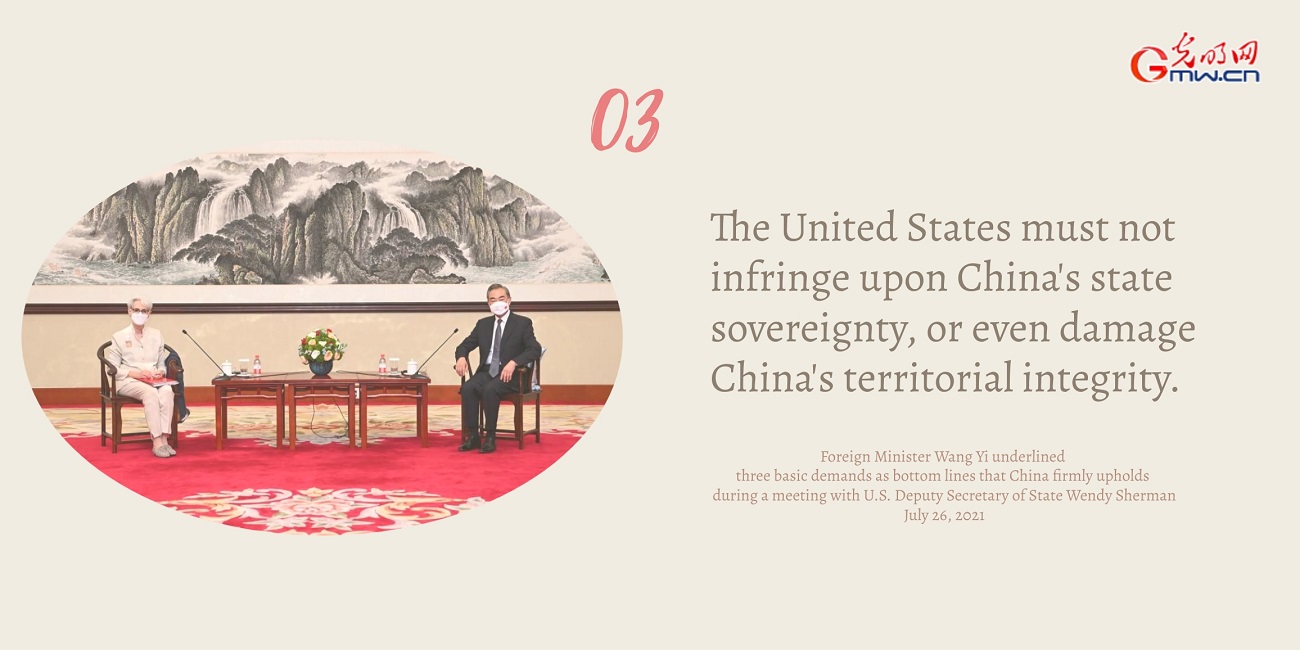 Third, the United States must not infringe upon China's state sovereignty, or even damage China's territorial integrity. The issues regarding Xinjiang, Xizang and Hong Kong have never been about "human rights" or "democracy", but about fighting against "Xinjiang independence", "Xizang independence" and "Hong Kong independence". No country will allow its national sovereignty and security to be compromised. As for the Taiwan question, it's even more important. Although the two sides of the Taiwan Strait have not yet been reunified, the fact that the Chinese mainland and Taiwan belong to one and the same China and Taiwan is part of China has never changed and will never change. If "Taiwan independence" forces dare to provoke, China has the right to take any necessary measure to stop it. We urge the U.S. side to honor its commitment on Taiwan question and act prudently.
Source: Ministry of Foreign Affairs of the People's Republic of China
Editor: WXY