As China is the country with the largest population in the world, it is also one of the biggest consumers of meat, accounting for 28% of global meat consumption in 2019 and buying half of the world's pork.(1) China's growing affluence is attributed to the country's rising demand for meat, as most people associate eating meat with the ability to afford a healthier dietary plan.
Despite the dominance of meat consumption, another lifestyle is also gaining popularity in China—the plant-based diet. Increasing numbers of people are becoming vegetarians and vegans out of personal preference, animal-ethical reasons, and environmental consciousness. The practice of vegetarianism is where one refrains from eating meat. Veganism goes one step further, where vegans refrain from eating all animal-produced products, including meat and dairy products. While vegetarians can still consume eggs, milk, and cheese, vegans must give them all up.
The liberty to adopt either a meat-based or a meat-free diet makes it possible for those choosing a plant-based diet to find their own community in China. Such are the experiences of Jennifer Morgenthaler and Max Song, two vegans living in Beijing. In our conversation, Jennifer and Max shared the stories of how they became vegans, why they adapted to this lifestyle, and how they sought to promote veganism in Beijing.
Jennifer and Max both started out as vegetarians, but eventually made the shift to veganism to further protect the environment. Coming from different backgrounds, the two embarked on different journeys that brought them to veganism and to Beijing.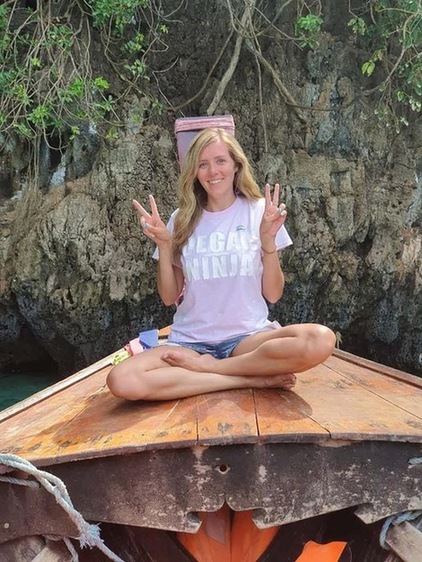 Photo of Jennifer Morgenthaler (Photo provided to gmw.cn)
Jennifer is an American who has lived in China for five years. Her decision to go vegetarian came at the age of twelve, when she witnessed the public slaughter of a pig. The open display made her realize she could no longer consume meat. It took a few years for Jennifer to convince her parents to cook her vegetarian meals, and she finally became vegetarian at the age of fifteen.
Initially, Jennifer became vegetarian for animal-ethical reasons. After learning from her sister that "eating dairy products are terrible for the animals", she then decided to adapt to a stricter diet and became vegan. Being vegan has brought more positive impacts than Jennifer expected -- better for the environment, for example.
Jennifer's relocation to Beijing was also coincidental. Arriving in China in 2016, Xuzhou was Jennifer's first stop. Her initial plan was to stay in China for two years to master the Chinese language, which would then help her become a flight attendant. However, after starting out as an English teacher in Xuzhou, Jennifer fell in love with teaching and decided to continue in this profession. Since then, she has taught in Xuzhou, Wuxi, and finally in Beijing. At present, she is staying in Beijing both because she likes it here and because of her newly married husband. "China's very exciting, there's never a day where I could just be bored," Jennifer commented on her experience of living here. "It's an interesting place to live." It is in this city where she both became vegan and fell in love.
Like Jennifer, Max also had experiences living in the United States, pursuing his postsecondary and graduate education. As a student of environmental studies, Max has always been conscious about the negative impacts the meat and dairy industries have on the environment. After a trial experience of becoming vegetarian during grad school, Max finally embraced the lifestyle in 2015, when he worked in a rural village near Hangzhou. Around two years ago, Max decided to take a step further and became vegan, to make more contributions to the causes of environmental and animal protection.
Photo of Max Song (Photo provided to gmw.cn)
To vegans like Max and Jennifer, the question they get asked the most is if they have enough protein intake. To Max, this is not a big issue in China. With the available food resources, he finds the vegan lifestyle both accessible and affordable: "For Chinese people, veganism can be very cheap, you just cook tofu and that's it." Jennifer adds that though people are concerned about different protein intakes, there are lots of foods that substitute other proteins, but you do need to supplement vitamin B12 as it is a micro bacteria that we get from animals.
For Jennifer and Max, besides practicing veganism in their daily lives, they share a similar vision: to promote the vegan lifestyle and make it more accessible in Beijing. Through joining the volunteer organization Vegans of Beijing, they were able to actualize their ideal.
Max and Jennifer both got involved with Vegans of Beijing in 2018, starting off as volunteers and eventually becoming admins. As a non-registered volunteer organization, Vegans of Beijing is currently run by five admins who are responsible for hosting events and managing budgets and logistics. The five admins all work full-time, mostly as English teachers, and dedicate a large part of their spare time to running Vegans of Beijing. The team is mostly foreigners, with Max as the only Chinese admin.
With the goal of making veganism more accessible, Vegans of Beijing collaborates with different restaurants in the city, mostly Western ones, to see if a vegan menu can be built on top of the current menu. Once the vegan menu is developed, it is expected to be integrated into the restaurant's permanent menu, to offer vegans more eat-out options in Beijing. So far, the group has formed partnerships with close to 20 restaurants, including Western restaurants like Q-Mex and Avocado Tree, and Chinese restaurant Jindingxuan (金鼎轩).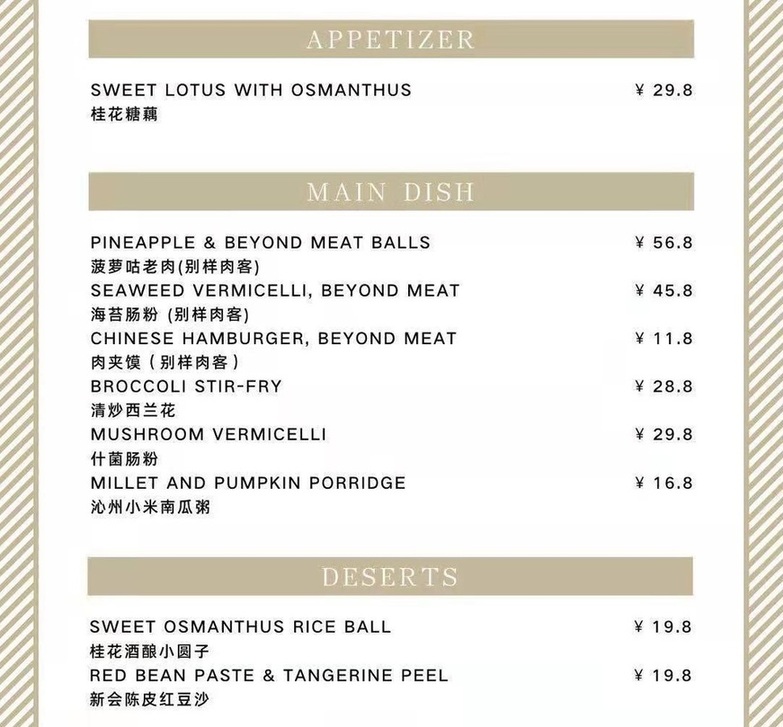 Vegan menu at a restaurant in Beijing (Photo provided to gmw.cn)
In addition, Vegans of Beijing also seeks to educate people on the philosophy behind veganism. The group hosts regular movie nights to screen documentaries on environmentalism and global warming, to raise people's awareness of the negative impacts the meat and dairy industries have on the planet, and to inform people on how veganism can become a solution to these problems.
Every month, Vegans of Beijing hosts at least two events. Aside from movie nights, dinner nights are also regular, where members and friends are invited to eat at restaurants with vegan options. Dinner nights go together with restaurant collaborations, where it would be organized whenever a restaurant is ready to introduce its vegan menu. Hence, the group dinner both celebrates the creation of the vegan menu, and reminds the restaurant of the existing vegan demand. On top of regular events, the group also hosts online and offline vegan markets to promote available vegan options in the city. Additionally, a trip was organized recently for members to visit an organic farm and receive a lecture on ecology.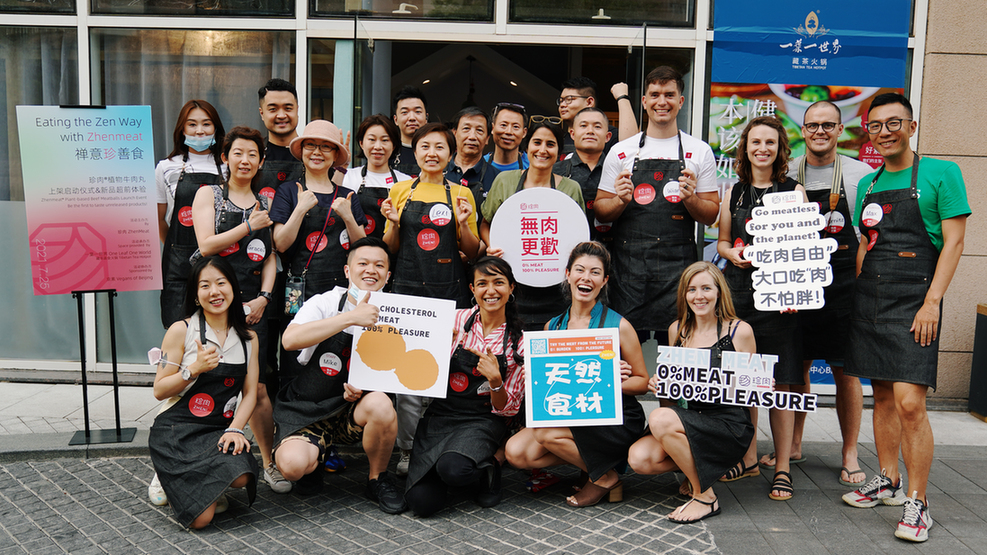 Jennifer (first row fourth from the right) and Max (first row first from the right) with other members of Vegans of Beijing (Photo provided to gmw.cn)
Since each of the admins is responsible for at least five events per year, they seek to come up with more creative ideas. This year, to imitate Veganuary in England, where people are encouraged to go vegan for the entire month of January, Jennifer organized a month-long campaign of "Meatless March" to motivate people to go vegan for the month of March. She invited all participants into a WeChat group, created 31 days of posters and recipes, and sent encouraging messages to support the participants along the way. At the end of the month, a dinner and documentary-screening session was hosted for everyone to share their experiences. "I received a lot of positive feedback. Some people even wished it was available in other cities, not just in Beijing," said Jennifer as she reflected back on the event. "Quite a few people said they would try it again, some said that they had been on the fence, but now they are leaning more towards the vegan lifestyle."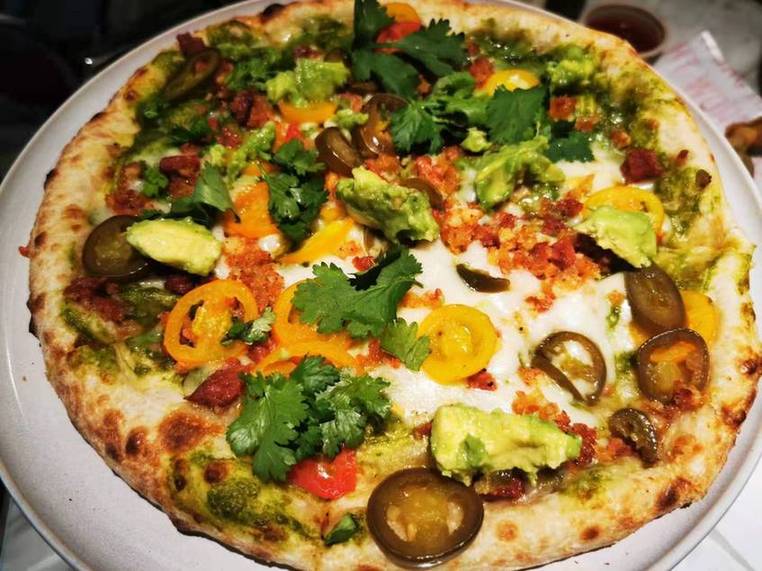 A vegan pizza dinner hosted by Vegans of Beijing at a Beijing restaurant (Junye Zhang/Guangming Picture)
As an organization mostly active on WeChat, Vegans of Beijing has different groups for its English and Chinese members, as well as a range of other groups for vegan markets, hangouts, recipes, and so forth. Altogether, there are around 2,000 members and over 40 volunteers. Most of the members are international expats, with an 80:20 foreign to domestic member ratio.
With a dynamic online community and a regular rollout of events, Vegans of Beijing seems right on track to achieving its goals. However, the members also face foreseeable challenges, not only in the promotion of veganism, but also in their daily lives.
One obvious challenge is the lack of vegan options in local Chinese restaurants. "When I ask for vegan options at certain restaurants, they would give me confused looks or simply tell me that's not available," said Jennifer. "I tried to get vegan catering at my wedding in Sanya, but most restaurants I contacted said they couldn't do it." Similarly, this might lead to accidentally eating food that contains non-vegan ingredients. "While I don't consume animal products intentionally, sometimes I still get things like animal fat when I eat out, as it is a hidden ingredient in many dishes here," said Max.
This is not limited to the availability of food options but is rooted in a lack of awareness of the concept of the vegan lifestyle. "Some of my students did a project on environmental protection, yet none of them mentioned veganism as a way to solve the current environmental issues," said Jennifer. As people seem oblivious to the environmental philosophy behind veganism, Max feels pessimistic towards the possibility of veganism growing into a mainstream lifestyle in China: "Whenever Chinese people hear about vegetarianism or veganism, they assume it's about Buddhism." In addition, Max believes meat consumption is still highly regarded in China, being perceived as a healthier lifestyle and a symbol of wealth.
However, while the challenge ahead appears difficult, the group is determined in their efforts to close the gap of knowledge in China. "We still live in this carnism world, where people think eating meat is natural, normal, and necessary. People still live in this mentality, and they cannot live without it, but it's part of an oppressive system. All kinds of social movements have to encounter this kind of oppressive mentality," said Max, who defined the shift to a plant-based lifestyle as a social movement.
Living the vegan lifestyle has made Jennifer and Max more educated on animal and environmental protection. Now, they are acting out on this social responsibility in the hopes of influencing more people and making a positive impact on the world. In the process, they formed great friendships and found their own community in Beijing. Feeling a close bond with the members of Vegans of Beijing, Max defined the organization as "a cool group" that is very acceptive: "One reason I enjoy VoB is because it is a very diverse group. You don't have to be anybody, you just have to be vegan." He added that: "We are not the normal according to the mainstream standard, but we have our own group of people and community, and we are nice people."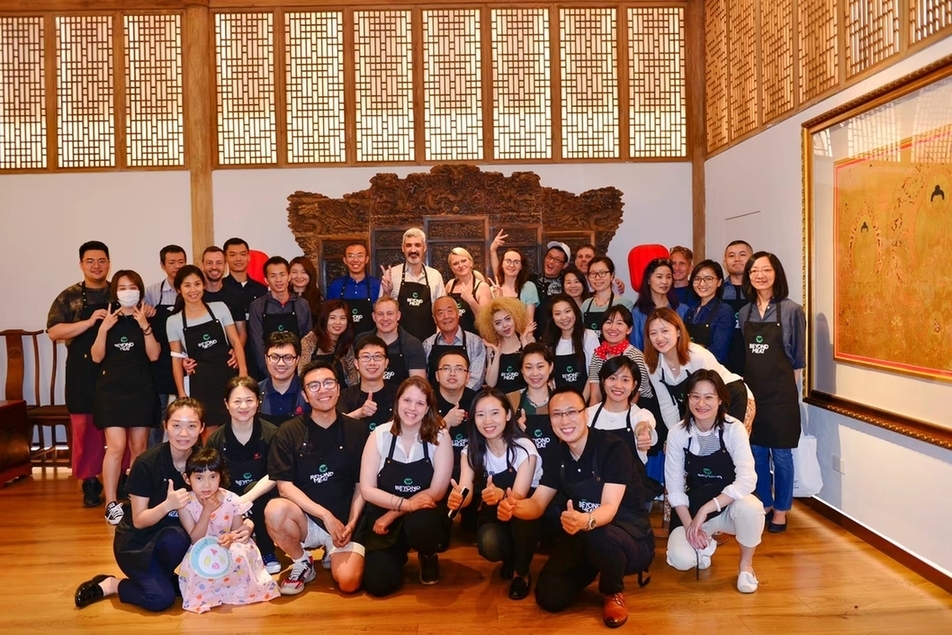 Group photo of Max (first row fourth from the left) and other Vegan of Beijing members at an event (Photo provided to gmw.cn)
Though China's vegan population remains small, in recent years, the country is seeing a surge of interest in a more plant-based diet. International branches like KFC, Burger King, and Starbucks have all introduced alternative meat products, while domestic companies like OmniPork, Z-Rou, and Zhenmeat have also developed meat-free substitutes.(2) In 2018, China's plant-based meat market was estimated at 6.1 billion yuan ($910 million), which marked a 14.2% year-on-year increase and is expected to grow between 20 to 25 percent annually.(3) The visible demand for this alternative lifestyle shows that although meat consumption still dominates China, a foreseeable vegan revolution is also on its way.
Reference:
"China's Appetite for Meat Fades as Vegan Revolution Takes Hold."The Guardian, Guardian News and Media, 9 Mar. 2021, www.theguardian.com/world/2021/mar/09/chinas-appetite-for-meat-fades-as-vegan-revolution-takes-hold.
Editor: JYZ