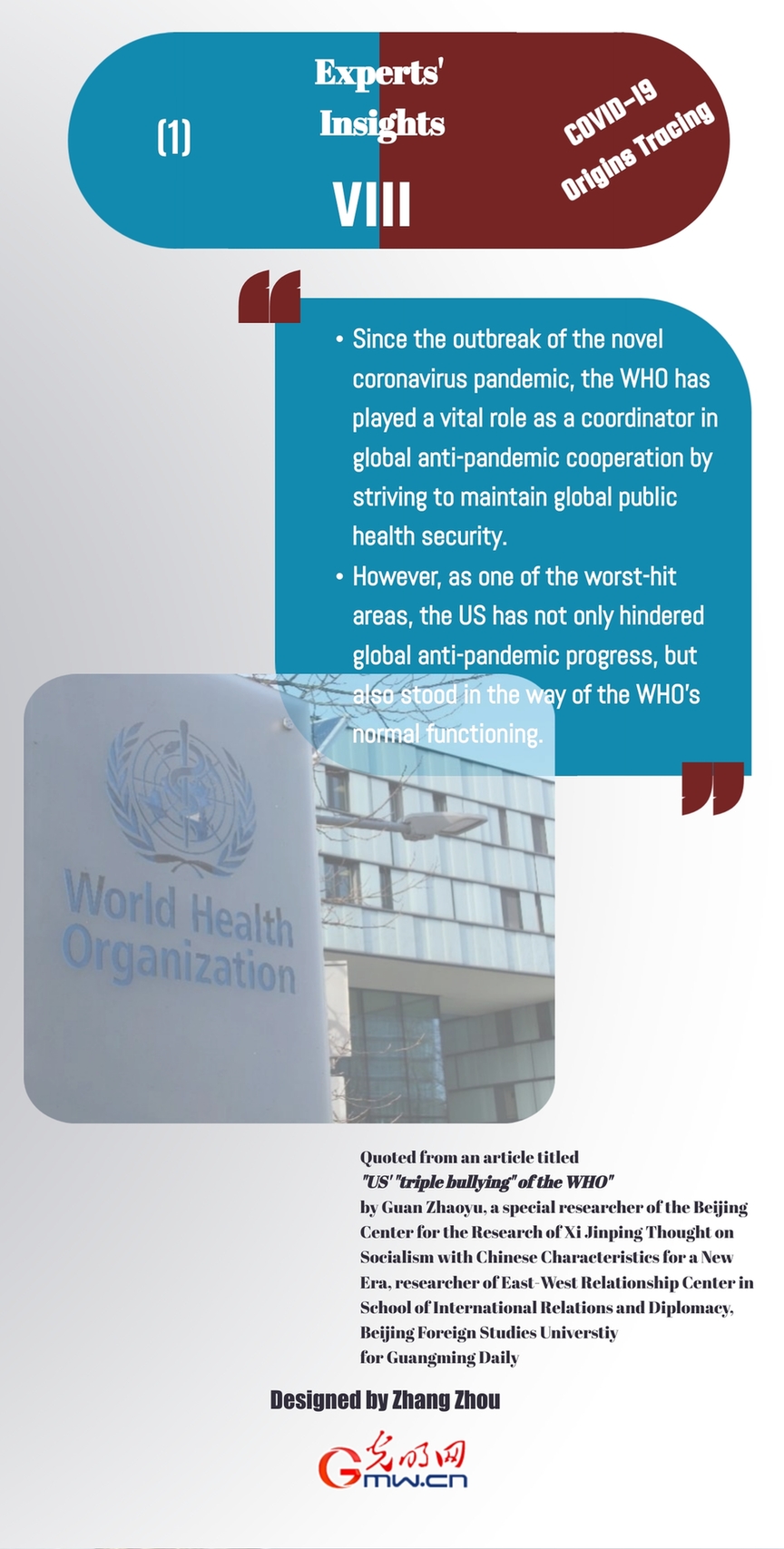 Since the outbreak of the novel coronavirus pandemic, the WHO has played a vital role as a coordinator in global anti-pandemic cooperation by striving to maintain global public health security.
However, as one of the worst-hit areas, the US has not only hindered global anti-pandemic progress, but also stood in the way of the WHO's normal functioning.
In a nutshell, the US has bullied the WHO in three aspects. As a result, the international community must keep sober awareness of the bullying, so as to prevent the US from wantonly trampling on fairness and justice in international public health.
The first step is to suspend dollars support and threaten with withdrawal.
Secondly, the US has colluded with its allies to engage in public opinion wars to obstruct virus tracing.
Thirdly, the US put pressure on WHO personnel in an attempt to establish "American rules" for virus origin tracing.
The Biden administration started a new investigation of the COVID-19 origin conducted by its intelligence agencies in an attempt to force the WHO to endorse the American origin tracing.
It is conceivable that the arbitrary US coercion and manipulation of the WHO will not only bring severe challenges to global multilateral cooperation, but also prolong the global anti-pandemic progress. In the face of such bullying, the international community should join hands to safeguard the authority of the WHO and maintain the healthy development of the global public health governance mechanism.
Quoted from an article titled "US' "triple bullying" of the WHO" by Guan Zhaoyu, a special researcher of the Beijing Center for the Research of Xi Jinping Thought on Socialism with Chinese Characteristics for a New Era, researcher of East-West Relationship Center in School of International Relations and Diplomacy, Beijing Foreign Studies Universtiy for Guangming Daily
Editor: Liu Jiaming